Table of Contents
Singapore has been ranked as the 4th most crypto-ready hub globally, according to a report by crypto tax software company Recap.
In its latest research paper titled "The Rise of Crypto Hubs: Which Cities are Leading the way in Cryptocurrency Adoption?" the firm listed the top 50 crypto hub cities.
Leading the pack is London, followed by Dubai, New York City and then Singapore. Regional rival Hong Kong sits in 7th position, while neighbouring capitals Bangkok is 10th and Kuala Lumpur props up the top 20.
Recap's criteria for a "top crypto hub" include:
Quality of life score
Crypto-specific events
People working in crypto-related jobs
Crypto companies
R&D spend as a percentage of GDP
Number of crypto ATMs
Capital gains tax rate
Ownership of crypto in each country.
According to Recap, Singapore has over 1,100 people working in the crypto industry with over 800 crypto-based companies in the region. Some 25% of people own crypto in the city-state, which is praised by Recap for not requiring investors to pay capital gains tax. However only 0.29% of GDP was spent on crypto R&D last year.
Hong Kong – where retail trading was curbed until recently – has only 16% ownership, 251 crypto companies and 607 people working in the industry.
In November, Singapore was ranked the "world's most business-friendly crypto country" despite banks taking a more reserved approach to the asset class.
Read more: SG is World's Most Crypto 'Business-Friendly' But Banks' Bitcoin Exposure 'Insignificant'
Senior Minister and Minister in charge of the Monetary Authority of Singapore Tharman Shanmugaratnam said Singapore banks had to limit their exposure to cryptocurrencies. Banks are required to hold S$125 of capital against an exposure of S$100 to risky cryptocurrencies.
Singapore also slipped from third place to fifth in Coincub's Q3 Global Crypto Rankings whilst Malaysia ranked just behind Singapore in 6th place – a significant jump from its Q2 position of 43rd.
Read more: Singapore Continues Slipping in Global Crypto Rankings as Malaysia Closes In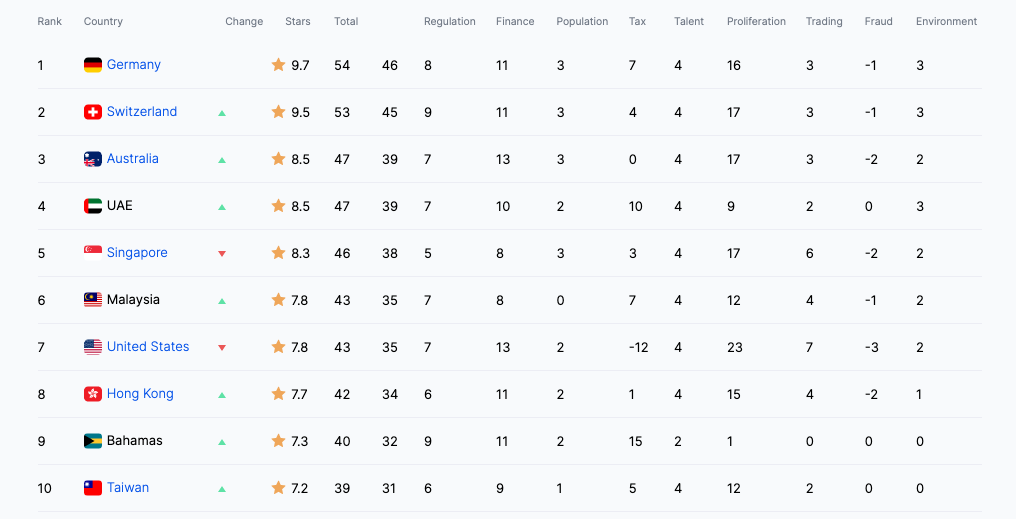 Ready or not
Data may place Singapore in 4th or 5th place on global crypto rankings but just how crypto-ready is it? After all, Singapore is taking a rather cautious approach to crypto.
Speaking at a panel discussion at the World Economic Forum held in Davos last month, Shanmugaratnam said that there should be "one regulatory system" for both crypto and traditional finance.
"If you have to think about regulating crypto the same way we regulate banks, insurance companies, and so on — for prudential reasons, for financial stability reasons — I think we've got to take a step back and ask the basic philosophical question: does that legitimize something that's inherently purely speculative, and in fact, slightly crazy?" the minister said.
Read more: Singapore Minister Seeks Uniformity for Crypto, TradFi Regulation
Furthermore, the MAS has expressed reluctance for retail investors to be involved in crypto, and has banned crypto companies from directly advertising to retail customers, and several crypto firms that once saw the city-state as leading the way in regulation have since decamped to places like Dubai and Abu Dhabi.
Local players confident
Local market participants are nonetheless confident in Singapore's crypto hub potential.
Matrixport head of research Markus Thielen told Blockhead, "Singapore has remained an innovative hub for fintech firms. Many are still drawn to the network opportunities that are influencing the region at large."
For Thielen, regulation offers security for the space. "Backed by strong regulatory oversight, investors have continued to have comfort in the city's ability to remain the financial partner of choice," he said.
Qin En Looi, Principal at Saison Capital said that "Singapore leads the pack on many fronts when it comes to crypto adoption in Asia but given Web3's borderless nature, it's still important to contextualise this against a global backdrop."
Saison themselves discovered that Singapore has one of the highest crypto advocacy rates (defined as individuals who have bought and sold crypto, and introduced crypto to family & friends) at 11%.
"What remains a challenge is how to overcome the "Asia ceiling"," Qin added.
"But this isn't unique to Singapore and is one that can be seen across the region. In crypto, similar to web2, there is a "Western premium" where protocols, projects and applications from Western markets like the USA are perceived to be of high quality and more credible than those from countries in Asia like Singapore. "