Table of Contents
Bitcoin and other cryptocurrencies traded sideways throughout the week, with the world's largest cryptocurrency perched comfortably on the US$20,000 level for now.
At the time of writing, Bitcoin (BTC) is trading at while Ethereum (ETH) is trading at. Major altcoins such as BNB, Polkadot (DOT), and Avalanche (AVAX) have also been trading in green within the same period.
Both the crypto and the broader financial markets have seen positive momentum in recent weeks, with favourable macroeconomic data reversing some of the losses incurred in 2022. However, a sustained rally remains unlikely as investors are still somewhat concerned about the Federal Reserve's rate hikes this year.
The S&P 500 and the tech-heavy Nasdaq Composite fell 0.76% and 0.96% respectively on Thursday, with all major averages on track for their first negative week in three.
Meanwhile, BTC also experienced a minor slip up on Thursday, after it was reported that Genesis Global Capital, the crypto lending unit of Digital Currency Group (DCG), was on the brink of bankruptcy. The company officially filed for Chapter 11 bankruptcy today, and it remains to be seen how this development will affect the markets.
Related: Genesis Global Capital's Fall From Grace: Bankruptcy Filing & Billions in Liabilities
"Genesis has been in trouble since the end of last year and most of the negative news should be priced in," said Oanda's Edward Moya.
"The crypto space is getting cleaned up and as long as we don't see a major reputable exchange go under, traders may mostly shrug off news of the demise of smaller crypto companies," he added.
FTX claims it was hacked
In a report to its creditors on Tuesday, bankrupt cryptocurrency exchange FTX is claiming that US$415 million worth of crypto stolen from the exchange's accounts, with US$323 million and US$90 million hacked from FTX's international exchange and its US exchange respectively.
Earlier this month, it was reported that FTX recovered more than US$5 billion in cash and other liquid assets, and was hoping to monetise additional assets with a book value of more than US$4.6 billion.
However, it's still unclear just how much is owed to FTX's creditors. Initial bankruptcy filings estimates that the amount is somewhere between US$1 billion and US$10 billion.
Read more: SBF Denies Stealing Funds in "FTX Pre-Mortem Overview"
Seoul launches metaverse
A metaverse is coming to residents of Seoul, after the metropolitan government of South Korea's capital city launched its first public metaverse project.
According to a press release on Monday, the virtual world, dubbed "Metaverse Seoul," is estimated to be completed by 2026, with its initial development costing up to US$1.6 million. Some of its features includes allowing citizens to use avatars to request information about their tax filings, and virtually "travel" to tourist attractions. Metaverse Soul will also expand to real estate and foreign investor services in the future.
South Korea has been doubling down on Web3 technologies. In October, Bloomberg reported that South Korean citizens could soon be using blockchain-based national IDs instead of physical cards.
Under the plan, which will be launched in 2024, digital IDs will be embedded within an app on smartphones in the future, with around 45 million citizens expected to adopt the new IDs within two years.
Last year, a report by Ripple and Oxford Metrica revealed that Korea's leading financial institutions are all actively pursuing the idea of adopting blockchain technology as a part of their mainstream operations, with 40% having already developed a proof of concept and 60% in the pilot stage of implementation.
Huobi confirms Justin Sun leadership, aims dig at "rat trading"
Singapore-based cryptocurrency exchange has finally confirmed that Tron founder Justin Sun is indeed leading the exchange, while also addressing concerns of what it calls "rat trading."
Sun became a Global Advisory Board member of Huobi in October, shortly after Hong Kong-based investment company About Capital Management, in which Sun is a "core investor," became the majority shareholder of the exchange. Both Sun and Huobi have previously denied that the former is leading the company.
In a blog post on Sunday, Huobi said that the exchange has "embarked on the path to rebirth" under the leadership of Sun. It also attempted to explain the recent allegations of financial distress at the company by stating that layoffs are "common in traditional industries."
Huobi also addressed concerns of rat trading account, which is characterised by their "lack of trade at normal times."
"However, these accounts have been trading Huobi's new tokens and ecology tokens frequently, while transferring assets in and out quickly. As investigations have shown, these accounts have made abnormal levels of profits many times, and the profits were quickly withdrawn. These are clearly the traits of rat trading," Huobi said.
The exchange added that it has "zero tolerance for rat trading."
Trading Volume
According to data from CoinMarketCap, the global crypto market cap stands at US$982.55 billion, a 1.72% increase since yesterday. The total crypto market volume over the last 24 hours is US$40.55 billion, a 33.35% decrease.
Fear & Greed Index
Risk appetites in crypto continue to climb – the Crypto Fear and Greed Index currently stands at 51, indicating "neutral."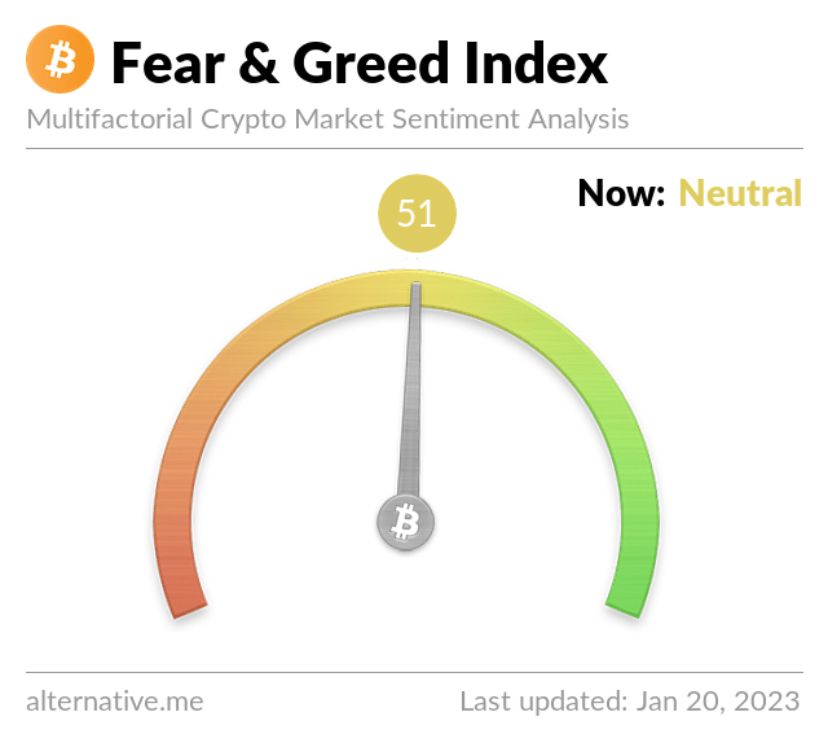 The index uses 5-6 measurements to assess the current sentiment of the market and then rates that level of emotion on a scale of 1-100 – 1 is extreme fear and 100 is extreme greed.