Table of Contents
Join the Blockhead Malaysia telegram group for more Malaysia-focused commentary and intel.
IF I WAS A HUNGRY CRYPTO VENTURE BUILDER, I'd be thinking of researching the landscape for leaders in all verticals of the value chain. I'd be looking for the best product in the market and at the same time, the biggest cult community as you would assess tech products. I'd be conducting interviews with each stakeholder before distilling the research into concentrated liquid gold and acting on this information.
WHAT I FOUND FROM THIS, is that a product's success is based on two things: helping people save time with their own problems, and having lots of people speak good about your help. So when I found out that the Asia Pacific University Blockchain Club (APUBCC) had the biggest blockchain student club in the country, I had to understand why.
Since its inception in August 2021, APUBCC has grown its member count from 40 to 551 members in just over a year. The club has since completed over 55 events for its members, having worked together with 26 industry partners. They have participated in five local and international hackathons and conducted seven workshops for its students. Unsurprisingly, the club has developed into somewhat of a local superstar, having four other partner universities seeking advice on initiating their own clubs.
I met with club president Lee Shuen Rui, aged 20, and VP Yudhishthra Sugumaran, aged 21, to ask them about their experiences of running their club. The two young leaders were professional, passionate and importantly, transparent with their shortcomings and successes.
Together they run quite possibly the biggest blockchain club in the region. The club operates in a closed ecosystem, where the member churn is measured each semester, and they have weekly feedback loops to actively adjust their operations as they go.
Read more: Malaysian University Brings Nine Blockchains Together, Aims to Become Hub for Web3 Talent
Secret sauce: creating good vibes
Lee says that the positive vibes of the club keep members constantly interested despite "the serious tech stuff which might be boring" to the students. He says that "good vibes" is the key to keeping member morale high and their success comes down to being transparent and providing constant updates on the club's future.
"We let our members know that if they stay and join more events, they will eventually get to learn more about the blockchain and tech environment," Lee said. He added that open communication with the members promotes accountability and complements the members' hunger to be early adopters of the tech.
"We did a lot of trial and error before we got the vibe right; one problem in particular for us we faced with low attendance was determining if the members weren't interested in blockchain technology itself or that we were running our club too seriously compared to other clubs. Once we got the problem down, we knew we had to improve our events by coming up with more creative, fun and memorable experiences," said Lee.
Lee added that the social elements of the club were important elements to the good vibes. "We are always thinking of marketing our events in a way that's enjoyable and not too technical to all students," Lee said about going against the stigma of boring IT geeks.
"Although APUBCC is actually giving out valuable knowledge for the students and their futures, it's difficult for students to see this value as a blockchain club," Lee said. He emphasised that club events need to have a social and fun element as the driving factor, so that learning can still be achieved.
✨—Wrap Up — Nov CMM: Origin ✨ pic.twitter.com/3DwmZm2W0g

— APU Blockchain & Cryptocurrency Club (@apubcc) December 4, 2022
He shared a time during a university orientation event, the club commissioned "a set-up with a big screen that let the students explore and chill inside a metaverse." which was "super fun and interesting for students." The tech had piqued the curiosity of new students to join the club, giving them an edge in the competitive environment of student clubs.
Thanks to their recruitment drives, the new wave of students had given them an overall 60:40, male-to-female participation in their club, one-upping the industry participation standard of 75:25.
Inside the war room
Lee said that the fast growth of the club in just a year has given them leverage towards solving the industry-wide problem of talent shortage. However, it took a while before they managed to discover a sustainable system to keep things fresh for the members and for themselves.
"For us to have grown such a club, we are doing something right, and we want the industry to know that we have students who are builders, Web3 developers, and other different skillsets that can complement the industry."
Time flies! Asia Pacific University Blockchain and Cryptocurrency Club (@apubcc) celebrates its 1st anniversary with a plan to become Asia's first and largest blockchain and crypto-based club in Malaysia! pic.twitter.com/cgOgcRC31c

— Asia Pacific University of Technology & Innovation (@AsiaPacificU) October 13, 2022
Behind the curtains of the club's management and leadership are APUBCC mentor-lecturers, Dr Vinesh Thiruchelvam, Meera Eswaran, Ng Hui Chen and Suresh Naidu Sadasivan. Together they align the APUBCC administration to serve a higher mission: facilitating better employability for APU students. The benefactors here being the nurtured club members, and the local Web3 industry starved for talents.
The two student leaders said that growth of the club had gotten them praise from other Malaysian universities as they are now fielded by requests to help with their own blockchain clubs.
Recently, the university signed an MOU with ReGov Technologies, a blockchain solutions implementer to drive a Web3 innovation lab initiative. In their media statement, the initiative would train their students in the necessary coding languages and fundamentals needed for deployment on Algorand and Solana blockchains. After which, they would be paired with supervision "from an industry expert at ReGov to create solutions for a wide range of use cases according to the student's interest."
Sugumaran was eager to share that the club's progress has not gone unnoticed, gaining attention from global Layer 1s operating APAC offices in the region. "There are L1s such as Algorand who have ready frameworks to support blockchain clubs and Tezos who have offered their experience to teach workshops on fundamentals."
"However, not more goes on beyond the offered workshops and grants", Sugumaran tells Blockhead. They mention that Layer 1s fail to address a friction point for students that is deployment support. Support and "tutorials for self-learning aren't readily available for less popular languages", and if you take their grant, you are "obliged to provide a creative solution on their blockchain", without the much needed support.
They hope that for the year 2023, more Layer 1s take on more accountability and an active role in helping students within the Malaysian ecosystem. But for now, they will continue to be the mentor to other universities looking to launch their own blockchain club, and to create a country wide blockchain student network.
Challenges faced by the club
"One of the hardest things for us is changing the perspective of our students who are unable to see the benefits of blockchain beyond cryptocurrency trading. But we also have a percentage of students who are only interested in making fast money and when they find out that we're not teaching them how to make money, they leave. So it's changing that mindset of students, that there is a long term benefit to learning blockchain as opposed to only trading cryptocurrency, and that is a difficulty that we're facing right now." Lee tells Blockhead.
The 20-year-old Finance student says that his "members come from many different backgrounds and courses", and that he has to consider different ways to execute the club's vision.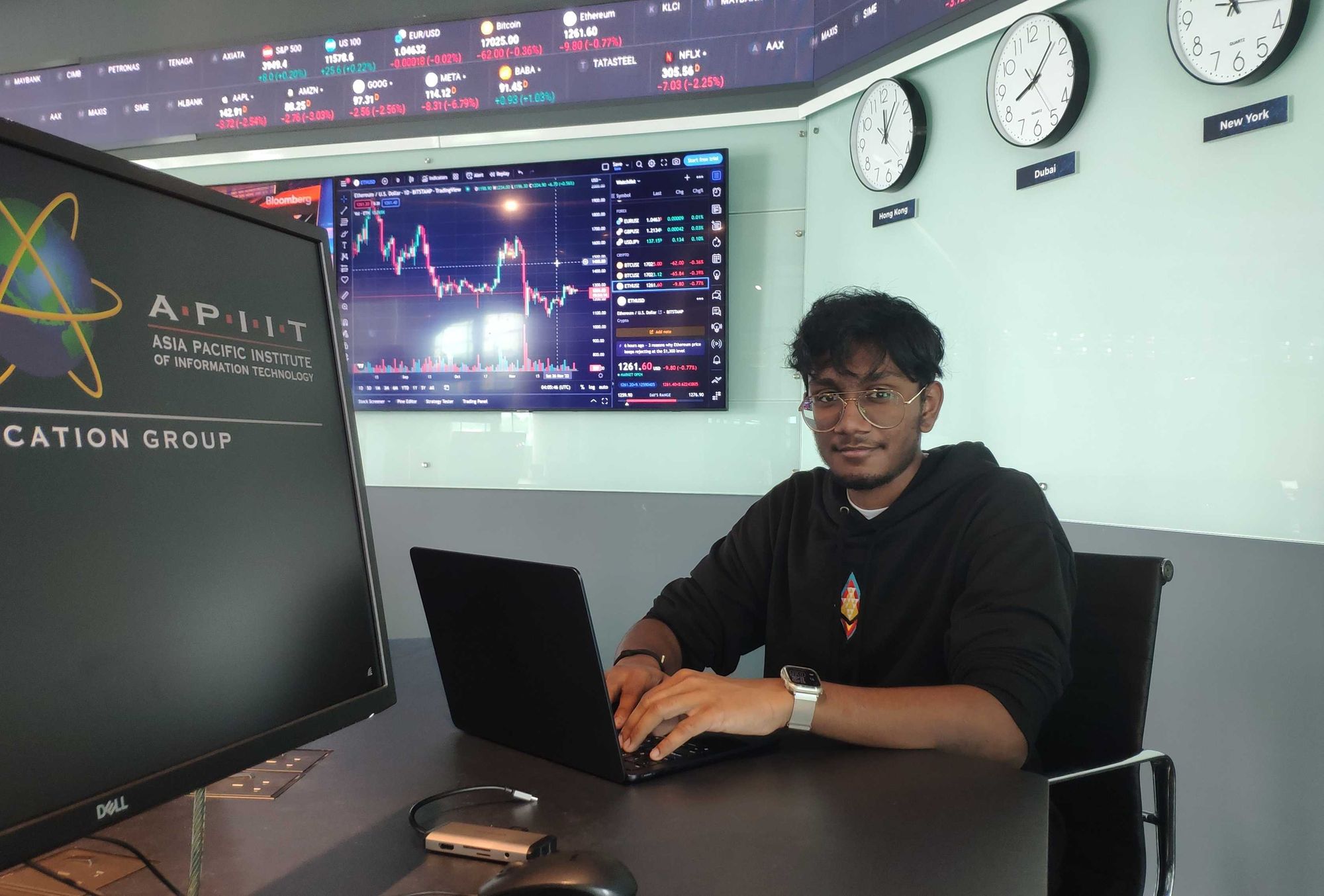 "Most of the students that I talk to have this tutorial loop where they have to learn everything first before starting something" said Sugumaran. Students don't realise that there are things that they can only learn once they start doing something and to get there, we have to cultivate a proactive mindset within our students.
He reminisces about his experience and involvement in past hackathons where there were times that despite not having all the answers, he needed to think on his feet to solve problems. The experience he says has taught him to make better decisions and he hopes he can bring that same critical thinking experience to students.
Spoils of war & the chick situation
Continuing our interview in the cafeteria, I noticed that there were multiple TVs surrounding the campus, each serving as the APUBCC's messaging board. As part of the video loop it dished out, there was an homage reel showcasing high achieving students with their photos and accomplishments. Sugumaran's portrait had turned up, honouring his involvement in global blockchain hackathons.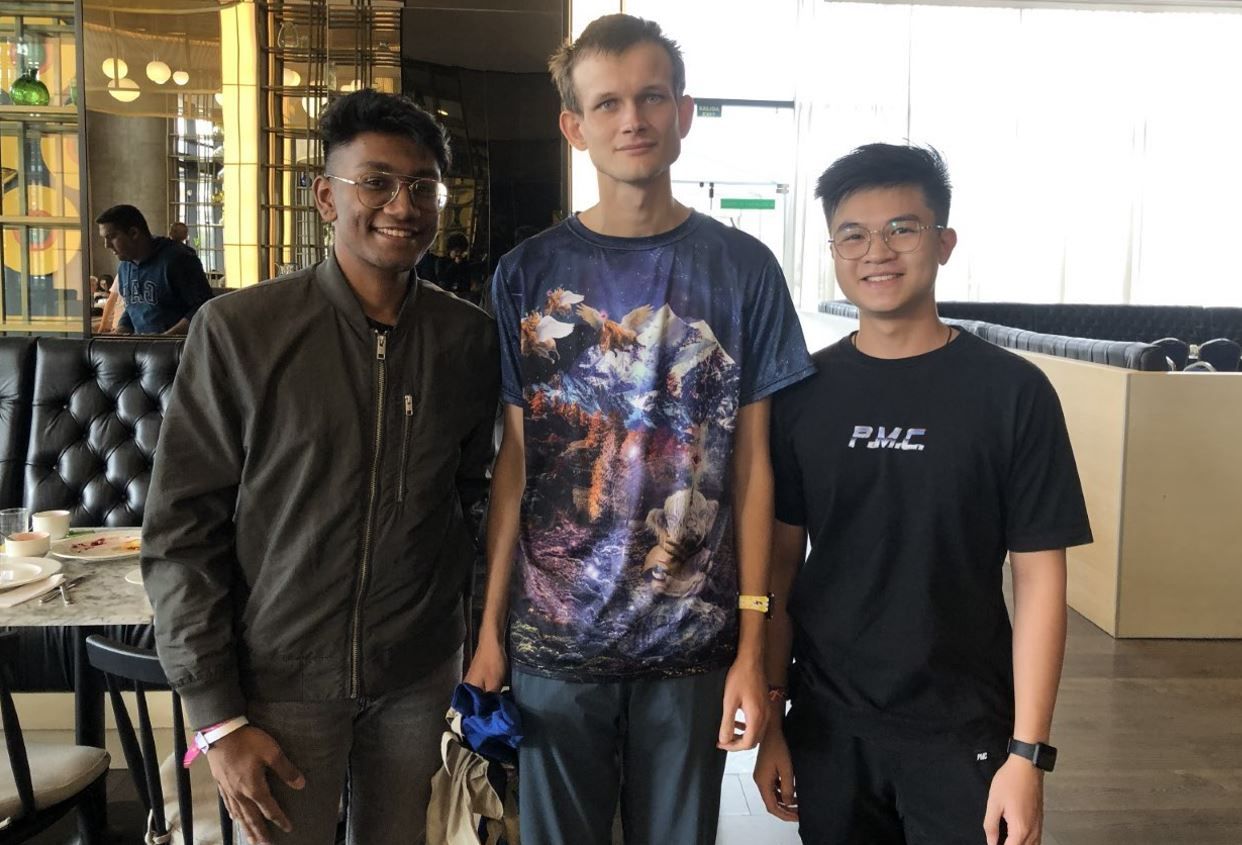 Sugumaran tells me in a personal capacity, that he was "extremely fortunate to be selected" as one of 50 delegate students to be sponsored by the Ethereum Foundation to attend Devcon Bogota 2023.
He spoke fondly of his experiences "travelling the world" and "seeing how blockchain events were run differently in other parts of the world". He was also graceful in crediting his internship at Etherscan and his industry connections to have helped him along his journey.
Given his newfound status as somewhat of a university celebrity, I cheekily asked Sugumaran about his experience with clout chasers.
"There are girls that have come up to me and said, "Hey you're the guy from TV right?", and it sometimes gets kind of awkward but I try to keep it chill." he says.
"I think it's a normal thing, as you get more famous, people want to get to know you. I try to be professional about it and just be chill. For me, I go where my passion takes me, but yes girls do approach us (him and Lee) to study together from time to time and some can be very direct with their questions on our relationship status."
The duo quickly returned their focus back to explaining their mission on driving the club forward. It became clear that they deeply cared about the club, and were focused on scaling their results to other universities through their "rising tide lifts all boats" philosophy.
Midway through our chat on government alignment for university programs, Sugumaran says to me, "Just thinking out loud here, what if we get MRANTI (Malaysia Research Accelerator for Tech & Innovation) to fund our local events, because as students, we have all these ideas for the industry and they are always looking for creative solutions from locals."
At this instance, I thought to myself, it's no wonder they are the biggest blockchain club in the country. These guys get it.
Drop us a tweet @blockhead_co with your thoughts on APUBCC.
Join the Blockhead Malaysia telegram group for more Malaysia-focused commentary and intel.