Singapore has failed to fulfill PwC's crypto regulation checklist for not implementing leglistation surrounding stablecoins.
In PwC's Global Crypto Regulation Report 2023, the Big Four firm evaluated the global approach to crypto regulation.
"Trust in the space is broken right now," Matt Blumenfeld, Web3 & Digital Asset Lead PwC US, said in the report. "While regulation alone will not solve that, clarity across terminology and application of regulation, along with enhancements to risk management capabilities and procedures, is a good starting point."
A section titled "crypto regulation at a glance" offers an overview of how much regulation different countries have implemented to different areas of crypto.
The US has regulation in place for anti-money laundering / counter-terrorist financing (AML / CTF) as well as the travel rule. The travel rule "requires all financial institutions to pass on certain information to the next financial institution, in certain funds transmittals involving more than one financial institution."
However, the US is only in the process of initating plans for a regulatory framework and its stablecoins regulation is still pending.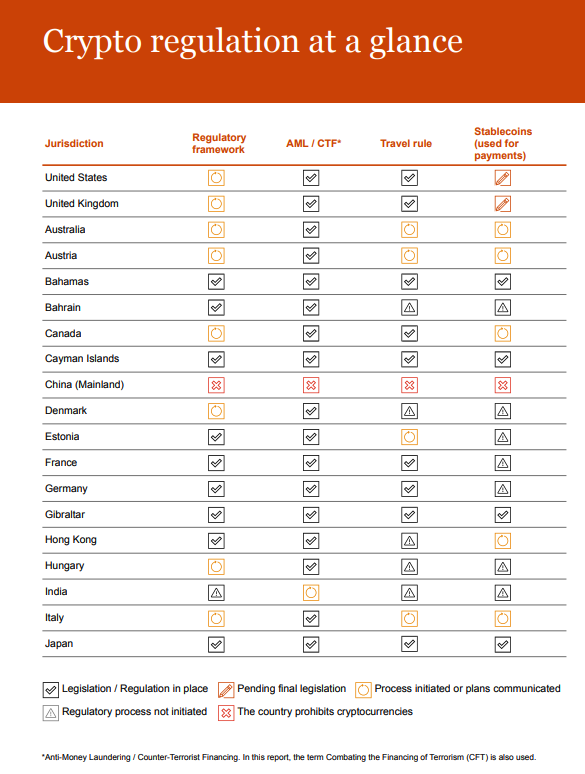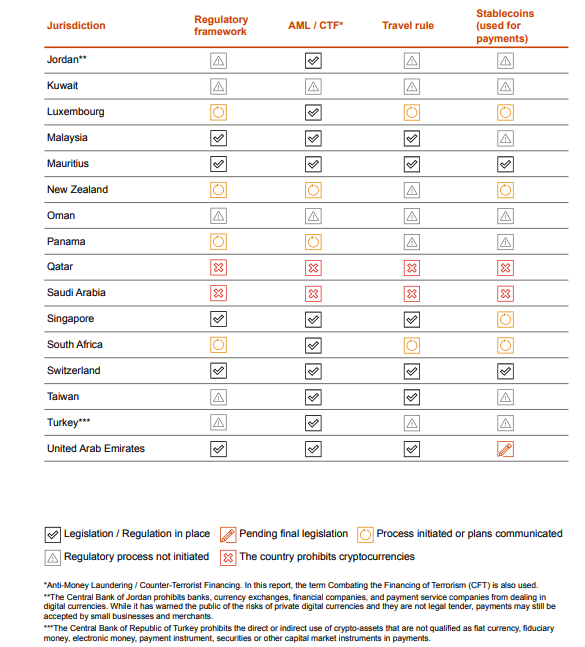 Singapore has legislation solidly in place for regulatory framework, AML/CTF and the travel rule. However, the city state received a "regulatory process not initiated" for stablecoins, earning it 3/4 regulatory passes.
Switzerland, Mauritius, Japan, Gilbraltar, Cayman Islands and Bahamas are the only regions to fulfill the entire regulatory checklist.
Neighbouring country Malaysia earned the same 3/4 regulatory passes as Singapore, as did France and Germany.
The Monetary Authority of Singapore (MAS) has held a cautious stance against crypto, banning advertising to retail investors. However, Singapore's digital asset ambitions are presenting a challenge for MAS to implement correct and effective regulation without resulting in a deterrence from the region.
2022 has proven that stablecoins aren't so stable, and with Do Kwon having ties to Singapore, MAS has even more incentive to regulate stablecoins. 2023 could be the year of regulation.