Near Protocol's dapp chain network Octopus Network is laying off 12 staff, accounting for about 40% of its team 30 man team.
The project cited a "refactoring" process to adapt to market conditions, which will also see remaining staff being subject to a 20% salary cut. Its team token incentive will also be suspended indefinitely.
Founder of Octopus Network, Louis Liu, said "this [crypto] winter is very different from the others", adding that the winter "will last at least another year, perhaps much longer…. most Web3 startups will not survive."
Read more: Hiring, Firing & Lying: Crypto Winter's Big Purge
Job cuts have been rife throughout crypto winter, with layoffs being announced by some of the biggest industry leaders including Crypto.com and Coinbase.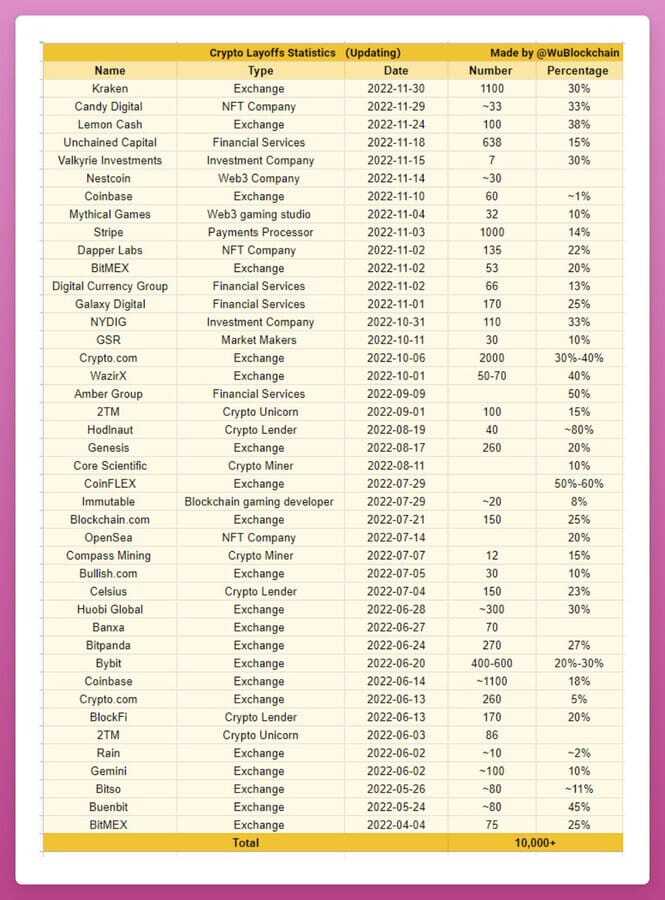 Earlier this month, Bybit laid off 30% of its staff, with CEO Ben Zhou stating "difficult decision made today, but tough times demand tough decisions."
Amber Group, which acquired crypto options trading platform Sparrow and closed a US$300M funding round this month, also cut hundreds of employees, with the headcount at some of its teams being cut by 50%.
Read more: Amber Group Acquires Crypto Platform Despite Bankruptcy Rumours
Employees are usually the first to feel the brunt of cost cutting measures. With crypto winter not warming up any time soon, further layoffs would not be unlikely as we venture into 2023.