Table of Contents
Singapore appears to be a popular destination for companies targeting retail customers, despite Monetary Authority of Singapore's (MAS) restrictions on advertising.
According to The Block's research paper titled The Digital Asset Lending Landscape, Singapore has the second biggest number of centralised digital asset lenders that source their funds directly from retail clients.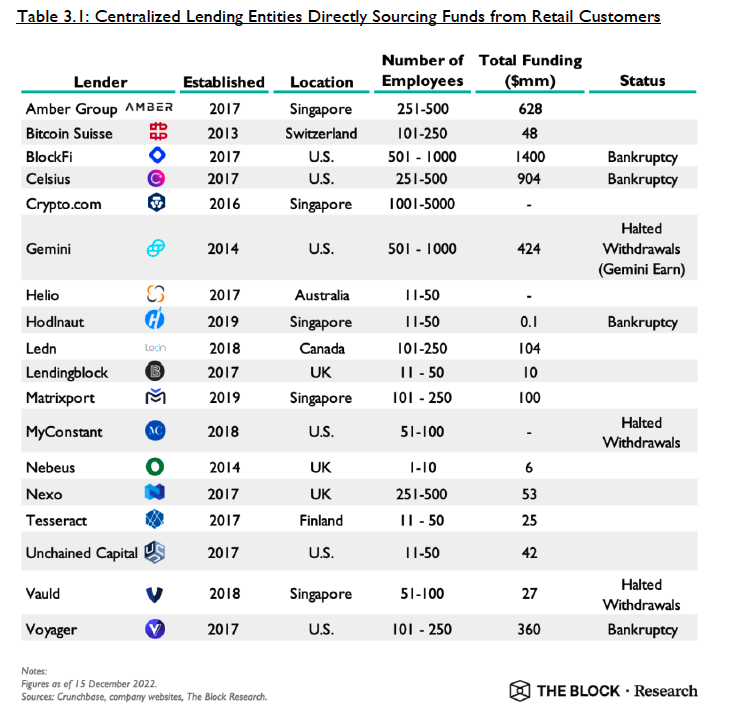 According to the research paper, most of these companies are US based (30%) followed by Singapore (28%) and the UK (17%). The Block explains that these firms use these funds to then "directly invest, or lend out to retail or institutional clients."
In terms of funding and employee count, The Block states that "the larger players tend to be based in the U.S., except for Amber Group and Crypto.com, which are Singapore-based."
Read more: Amber Group Closes US$300M Funding Round
Of the 18 companies listed, 7 have either declared bankruptcy or have halted withdrawals. Singapore based-firms on the list include Amber Group, Crypto.com, Matrixport and Vauld.
MAS x Retail
MAS has retained its stance of protecting retail investors from the harsh realities of crypto. Perhaps its most stringent move in this direction was banning crypto advertising in Singapore, which even extended to this year's F1.
Read more: F1 Has 920M Global Viewership – Is MAS' Ban on Trackside Ads Futile?
Nonetheless, according to The Block's data, it appears that Singapore is still attracting firms that have a strong retail base. MAS's ban appears not to be a deterrent, which is encouraging for those rooting for the Little Red Dot to become the region's digital asset hub (sorry hong Kong).
Last month, Singapore was crowned as the "world's most 'business-friendly' crypto country" for its "wider, socio-economic perspective of the growth of crypto and blockchain across the world."
At the same time, MAS said Singapore banks are to limit their exposure to cryptocurrencies. Banks in Singapore will be required to hold S$125 of capital against an exposure of S$100 to risky cryptocurrencies, Senior Minister and Minister in charge of the Monetary Authority of Singapore Tharman Shanmugaratnam said.
Read more: SG is World's Most Crypto 'Business-Friendly' But Banks' Bitcoin Exposure 'Insignificant'
The Block's findings are yet another case of Singapore showing a hunger for crypto despite MAS's efforts to diminish it.