Crypto winter contagion continues to spread as Bitcoin mining becomes its latest victim.
According to reports, top bitcoin mining company Core Scientific is filing for Chaptter 11 bankruptcy protection in Texas.
Core Scientific operates in North Dakota, North Carolina, Georgia and Kentucky. Its client base included the now defunct Celsius Network.
Read more: Celsius Leaderboard: This Website Ranks the Biggest Losers
The US listed firm has seen its stock price crater 91% over the past six months and 98% YTD. On Tuesday, its market capitalization fell to $78 million from a $4.3 billion valuation in July 2021 when the company went public through a SPAC.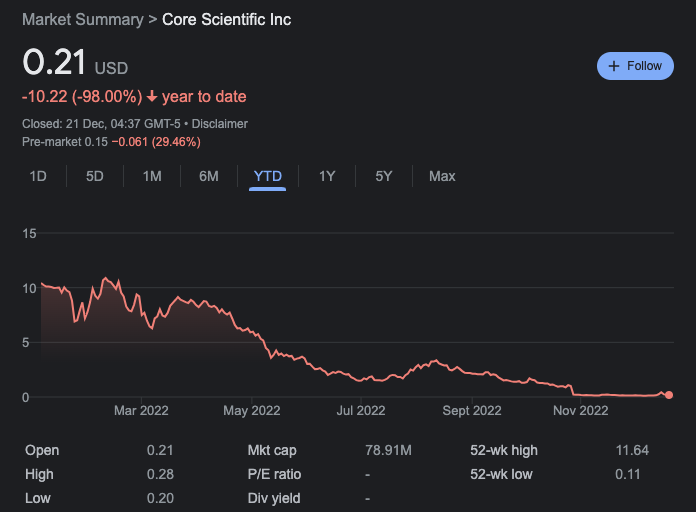 Core Scientific mines for proof-of-work cryptocurrencies with a focus on bitcoin and is still generating a positive cashflow, but said cash is not sufficient to repa the debt owed on its leased equipment.
The firm plans to operate normally whilst reaching a deal with creditors and does not plan to liquidate.
In October, Core Scientific said investors of its common stock could suffer "a total loss of their investment" if market conditions did not reverse.
Bitcoin's price decline from highs of $69,000 in November 2021 to lows of under $16,000 in November 2022 has weighed heavily on the firm's profit margins. "Operating performance and liquidity have been severely impacted by the prolonged decrease in the price of bitcoin, the increase in electricity costs," the firm said in October, as well as citing "the increase in the global bitcoin network hash rate."
Celsius's bankruptcy also impacted Core's balance sheet after its debts were wiped out.
Read more: 14,500 Page Doc Shows All Celsius User Transactions; Execs Withdrew Early
Core Scientific's competitors are also facing financial difficulties. Crypto mining hosting service and infrastructure firm Compute North filed for bankruptcy in September. Greenidge Generation, a vertically integrated crypto miner, reported losses of US$100 million in Q2.
It appears that no area of crypto is impervious to the harsh brutalities of crypto winter. Worse still, market sentiment suggests that the winter is not warming up any time soon.