Table of Contents
Dogecoin has overtaken Coinbase's market cap by a whopping US$2 billion.
According to Coingecko, Dogecoin currently has a market cap of US$10.2 billion, making it the 8th biggest cryptocurrency.
In comparison, Coinbase has a current market cap of just US$8 billion after its stock price collapsed 86% YTD, reaching its all time low on Monday of US$35.17.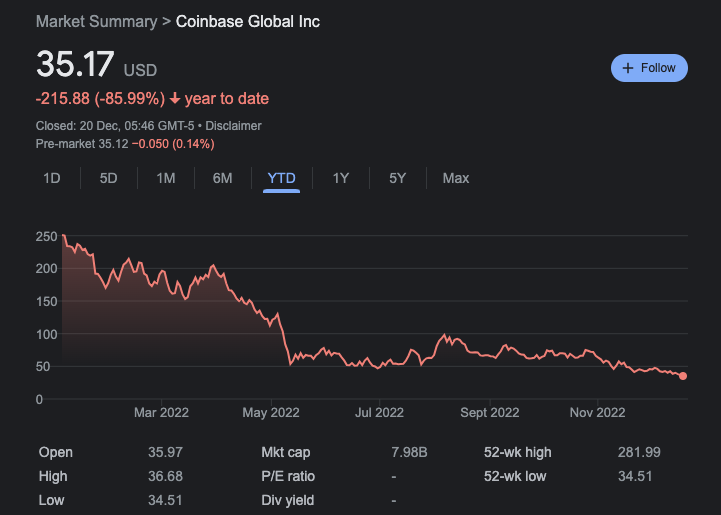 Of course, the figures do not exactly reflect the instrinsic worth of Coinbase nor Dogecoin, but the achievement will leave memecoin critics silent for a while.
2022 has been a brutal year for most crypto projects but Coinbase has truly felt the brunt of it. The exchange has laid off around 1,200 employees this year, account for over 18% of its workforce.
Earlier this month, Coinbase also faced a new roadblock thanks to Apple, which prevented users from no longer being able to send NFTs through the Coinbase Wallet app.
Read more: Apple Blocking Coinbase Shows Web2-Web3 Bridge Problem
Coinbiased
Coinbase is understandably gaining flack for being overtaken by a memecoin. "Coinbase now has a lower market capitalization than Dogecoin lol," tweeted Reflexivity Research's Will Clemente.
"Dogecoin doesn't lose 500 million dollars per quarter," replied one follower.
However, Coinbase doesn't necessarily deserve all of the hate directed to it, at least not solely. Coinbase's weakened market cap is reflective of not only crypto winter but more specifically, the struggles of running an exchange during it.
As trading platform Pluto's CEO Jacob Sansbury states, "I don't think there's a tremendous amount of substance to be gleaned from the fact that Dogecoin has surpassed Coinbase in terms of market capitalization – except to say that the crypto market is very much in flux right now."
"It's in such flux that good projects are down bad while sillier ones are doing relatively well," he added.
Indeed, the struggles of Coinbase are not unique to it but as a listed company, its struggles are more visible. Binance might be picking up the scraps with Voyager Digital's bankrupt assets and acquiring Tokocrypto, but its true finances are far less accessible than Coinbase's.
Read more: Binance Acquires Indonesia's Tokocrypto After Voyager Deal
It's also worth noting that Coinbase is the second largest exchange in terms of trading volume. In October, Coinbase processed $47 billion, which is still a far cry behind Binance's $390 billion, still cements it as one of the biggest exchanges (especially now FTX has bitten the dust).
Coinbase's weak market cap is also reflective of traders losing trust in centralised exchanges. In November, pulled 91,363 bitcoins from centralized exchanges including Binance, Kraken and Coinbase for a total value of close to $1.5 billion, following FTX's collapse.
That's not to say that Dogecoin is a better investment, nor greater longevity. "Dogecoin was a simple, straightforward joke that punches above its pay grade all the way to become a heavyweight champion," said Teong Hng, chief executive officer of crypto investment firm Satori Research.
Read more: Is Coinbase's All-Time-Low Reflective of the Current State of Crypto Exchanges?
If 2022 has taught us anything, it's that there's no telling as to which projects will survive crypto winter, but stats such as Dogecoin's market cap topping Coinbase's are actually meaningless in this regard.