Table of Contents
Bitcoin and other cryptocurrencies continued to trade sideways over the weekend, with the world's largest cryptocurrency subdued by the the Federal Reserve's hawkish script and looking unlikely to breach the US$17,000 level for now.
At the time of writing, Bitcoin (BTC) is trading at US$16,748.84 (+0.02%) while Ethereum (ETH) is trading at US$1,184.97 (-0.12%). Major altcoins such as BNB, Avalanche (AVAX), and Polkadot (DOT) have also been trading in red within the same period.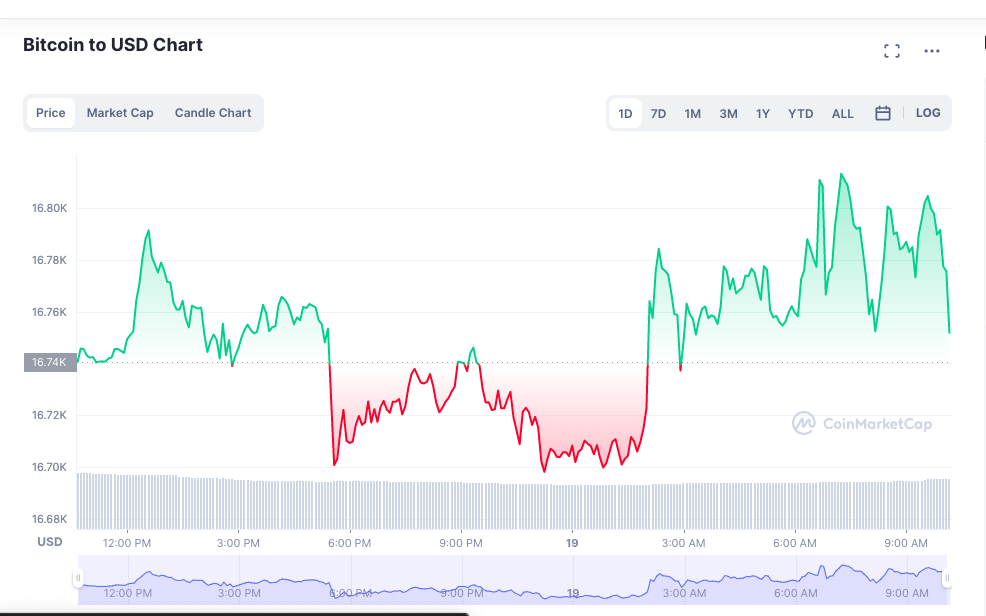 Elsewhere, the broader financial markets have also retreated, with the S&P 500 and the tech-heavy NASDAQ declining by 1.1% and 1% respectively on Friday. Investors were previously spurred by weaker-than-expected inflation numbers and stronger-than-expected job market reports, but are now growing wary of the Fed's resolve to continue raising rates in 2023.
"Our issue though is that this pace will still be too slow for the FOMC's liking, and even for signalling effects, they will want to have positive real rates by Q2, which means nominal rates above 5% by Q1, even if the inflation track is indeed downward," said QCP Capital in its latest note on Saturday.
With the Fed slashing its forecast for US economy growth and predicting that the unemployment rate will rise to 4.6% by the end of 2023, a recession is definitely on the horizon, and it's probably going to be doom and gloom for risky assets like crypto.
Crypto exchange auditors call it quits
Global accounting firm Mazars has announced that it will no longer be providing auditing services to crypto firms, due to the public perception of their reports.
In a statement to CNBC, Mazars said that it "paused its activity relating to the provision of Proof of Reserves Reports for entities in the cryptocurrency sector due to concerns regarding the way these reports are understood by the public."
"Mazars has indicated that they will temporarily pause their work with all of their crypto clients globally, which include Crypto.com, KuCoin, and Binance," a Binance spokesperson told CNBC.
Binance also said that the "Big Four" accounting firms are also "currently unwilling" to provide proof of reserves reports for private crypto companies.
Earlier this month, Binance released a five-page report from a partner at the South African affiliate of the Mazars, which came under intense scrutiny as the report failed to show Binance's total assets and liabilities – only the amount of bitcoin assets and bitcoin liabilities were revealed.
Read more: CZ Relishes "Stress Test" as Binance Sees US$1B Outflows in 24H
It also appears that the report has since been removed from Mazar's website.
On Thursday, Forbes reported that Armanino, the auditing firm for crypto companies such as FTX US and Kraken, will also be exiting the industry.
However, it appears that stablecoin issuers are still able to secure the services of auditing firms, with Circle publishing its monthly reserve report with attestations from Grant Thornton. Its close competitor, Tether, hired Italian accounting firm BDO Italia in August to provide its monthly reserve reports.
OKX suffers outage
Crypto exchange OKX halted withdrawals momentarily last night, after its after primary infrastructure provider Alibaba Cloud announced a hardware failure in Alibaba Cloud's Hong Kong data center.
While Alibaba confirmed the outage, OKX scrambled to reassure users that funds on the exchange remain secure.
At the time of writing, OKX has issued a statement indicating that withdrawals of BTC (mainnet), ETH (mainnet), USDT (ERC20/TRC20), USDC (ERC20/TRC20), and other ERC20 tokens have resumed, with wallet services for the other crypto set to resume in "a few hours".
Elsewhere, fellow crypto exchange Gemini also experienced significant downtime on Thursday.
"The Gemini Spaceship will undergo scheduled Exchange maintenance on Thursday, December 15th from approximately 10:00 p.m. until Friday, December 16th at 12:30 a.m. ET, and all user interfaces and trading will be unavailable during that time," a notice on the exchange's status page said.
Despite the initial announcement, Gemini postponed the resumption of services multiple times, only eventually resuming services at 10:30 UTC.
"Gemini is investigating reports of potential service disruptions. All customer accounts and funds remain completely secure." the exchange said.
Earlier this month, the Financial Times reported that Genesis and its parent company Digital Currency Group (DCG) owe customers of crypto exchange Gemini US$900 million. Venture capital company Digital Currency Group, which owns Genesis Trading and cryptocurrency asset manager Grayscale, owes US$575 million to Genesis' crypto lending arm, Chief Executive Barry Silbert said in a letter to shareholders last month.
Gemini has now formed a creditor's committee in an attempt to recover funds from Genesis and DCG.
TrueUSD launches Chinese Yuan-pegged stablecoin on Tron
Stablecoin platform TrueUSD has launched a new stablecoin, TCNH, on the Tron blockchain.
According to a press release, TCNH is a stablecoin pegged to Offshore Chinese Yuan (CNH), and is audited by "world-leading accounting firms". TrueUSD also noted that offshore currencies are stored and traded outside the issuing country while not subject to its financial regulations, and they are often used as foreign exchange reserves, or for international investments or settlements.
"We've seen that financial markets like Hong Kong are moving towards becoming a global hub for digital currencies, so our products are constantly evolving. We believe that TCNH will further cement our leading position in digital currency infrastructure and contribute to our effort of building a trustworthy and decentralized global payment network," said Annabel Gan, director of marketing and business development at TrueUSD.
According to its website, TrueUSD is the first digital asset with live on-chain attestations by independent third-party institutions, backed 1:1 with USD. It has been listed on over 100 trading platforms including Binance, Huobi, and Poloniex.
Trading Volume
According to data from CoinMarketCap, the global crypto market cap stands at US$811.71 billion, a 0.38% increase since yesterday. The total crypto market volume over the last 24 hours is US$21.44 billion, a 21.76% decrease.
Fear & Greed Index
Risk appetites are sapped – the Crypto Fear and Greed Index currently stands at 29, indicating " fear" – a sign that investors are on the edge. The index uses 5-6 measurements to assess the current sentiment of the market and then rates that level of emotion on a scale of 1-100 – 1 is extreme fear and 100 is extreme greed.
Sentiment climbed to reach 40 on 6 November, but it has remained in the low to mid 20s for the past month.