Bitcoin and other cryptocurrencies continued to trade sideways throughout the week, with the world's largest cryptocurrency briefly touching US$18,300 before paring gains almost immediately, after the US Federal Reserve raised interest rates by 50 basis points and reminded investors of its hawkish narrative.
At the time of writing, Bitcoin (BTC) is trading at US$17,422.13 (-1.74%) while Ethereum (ETH) is trading at US$1,271.59 (-1.61%) Major altcoins such as Binance Coin (BNB), Avalanche (AVAX), and Polkadot (DOT) have also been trading in red within the same period.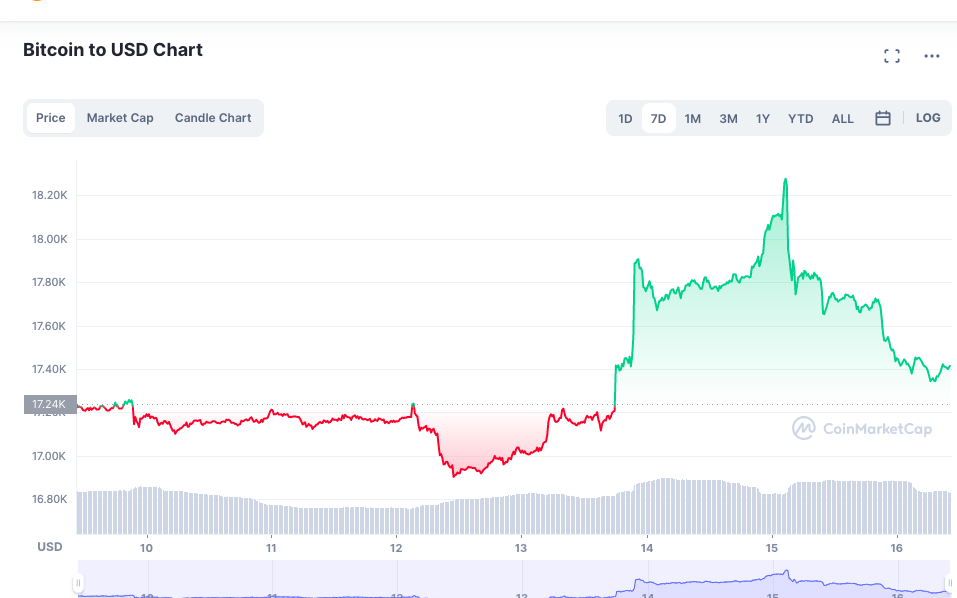 On Wednesday, the US Federal Reserve announced a 50 bps hike, and hinted at additional interest rate hikes in 2023.
"The committee anticipates that ongoing increases in the target range will be appropriate in order to attain a stance of monetary policy that is sufficiently restrictive to return inflation to 2% over time," the central bank said in a statement.
While it was previously speculated that the markets were already priced in, both the crypto and broader financial markets declined on the news, with the Dow Jones Industrial Average falling 0.3% and the S&P 500 dipping 0.5%.
"Bitcoin is softening as risk aversion hits Wall Street after major central banks signal that more work needs to be done to combat inflation. Bitcoin's weakness is somewhat limited and won't draw much attention unless price action dips below the US$16,800 level," Oanda's Edward Moya said on Thursday.
Meanwhile, investors are closely monitoring Binance's financial situation, with many growing skittish about the exchange's less-than-satisfactory Proof of Reserves (PoR) report. While Binance CEO Changpeng Zhao (CZ) has attempted to allay fears of an FTX-style bank run on the exchange, even stating that he welcomes a "stress test" after Binance saw US$1 billion in net outflows on Tuesday, some are still not convinced about the lack of clarity and assurance.
Furthermore, CZ himself appeared to be on the edge, after he was grilled by CNBC, with the founder continuously emphasizing that the exchange is "financially strong," without really answering any of the questions thrown at him.
However, Ki Young Ju, CEO of on-chain analytical service CryptoQuant, has reassured investors that Binance is indeed overcollateralized.
"Their BTC reserve dropped -8% over the last two days but +24% up during the FTX bank run last month. There might be things to be clarified for regulation, but I don't see any shady on-chain activities for now," he tweeted.
Metamask launches PayPal integration
Web3 infrastructure company Consensys has formed a partnership with fintech platform PayPal.
According to a press release Wednesday, users of Consensys' flagship product MetaMask will be able to purchase crypto (ETH) from within the app using PayPal. MetaMask will be the first Web3 wallet to utilise PayPal for on-ramp transactions, with the feature initially available to US users.
MetaMask is a popular self-custodial wallet that allows users to store their virtual assets and access decentralised services including DeFi platforms and NFT marketplaces.
"This integration with PayPal will allow our U.S. users to not just buy crypto seamlessly through MetaMask, but also to easily explore the Web3 ecosystem," Lorenzo Santos, product manager for MetaMask, said in a press release on Wednesday.
The announcement comes amid PayPal's push into the Web3 space. In June, the payments solution company announced plans to allow its users to move their crypto assets from PayPal's native crypto platform (launched in October 2020) to external wallets.
"Traditional" fintech companies have been keen on entering the crypto market despite the overall market downturn. In September, popular trading app Robinhood debuted the beta version of its non-custodial crypto wallet, launched exclusively with Ethereum Layer 2 solution Polygon.
Trump Cards
Former US President Donald Trump has announced the launch of his NFT collection
Dubbed as "Trump Digital Trading Cards", the avatar-style NFTs depict Trump in various outfits, including a Superman costume and a Top Gun-style fighter pilot jumpsuit.
"We are doing a lot. My Official Trump Digital Cards are US$99 which doesn't sound like very much for what you getting," Trump said in a promotional video on Thursday.
Trump's NFT collection does come with some utility as well. Holders will be granted entry into a series of sweepstakes to meet Mr. Trump or golf at one of his properties, while a purchase of 45 cards will entitle the holder to a ticket to a gala at a Trump resort in South Florida.
"I'll also be doing Zoom calls, one-on-one meetings, autographing memorabilia and so much more," Trump added.
It was widely speculated that Trump's "major announcement," which he had been promoting a day earlier on his social media platform Truth Social, would be his vice presidential pick for the 2024 US elections.
Seems like Trump is still not revealing his actual trump card.
Update: Trump NFTs have sold out — 44k items for a total of US$4.4 million.
FTX to dump subsidiaries
Embattled crypto exchange FTX has petitioned a federal court for permission to sell several subsidiaries on Thursday, including its US-based derivatives wing LedgerX.
The now-bankrupt company is also reportedly seeking to sell its Japanese and European branches, along with stock-clearing platform Embed.
"The longer operations are suspended, the greater the risk to the value of the assets and the risk of a permanent revocation of licenses," lawyers from law firm Sullivan and Cromwell argued on behalf of the company in a motion filed Thursday evening.
"It is a priority of [FTX] to explore sales, recapitalizations or other strategic transactions with respect to such subsidiaries and assets," the motion said.
Earlier this month, Bloomberg reported that LedgerX, widely believed to be one of the few solvent remnants of the failed FTX empire, was attracting interest from Blockchain.com and Gemini.
On Tuesday, former FTX CEO turned crypto fugitive Sam Bankman-Fried appeared in a court hearing in the Bahamas, after he was arrested at the request of the US Government, based on a sealed indictment filed by the Southern District of New York (SDNY).
Read more: Antidepressants & SWAT Escort – Highlights From SBF's First Court Hearing
US to delay crypto tax?
Incoming United States House Financial Services Committee chair Patrick McHenry has asked the US Treasury to delay the implementation of a section of the Infrastructure Investment and Jobs Act that deals with digital assets and tax collection, on the basis that it's "poorly drafted" and might be an impeachment of privacy.
"A number of questions and concerns remain unanswered regarding the scope of Section 80603. These questions and concerns must be addressed to ensure taxpayers have clear direction on the forthcoming requirements and the date required for compliance," McHenry wrote in the letter to Treasury Secretary Janet Yellen.
McHenry stated that the section could be a breach of privacy for US citizens, as it requires the government to treat digital assets like cash for tax purposes.
"Section 80603 is poorly drafted. As such it could be wrongly interpreted as expanding the definition of a 'broker' beyond custodial digital asset intermediaries," McHenry added.
Earlier this year, Coin Center, a non-profit advocacy group focused on blockchain technology, filed a lawsuit against the Treasury saying the rule will impose a "mass surveillance" regime on US citizens.
Trading Volume
According to data from CoinMarketCap, the global crypto market cap stands ar US$849.38 billion, a 1.03% decrease since yesterday. The total crypto market volume over the last 24 hours is US$34.22 billion, a 25.75% decrease.
Fear & Greed Index
Risk appetites are sapped – the Crypto Fear and Greed Index currently stands at 29, indicating " fear" – a sign that investors are skittish. The index uses 5-6 measurements to assess the current sentiment of the market and then rates that level of emotion on a scale of 1-100 – 1 is extreme fear and 100 is extreme greed.
Sentiment climbed to reach 40 on 6 November, but it has remained in the low to mid 20s for the past month.