Table of Contents
Bitcoin and other cryptocurrencies continued their inactivity, with the world's largest cryptocurrency holding steady above US$17,000 for now.
At the time of writing, Bitcoin (BTC) is trading at US$17,212,70 (+1.41%) while Ethereum (ETH) is trading at US$1,290.67 (+2.44%). Major altcoins such as BNB, Avalanche (AVAX), and Polkadot (DOT) have also been trading in green within the same period.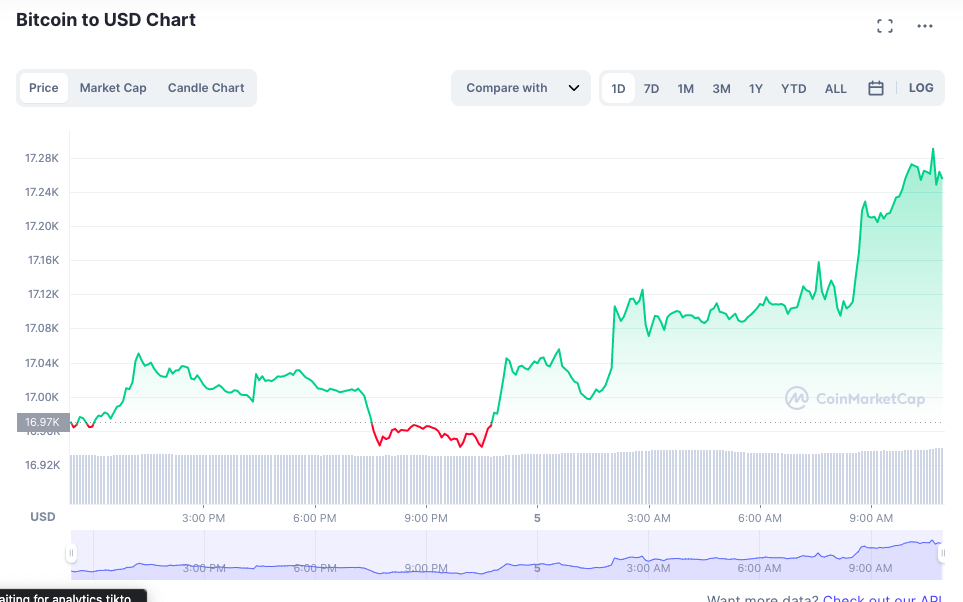 Meanwhile, in a blow to the Federal Reserve's efforts to tame inflation, the labour department on Friday announced that the US added 263,000 jobs in November, higher than the expected 200,000 jobs despite rising interest rates and a series layoffs among real estate and tech companies. Both BTC and the broader financial markets declined slightly on the news, with investors now concerned that the Fed will become more aggressive with its rate hikes.
Elsewhere, crypto's latest fugitive Sam Bankman-Fried has hinted that he might not be testifying in the upcoming US House committee's hearing about the collapse of FTX exchange on December 13.
In a tweet on Sunday, Bankman-Fried said that he is still in the midst of "learning and reviewing what happened", and is "not sure what will happen by the 13th", adding that "when it does, I will testify".
Genesis on the verge of bankruptcy?
According to a report by Financial Times, crypto broker Genesis and its parent company Digital Currency Group (DCG) owe customers of crypto exchange Gemini US$900 million.
Venture capital company Digital Currency Group, which owns Genesis Trading and cryptocurrency asset manager Grayscale, owes US$575 million to Genesis' crypto lending arm, Chief Executive Barry Silbert said in a letter to shareholders last month. Gemini has now formed a creditor's committee in an attempt to recover funds from Genesis and DCG.
On Sunday, Coindesk reported that creditor groups in negotiation with Genesis currently account for some US$1.8 billion of loans, with the number likely to continue growing.
Last month, a New York Times article that cited three people familiar with the matter said that Genesis hired investment bank Moelis & Company to explore options including a potential bankruptcy.
Zipmex set for US$100 million venture capital buyout
Embattled crypto exchange Zipmex has received a US$100 million lifeline from V Ventures, a subsidiary of Thoresen Thai Agencies Pcl, according to a Bloomberg report that cited a person familiar with the matter.
The fund is set to acquire about 90% in Zipmex, and will offer US$30 million in cash, with the remainder being paid in crypto tokens which will be used to gradually unlock Zipmex customers' frozen wallets by April.
The Singapore-based exchange, which also has operations in Thailand, Indonesia and Australia, halted withdrawals in July as it faced liquidity issues due to its exposure to failed crypto lenders Babel Finance and Celsius Network. It was granted protection from creditors in Singapore in August.
The platform previously attracted the attention of US crypto exchange Coinbase, which was considering acquiring the platform earlier this year. However, the deal fell through and Coinbase eventually ended up making an undisclosed "strategic investment" into Zipmex as part of a Series B+ funding round.
Metacomp receives MAS approval
MetaComp is the latest crypto company to receive approval from the Monetary Authority of Singapore (MAS) to provide digital payment token services in the city-state as a major payment institution.
According to a press release, the digital assets platform will now be able to offer an end-to-end suite of digital asset services to corporates, as well as traditional and crypto-native institutional investors.
Founded in 2018, MetaComp is a subsidiary of MetaVerse Green Exchange (MVGX), a digital assets exchange offering tokenized carbon credits. It holds the Recognized Market Operator and Capital Market Services licenses in Singapore.
The MAS has taken a rather cautious approach to crypto in Singapore, deterring exposure to retail investors. The financial watchdog recently warned that not all activities related to DPT are regulated in the city-state. But a slew of crypto companies, including Coinbase and Blockchain.com, have received in-principal approvals from MAS to provide DPT services in the country in recent months.
Bybit extends jobs cuts
Crypto exchange Bybit has become the latest crypto company to announce job cuts amid the current downturn.
"Regrettably, the review includes a headcount reduction across the board — with an overall impact of approximately 30%," Bybit CEO Ben Zhou said in the statement Sunday.
"But it's important to ensure Bybit has the right structure and resources in place to navigate the market slowdown and that it is nimble enough to seize the many opportunities ahead," he added.
Zhou also highlighted that the company's priority is to ensure that its business operations remain unaffected and that its clients' assets remain safe and assured. The exchange reportedly reduced its headcount by 30% in June.
On Wednesday, fellow crypto exchange Kraken also announced that it will be cutting down its global workforce by 30%.
Trading Volume
According to data from CoinMarketCap, the global crypto market cap stands at US$865.80 billion, a 1.49% increase since yesterday. The total crypto market volume over the last 24 hours is US$32.98 billion, a 8.42% increase.
Fear & Greed Index
Risk appetites are sapped – the Crypto Fear and Greed Index currently stands at 26, indicating " fear" – a sign that investors are skittish. The index uses 5-6 measurements to assess the current sentiment of the market and then rates that level of emotion on a scale of 1-100 – 1 is extreme fear and 100 is extreme greed.
Sentiment climbed to reach 40 on 6 November, but it has remained in the low to mid 20s for the past month.