Bitcoin and other cryptocurrencies continued to trade sideways throughout the week, with the world's largest cryptocurrency stubbornly stuck around the US$16,000 level for now.
At the time of writing, Bitcoin (BTC) is trading at US$16,504.48 (-1.41%) while Ethereum (ETH) is trading at US$1,186.92 (-1.21%). Major altcoins such Solana (SOL), Avalanche (AVAX), and Polkadot (DOT) have also been trading in red this week.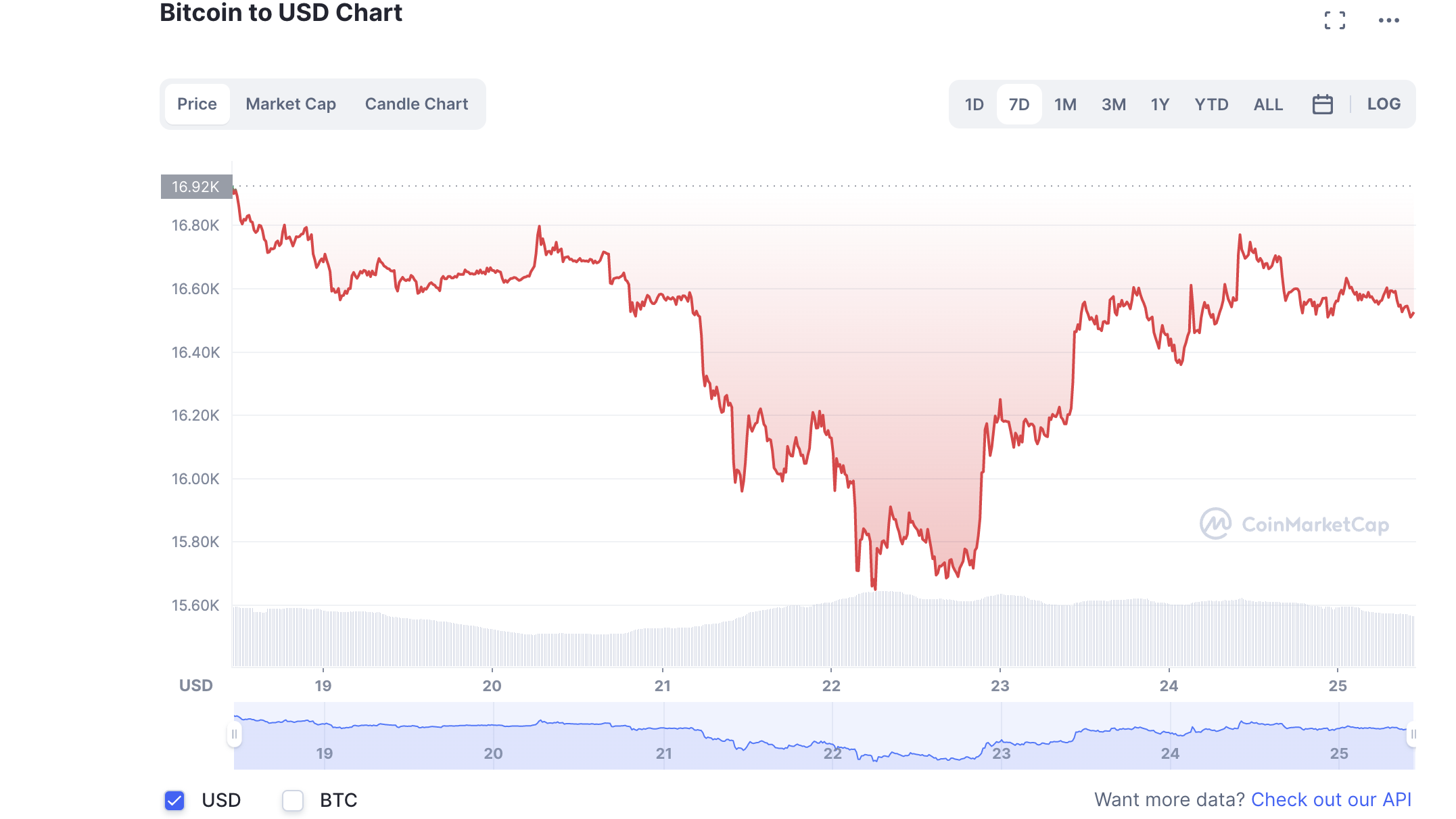 Once dubbed as an "Ethereum killer", Solana has spectacularly regressed in recent weeks, with SOL now trading at US$14.13 with a current market cap of US$5.13 billion, a 93.5% drop from its ATH price of US$258.58 in November last year. The Solana Foundation is also highly exposed to FTX, with its recent report indicating that it held approximately US$1 million in cash on FTX as of November 6th, along with roughly 3.43 million FTX (FTT) tokens and 134.54 million Serum (SRM) tokens that are now stuck in the collapsed exchange.
Meanwhile, seemingly forgotten altcoin Terra (LUNA), now known as LUNA 2.0, has begun its "Revival Plan". LUNA, which was in vesting mode, will begin to deposit in user's wallet at 6 am UTC on November 24th — in accordance with the Genesis LUNA airdrop timetables that the community had voted back in May of this year.
Elsewhere, the broader financial markets climbed after the release of the minutes from the Federal Reserve's November meeting, with the S&P 500 ending the session up 0.6%, and the tech-heavy NASDAQ gaining 1%.
The minutes indicate that a "substantial majority" of participants believe that a slowing in the pace of interest rate increases would likely soon be appropriate. However, despite the dovish sentiment, the crypto markets continue to remain on edge over a possible contagion from the FTX fall out, with all eyes now on Genesis' potential bankruptcy.
According to a New York Times article that cited three people familiar with situation, Genesis has since hired investment bank Moelis & Company to explore options including a potential bankruptcy. Last week, the company informed its clients that it would halting withdrawals due to liquidity issues.
Binance to the rescue
Crypto giant Binance has established an "Investment Recovery Initiative" (IRI), which aims to tide troubled crypto firms through the storm caused by the market downturn and FTX's collapse.
In a blogpost, Binance said it will commit US$1 billion to the recovery fund, with the possibility of increasing that amount to US$2 billion at a point in time in the future "if the need arises".
The company said that it has already received roughly 150 applications from companies seeking support under the IRI.
Other crypto native investment firms including Jump Crypto, Polygon Ventures, and Animoca Brands have also collectively contributed US$50 million to the IRI.
Bybit announces support fund
Singapore-based crypto derivatives exchange Bybit has established a US$100 million to support its institutional clients.
According to a press release, eligible applicants include market makers and HFT (high-frequency trading) institutions affected by the FTX fallout. They have to be active on Bybit or other exchanges, with the maximum amount distributed per applicant set at US$10 million and the funds must be used for spot and Tether perpetual trading on Bybit.
Bybit is the 35th largest crypto exchange in the world, according to data from CoinMarketCap, and joins Binance in trying to bail out companies affected by the market downturn.
Saudi Arabia NFTs soar after historic win
Saudi Arabia-themed NFT collection called "The Saudis" increased 387% on Tuesday following the country's surprise 2-1 win against Argentina in the 2022 FIFA World Cup.
However, Argentina's loss saw their fan token (sponsored by the Argentine Football Association) fall over 25% after the final whistle. The shocking 2-1 loss triggered the $ARG token to fall to US$5.39 from highs of US$7.49 before kick off.
Meanwhile, France saw their fan token ($FRA) surge over 145% to US$0.001444 following their 4-1 win over Australia.
Trading Volume
According to data from CoinMarketCap, the global crypto market cap stands at US$828.29 billion, a 1.09% decrease since yesterday. The total crypto market volume over the last 24 hours is US$47.97 billion, a 23.62% decrease.
Fear & Greed Index
Risk appetites are sapped – the Crypto Fear and Greed Index currently stands at 20, indicating "extreme fear" – a sign that investors are on the edge. The index uses 5-6 measurements to assess the current sentiment of the market and then rates that level of emotion on a scale of 1-100 – 1 is extreme fear and 100 is extreme greed.
Sentiment climbed to reach 40 on 6 November, but it has remained in the low 20s for the past three weeks.