Bitcoin and other cryptocurrencies soared briefly over the weekend, with the world's largest cryptocurrency briefly breaching the US$21,000 level before paring gains.
At the time of writing, Bitcoin (BTC) is trading at US$ 20,903.77 (-1.51%) while Ethereum (ETH) is trading at US$1,586.19 (-1.79%). Major altcoins such as Solana (SOL), Avalanche (AVAX), and Polkadot (DOT) have also dipped since yesterday, but are still registering decent gains since last week.
SOL climbed by 15% after Google Cloud announced plans to become a validator on the network, but fell just as quickly, dipping more than 10% in the last 24 hours.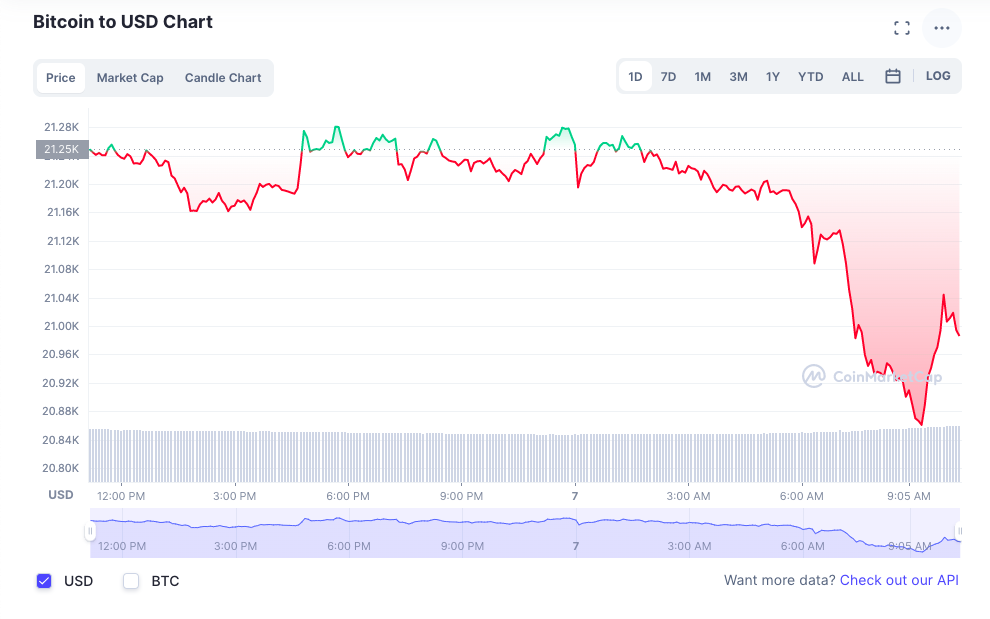 There are signs of a recovery in the crypto markets, as seen by the sporadic rallies and the ultra-sensitivity even towards minor news and announcements. More volatility should be expected in the coming weeks, as investors await the US midterm elections and the release of the US Labor Department's CPI (Consumer Price Index) report, due Thursday.
Coinbase CEO criticises Singapore's regulatory landscape
Coinbase CEO Brian Armstrong has weighed in on Singapore's tightening grip on the cryptocurrency space.
At last week's Singapore Fintech Festival, Armstrong, who was speaking alongside Monetary Authority of Singapore (MAS) chief fintech officer Sopnendu Mohanty, criticised Singapore's regulatory landscape and urged the city-state to embrace retail trading and self-hosted wallets.
"Singapore wants to be a Web3 hub, and then simultaneously say: 'Oh, we're not really going to allow retail trading or self-hosted wallets to be available," Armstrong pointed out.
Armstrong's comment comes on the heels of Coinbase's in-principle approval from the MAS to offer digital payment token (DPT) services in the country.
Mohanty responded by asking Armstrong to name the regulations that he feels should be reviewed, to which Armstrong replied by saying that centralised exchanges and custodians like Coinbase "should be treated just like other financial service businesses".
"Crypto should not be treated at a disadvantage; they should be treated equally with other financial service regulations," he added.
In his opening address at the Singapore Fintech Festival, MAS managing director Ravi Menon compared Singapore's fintech vision to the five elements, and said, "If a crypto hub is about experimenting with programmable money, applying digital assets for use cases or tokenizing financial assets to increase efficiency and reduce risk in financial transactions, yes, we want to be a crypto hub. But if it is about trading and speculating in cryptocurrencies, that is not the kind of crypto hub we want to be."
Read more: MAS' Ravi Menon Invokes Wuxing in Vision for Fintech
Meta planning lay-offs
According to the Wall Street Journal, Facebook parent company Meta is preparing to lay-off thousands of its employees this week, with an announcement expected as soon as Wednesday.
Since doubling down on its metaverse efforts since October last year, Meta's metaverse-focused business model has failed to be a success, with the company's metaverse arm Reality Labs recording a loss of US$3.7 billion in Q3 this year, with a year-to-date loss of US$9.4 billion.
In October, Meta posted a 50% fall in quarterly profits and its second-straight sales decline. The company said at the time that it would be "making significant changes across the board to operate more efficiently," including by reducing the headcount in some teams and hiring only in areas of highest priority.
At the time of writing, META is trading at US$90.79 per share, down 73.18% since the start of this year and falling to its lowest since 2016.
Amber Group eyes US$100M funding
Singapore-based crypto trading firm Amber Group is seeking to raise over US$100 million at a US$3 billion dollar valuation, according to Bloomberg report who cited a person familiar with the matter.
The person, who asked not to be identified, said that the new funding is an extension of the previous round, and the company had previously aimed to raise at a much higher valuation (Bloomberg reported in May that Amber was looking to raise funds at a US$10 billion valuation) in the second quarter.
However, the bear market prompted the company to pursue a flat round – a round of financing that is closed at the same valuation as the startup's prior round of financing. In February this year, Amber announced it obtained a new round of funding of US$200 million from a group of investors led by Temasek, Tiger Global Management, and Coinbase Ventures at a US$3 billion valuation.
The person also said that the new fund will be completed in multiple stages, as investors remain weary about participating in big funding rounds. In September, Bloomberg reported that the company conducted lay-offs as a result of the market downturn, cutting as much as 10% of its staff.
Vitalik Buterin updates Ethereum roadmap
Ethereum founder Vitalik Buterin is in town and spoke about Ethereum's recent developments at last week's Singapore Fintech Festival, including its shift from Proof-of-Work (PoW) to Proof-of-Stake (PoS), and some of the network's future plans.
Buterin has since provided an updated roadmap for Ethereum via his Twitter account to include a new phase known as "The Scourge".
The entire Ethereum road map now has six phases – the Merge, the Surge, the Scourge, the Verge, the Purge, and the Splurge. In September, Ethereum initiated the first stage of the Merge with the transition to PoS, with stage 2 focusing on single slot finality.
The next phase, the Surge, will focus on increasing the scalability of the network, while the new phase, the Scourge, will "ensure reliable and fair credibly neutral transaction inclusion, solve MEV (maximal extractable value) issues."
Trading Volume
According to data from CoinMarketCap, the global crypto market cap is US$1.04 trillion, a 1.5% since yesterday. The total crypto market volume over the last 24 hours is US$69.87 billion, a 0.98% decrease.
Fear & Greed Index
Risk appetites are sapped – the Crypto Fear and Greed Index currently stands at 33 indicating fear. The index uses 5-6 measurements to assess the current sentiment of the market and then rates that level of emotion on a scale of 1-100 – 1 is extreme fear and 100 is extreme greed.