Bitcoin basis weekly data. Risk is still skewing higher, but we still need a clean break of the downtrend return line circa US$22,000 to confirm that we are on for a big advance.
Price is very likely just starting up in a new 20-week cycle, which should provide a good tailwind, but as you can see in the chart the last 20-week cycle out of the big trough only saw a 43% advance. In other words, it's not a given that a longer cycle like this produces a power move.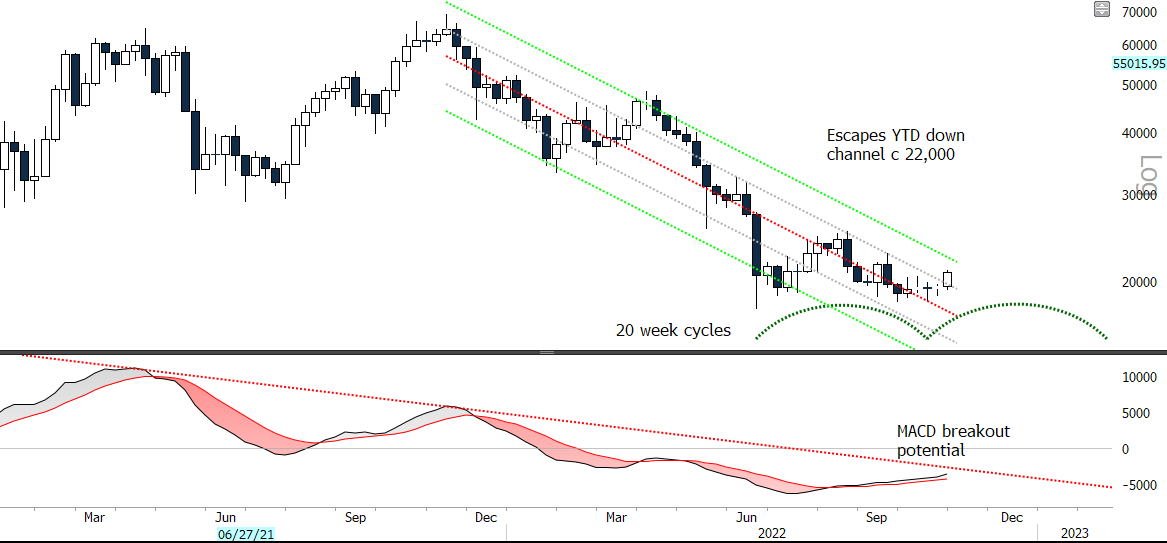 MACD is rising and was doing so even through the recent drop into the 20 week low, and this is a bullish set up. However, meanwhile gold is not following up in such a sprightly manner and you may remember from previous notes how tightly correlated gold and bitcoin have been. The inverse to gold is the US dollar, which feasibly could find near term support at 110. If it rallies again then gold and bitcoin fall.
And understand this, the long term trend in the dollar is up and could potentially even go to 125 longer term. So as usual in technical analysis, we find ourselves waiting for confirmation.