Table of Contents
Bitcoin and other cryptocurrencies continued to trade sideways throughout the weekend, with the world's largest cryptocurrency seemingly unresponsive to the better-than-expected US job market report.
At the time of writing, Bitcoin (BTC) is trading at US$19,479.38 (+0.50%) while Ethereum is trading at US$1,325.49 (+1.23%). Major altcoins such as Solana (SOL), Avalanche (AVAX), and Polkadot (DOT) have also been trading in green within the same period.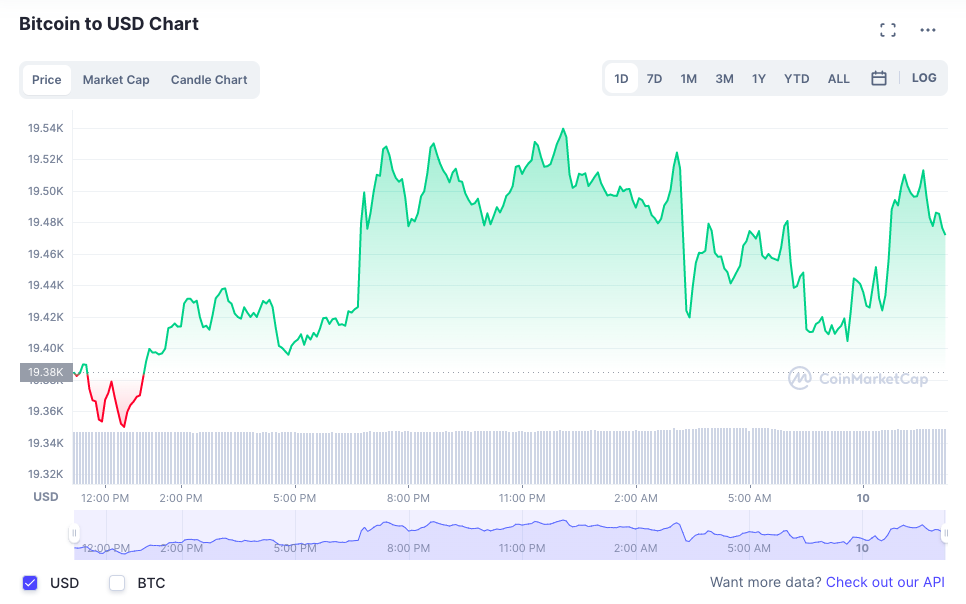 On Friday, the Bureau of Labour statistics reported that the economy added 263,000 jobs, slightly more than economists expected. The headline number marks the second consecutive month of falling totals, which means that investors can expect another 75bps hike in November as the Federal Reserve continues to seek a labour market cool down.
Binance eyes expansion into Philippines, Turkey
Binance is seeking to expand its operations in Asia, according to Gleb Kostarev, the exchange's head of Asia operations.
"We see huge potential [in Asia]. For example, in the Philippines, after GameFi got such huge popularity, there is definitely a huge market for us. So right now, we are in the process of finalizing an acquisition and obtaining licenses there", he told Forkast news.
Kostarev also noted that Turkey is a "really huge" market because people there are hedging against inflation using crypto.
In August, Binance signed a memorandum of understanding (MoU) with the City of Busan, South Korea's second-largest city. Busan will receive technological and infrastructure support from Binance for the development of its blockchain ecosystem and promotion of the Busan Digital Asset Exchange.
Binance has won regulatory approval in the past year to offer crypto services in France, Italy, Spain, Dubai, Abu Dhabi, and Bahrain.
FTT surges after Visa partnership
Crypto exchange FTX is teaming up with Visa to offer debit cards in 40 countries with a focus on Latin America, Asia, and Europe.
The cards will be directly linked to users' FTX account, which will allow them to spend cryptocurrencies without moving them off FTX.
"It's a technology that we absolutely see disrupting traditional payment networks," FTX CEO Sam Bankman-Fried told CNBC.
"There's a decision you have to make as a traditional payments company: do you want to lean into this or do you want to fight against it? I respect the fact that many of them are leaning into it", he added.
Visa has already partnered with a number of crypto exchanges, including FTX's competitors Coinbase and Binance. Its rival, Mastercard, has also partnered with Coinbase on NFTs.
FTX's native token, FTT, surged 7% after the announcement.
Top OpenSea executive resigns
Brian Roberts, CFO of NFT marketplace OpenSea, has resigned from his role.
"I remain incredibly bullish on web3 and especially OpenSea," Roberts said in a Facebook post, adding that "the best is yet to come" for the company.
Roberts, who was appointed as CFO in 2021 after working ride-sharing application startup Lyft for nearly 7 years, also confirmed that he will be staying on as an "advisor".
According to data from Dune Analytics, the weekly trading volume of NFTs has plunged to US$114.4 million representing a decrease of 98% from the US$6.2 billion witnessed around the end of January. Weekly NFT trading volume peaked at US$146.3 billion in early April, declining sharply in tandem with the start of the crypto market crash in May.
Read more: What Next For NFTs? WhaleShark, Punk 6529 Give Their Predictions
Trading Volume
According to data from CoinMarketCap, the global crypto market cap stands at US$945.11 billion, a 0.78% increase since yesterday. The total crypto market volume over the last 24 hours is US$33.14 billion, a 1.72% increase.
Fear & Greed Index
Risk appetites are sapped – the Crypto Fear and Greed Index currently stands at 22 indicating extreme fear. The index uses 5-6 measurements to assess the current sentiment of the market and then rates that level of emotion on a scale of 1-100 – 1 is extreme fear and 100 is extreme greed.