Table of Contents
Temperatures continue to rise in the Celsius Network scandal, as a new website ranks those who lost the most money in the platform's fallout.
Last week, Celsius users were doxxed in a 14,500 page document that revealed all transactions ahead of its bankruptcy.
The document, uploaded by Gizmodo, shows the transactions of all Celsius users, including purchases, withdrawals and interest earned. It even showed that former CEO Alex Mashinsky and ex-CSO Daniel Leon ashed out at least US$17 million and as much as US$23 million ahead of halting withdrawals for other users.
In the latest turn of events, a website called CelsiusNetworth has ranked Celsius users by their US$ losses from the platform.
Armed with a "search" function, netizens can easily search for their friends, colleagues and family members to find out how much they've lost.
CelsiusNetworth further lists type of token the user had held, the nominal token value lost, as well as their US$ value lost.
Sitting at the #1 spot is a poor fellow named Jacob Banjamin Fite who lost a whopping US$40,468,920.35. Little is known about the user – a quick Google search will draw up nothing. What we do know, however, is Mr Fite lost over 2,084 BTC staking them on Celsius.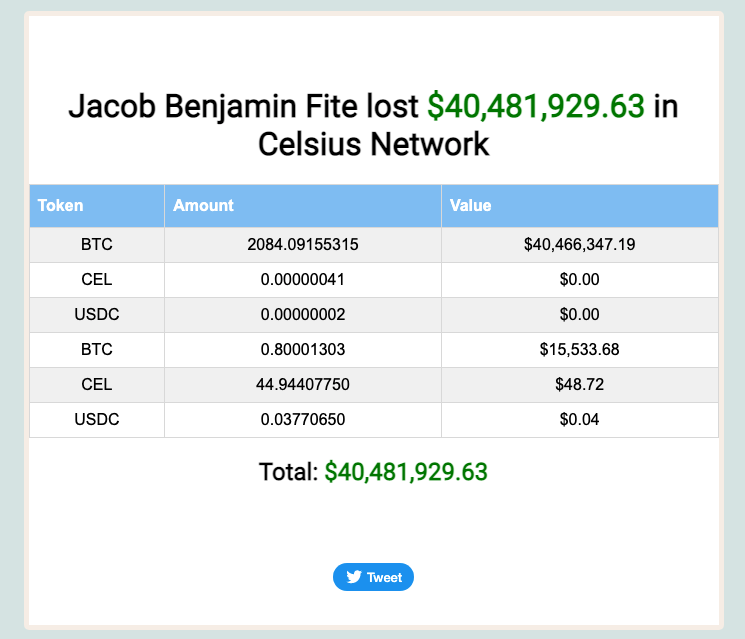 In second place is a fallen soldier who goes by Hirokado Kohji, who lost US$38,197,902.37. Perhaps what's most surprising about Mr Kohji is that he held over US$25 million in ADA. A quick Google search shows that a Hirokado Kohji serves as an inactive director at a firm called Altive Investment and Management LLC. However, there's no evidence that the namesake is the same Kohji in question.
It's a similar story for the rest of the top 10; despite their mammoth losses, none of the names are familiar or of any significance.
Whilst there's something unsettling about the overall breach of privacy stemming from the 14,500 page document leak, Blockhead masochists have admittedly enjoyed searching for friends on the CelsiusNetworth.
So much for web3 decentralizeed anonymity eh?