Bitcoin and other cryptocurrencies registered slight gains over the past week, with the world's largest cryptocurrency briefly touching US$20,000 before paring gains.
At the time of writing, Bitcoin (BTC) is trading at US$19,864.57 (-1.84%) while Ethereum (ETH) is trading at US$1,350.34 (-1.23%). Major altcoins such as Solana (SOL), Avalanche (AVAX), and Polkadot (DOT) have also been trading in red within the same period.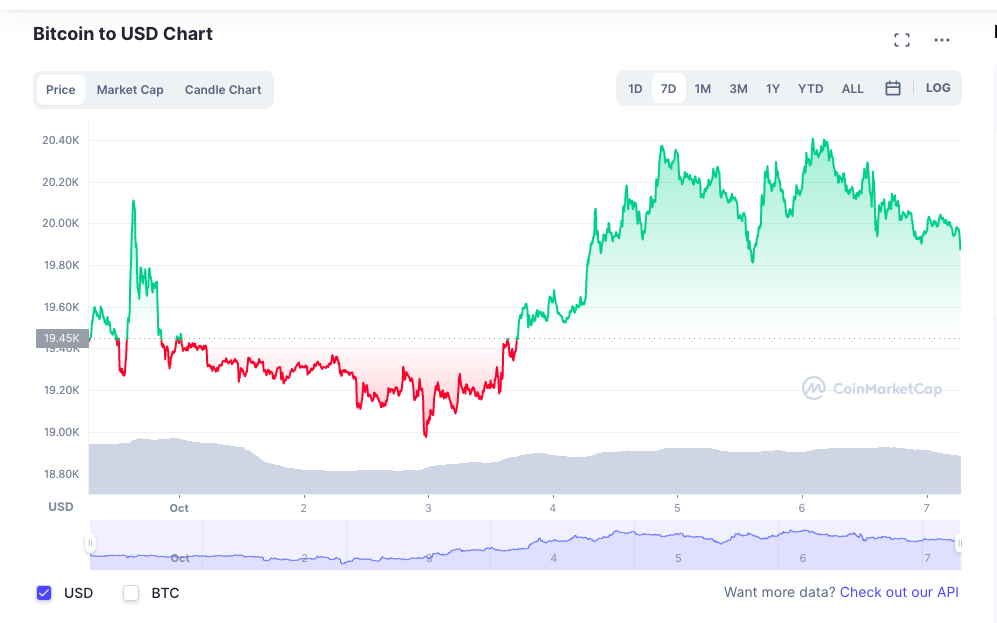 While the markets are experiencing what seems like a slight recovery, investors will doubt be eyeing today's US unemployment and labor participation reports for September, which will give further indication of whether a hard economic landing is imminent.
BSC suffers exploit
BNB Smart Chain (BSC) has suffered an exploit on its cross chain bridge, BSC Token Hub, with attackers making off with approximately US$100 million worth of cryptocurrency.
While on-chain data collected by PeckShield indicates that the attackers stole nearly two million BNB (BSC's native token) amounting to nearly US$600 million, a BNB developer later confirmed that the initial estimates for the exploit are between US$100 million and US$110 million, with the issue being that attackers were able to create "extra BNB."
"The source of the issue here is a bug in the way Binance Bridge checks its proofs. This allowed
hackers to forge messages, resulting in the damage seen today," Jasper Lee, audit and tech lead at Sooho.io, told Blockhead.

"Bridges are a prime target for hackers and we have seen attacks ramping up in recent months. The vulnerability lies in the way bridges conduct the swaps between currencies. They lock the assets on the one side into a contract and then issue new assets on the other side. The assets locked in a vault are generally the target. If there are any vulnerabilities in the contract/ vault, those assets are like a sitting duck for attackers," Lee added.
BSC has since resumed its operations at around 06:40 UTC, with its official Twitter account announcing that the chain is now "running ok."
The EU's empty flex against Russia
The European Union has announced new sanctions against Russia that will ban the provision of crypto services to the country.
The EU Council describes the new policy as "a full ban of the provision of… wallets, account or custody services to Russian persons and residents, regardless of the total value of those crypto-assets."
A separate statement by the European Commission indicates that similar restrictions had been put in place before today, but that wallets holding less than €10,000 (US$9,800) were exempt from those sanctions.
However, it's unclear how the EU will enforce this ban, considering the fact that users in Russia will still be able to transact on public blockchains or decentralised finance (DeFi) protocols. Unless the EU can shutdown the Internet in Russia, there is virtually no way to enforce a "full ban" on crypto services.
Did Celsius executives know that shit was going to hit the fan?
According to a new court filing, top executives at bankrupt crypto lender Celsius Network withdrew millions of dollars in assets prior to the company halting withdrawals.
Late Wednesday, Celsius filed a Statement of Financial Affairs to the court, providing a rundown of the withdrawals of former CEO Alex Mashinsky, former strategy chief Daniel Leon, technology chief Nuke Goldstein and other top executives.
The new statement revealed that Goldstein withdrew US$13 million, while Leon, who resigned from his position yesterday, withdrew US$7 million. The pair also took out US$7.8 million and US$4 million in CEL tokens, respectively, with each denoting these tokens as "collateral."
Last week, Mashinsky resigned from Celsius, stating that his continued role as CEO has become an "increasing distraction".
According to a report by the Financial Times, Mashinsky, withdrew US$10 million from the now bankrupt platform weeks before it halted customer withdrawals in June
"In the nine months leading up to that withdrawal, he consistently deposited cryptocurrency in amounts that totalled what he withdrew in May," a spokesperson for Mashinsky told FT, adding Mashinsky and his family still had US$44 million worth of crypto frozen on the platform.
The spokesperson also said that the withdrawals was to pay for state and federal taxes.
Trading Volume
According to data from CoinMarketCap, the global crypto market cap is US$956.57 billion, a 1.28% decrease since yesterday. The total crypto market volume over the last 24 hours is US$52.60 billion, a 14.16% decrease.
Fear & Greed Index
Risk appetites are sapped – the Crypto Fear and Greed Index currently stands at 23 indicating extreme fear. The index uses 5-6 measurements to assess the current sentiment of the market and then rates that level of emotion on a scale of 1-100 – 1 is extreme fear and 100 is extreme greed.