Bitcoin and other cryptocurrencies traded sideways throughout the weekend, with the world's largest cryptocurrency stubbornly stuck around the US$19,000 mark for now.
At the time of writing, Bitcoin (BTC) is trading at US$19,130.05 (-1.15%) while Ethereum (ETH) is trading at US$1,292.20 (-1.49%). Major altcoins such as Solana (SOL), Avalanche (AVAX), and Polkadot (DOT) have also been trading in red within the same period.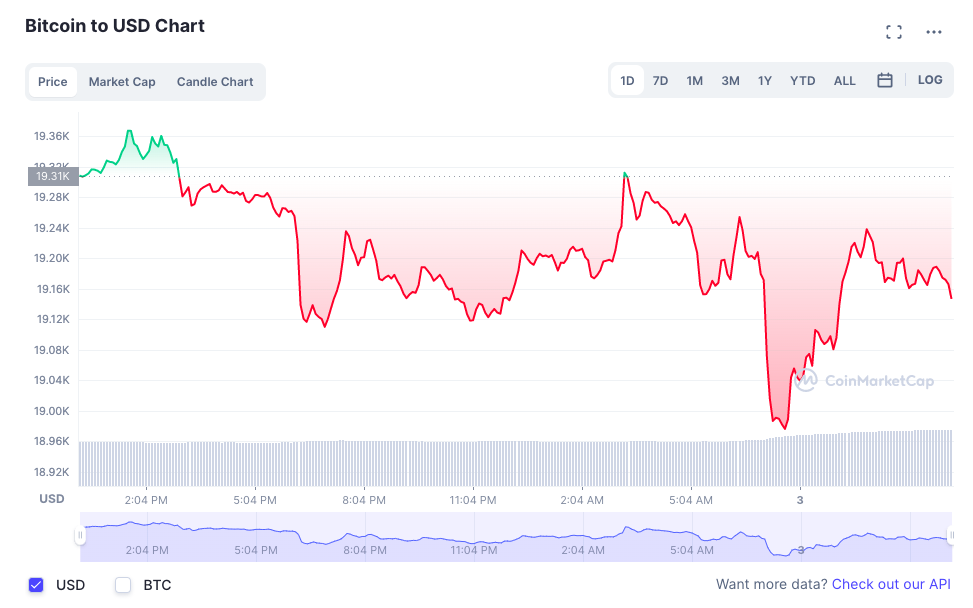 Despite the bearish conditions, data from The Block indicates that September's exchange trading volumes saw its first notable increase since May of this year, jumping to US$733 billion, or a 16% month-over-month increase. The market decline started in May, during which the Terra ecosystem collapsed, sending shockwaves across the entire crypto ecosystem.
Ex-Celsius CEO Cashes Out
According to the Financial Times, Alex Mashinsky, former CEO of embattled crypto lending Celsius Network, withdrew US$10 million from the now bankrupt platform weeks before it halted customer withdrawals in June, raising questions about whether he was aware of Celsius' financial troubles ahead of time.
"In the nine months leading up to that withdrawal, he consistently deposited cryptocurrency in amounts that totalled what he withdrew in May," a spokesperson for Mashinsky told FT, adding Mashinsky and his family still had US$44 million worth of crypto frozen on the platform.
The spokesperson also said that the withdrawals was to pay for state and federal taxes.
On Tuesday, Mashinsky resigned from Celsius, stating that his continued role as CEO has become an "increasing distraction".
Tornado Cash founder stays in jail
Tornado Cash developer Alexey Pertsev, who was arrested by Dutch authorities in August over allegations of facilitating money laundering, is set to remain in jail for at least another two months after his appeal was rejected.
Tornado Cash is a smart contract mixer built on Ethereum. It enables users to maintain their anonymity on the blockchain by "mixing" potentially identifiable and/or corrupted funds with other legitimate funds to obfuscate the source and destination addresses.
Pertsev's arrest came two days after the U.S. government added Tornado Cash and 44 associated Ethereum and USDC wallets to its Specially Designated Nationals list. The U.S. Treasury said the crypto mixing service had "repeatedly failed to impose effective controls designed to stop it from laundering funds for malicious cyber actors."
A restart for DeFiance Capital?
Arthur Cheong, founder of crypto investment fund DeFiance Capital, is raising money for a new fund, according to a Coindesk report that cited four people familiar with the matter.
The new venture fund is set to remain under the DeFiance name, and will focus on liquid crypto investments from institutional investors such as fund of funds and family offices, with a target of raising about US$100 million.
DeFiance Capital, who stated that it was "materially affected" by the 3AC fallout in July despite being "an entirely independent crypto focused investment fund", was actually incubated by 3AC, with the pair forming a number of co-investment deals together such as stakes in dYdX and Orca.
Trading Volume
According to data from CoinMarketCap, the global crypto market cap stands at US$927.63 billion, a 0.88% decrease since yesterday. The total crypto market volume over the last 24 hours is US$45.74 billion, a 26.09% increase.
Fear & Greed Index
Risk appetites are sapped – the Crypto Fear and Greed Index currently stands at 24 indicating extreme fear. The index uses 5-6 measurements to assess the current sentiment of the market and then rates that level of emotion on a scale of 1-100 – 1 is extreme fear and 100 is extreme greed.