Table of Contents
Bitcoin and other cryptocurrencies have reversed their recent losses since Thursday, in what is likely to be a relief rally usually seen after a post-Fed hike announcement.
At the time of writing, Bitcoin (BTC) is trading at US$19,316.89 (+3.66%) while Ethereum (ETH) is trading at US$1,328.10 (+5.43%). Major altcoins such as Solana (SOL), Avalanche (AVAX) and Polkadot (DOT) have also been trading in green within the same period.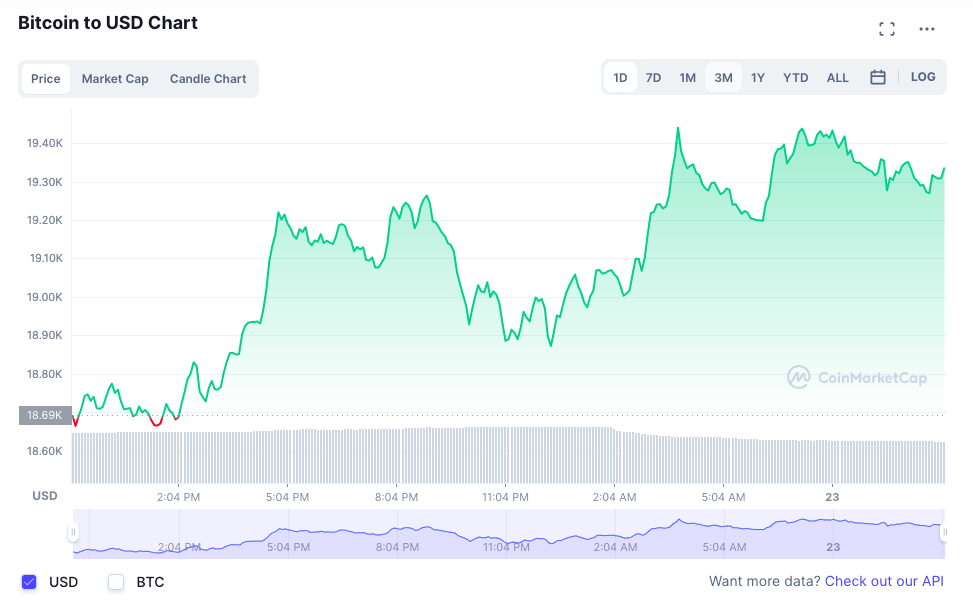 On Wednesday, the Federal Reserve delivered its third straight interest rate increase of 75 bps and pushing borrowing costs to the highest since the Great Recession, with Fed Chair Jerome Powell saying that officials are "strongly resolved" to bring down inflation from the highest levels in four decades and "will keep a it until the job is done".
Related: Blocksmith Says: ETH's Rally is Short Lived
BTC's price dropped 6.5% from its intraday high of US$19,950, sinking to a low of US$18,660 just minutes after the Federal Open Market Committee's statement and mirroring a correction in the broader financial markets, with the S&P 500 falling by 0.5% immediately after the Fed's update. The crypto markets have since rebounded slightly, with BTC holding above US$19,000 for now.
"How long this rally lasts is another question though. Will it just be a single day short squeeze like in May and June?", said QCP Capital in its latest note.
JP Morgan is concerned about Ethereum 2.0
In a research note on Wednesday, JP Morgan said that Ethereum's recent transition to a Proof-of-Stake blockchain could divide the Ethereum community, with some exchanges and platforms already showing support for the forked version of Ethereum, which still uses a Proof-of-Work consensus. At least 19 former Ether mining pools are still active on it, they added.
JP Morgan also voiced concerns over the argument that Ethereum has become less decentralised, as "just a few entities command the majority share of staked ETH".
Read more: Sorry, But Ethereum Can't Be Killed
Kraken CEO steps down because he's bored
Jesse Powell, co-founder of crypto exchange Kraken, is reportedly stepping down from his role due to boredom.
"As the company has gotten bigger, it's just gotten to be more draining on me, less fun," Powell told Bloomberg.
In July, reports emerged that Kraken was being investigated by the U.S. Treasury Department for allegedly allowing Iranian users to use the platform – a violation of international sanctions against the Iranian regime.
However, Powell said that he informed Kraken's board of his decision to resign over a year ago, prior to the recent controversies.
Showdown Looms for Binance-FTX
According to the Wall Street Journal, FTX and Binance have made the leading bids for the assets of bankrupt crypto-lender Voyager.
The current bid from Binance is about US$50 million, slightly higher than the competing bid from FTX. A hearing is scheduled in New York for Sept 29 to announce the winning bid, but an announcement could come sooner.
It was previously reported that Sam Bankman-Fried's FTX was in lead to purchase the assets of embattled crypto lender Voyager Digital after an auction was held this week.
According to Coindesk, who cited someone familiar with the matter, it was a close fight between FTX exchange and Wave Financial during the final stages of the auction, which was held by Moelis & Company, Voyager's investment bank.
FTX had previously made its offer known publicly. However, Voyager was believed to be unhappy with the terms of the proposal, with the firms lawyers labelling it as a "low-ball bid dressed up as a white knight rescue".
Trading Volume
According to data from CoinMarketCap, the global crypto market cap stands at US$941.97 billion, a 4.15% increase since yesterday. The total crypto market volume over the last 24 hours is US$75.61 billion, which makes a 16.12% decrease.
Fear & Greed Index
Risk appetites are sapped – the Crypto Fear and Greed Index currently stands at 20 indicating extreme fear. The index uses 5-6 measurements to assess the current sentiment of the market and then rates that level of emotion on a scale of 1-100 – 1 is extreme fear and 100 is extreme greed.