Table of Contents
The BLOCKHAUS takeover of HAUS217 (217 Lavender St., Singapore 338772) – Blockhead's first in-person gathering of people and projects – will play host to some of the most exciting alternative fireside chats and panels during Asia Crypto Week.
The Blockhead team has gathered close to 70 panelists over three days of casual discussions, mixers and afterparties, where hot takes, left-field opinions and contrarian positions are all fair game. Some of the biggest companies and projects in the space that are participating at BLOCKHAUS include OKX, The Sandbox, Huobi, Ripple, GSR, Klaytn, and Rubix.
Panel sponsors include OKC, Radix, ZKEX, zkLink, The Tiger Archives, Copper, Digital Threads, Algorai Finance, Rubix and Red Door Digital.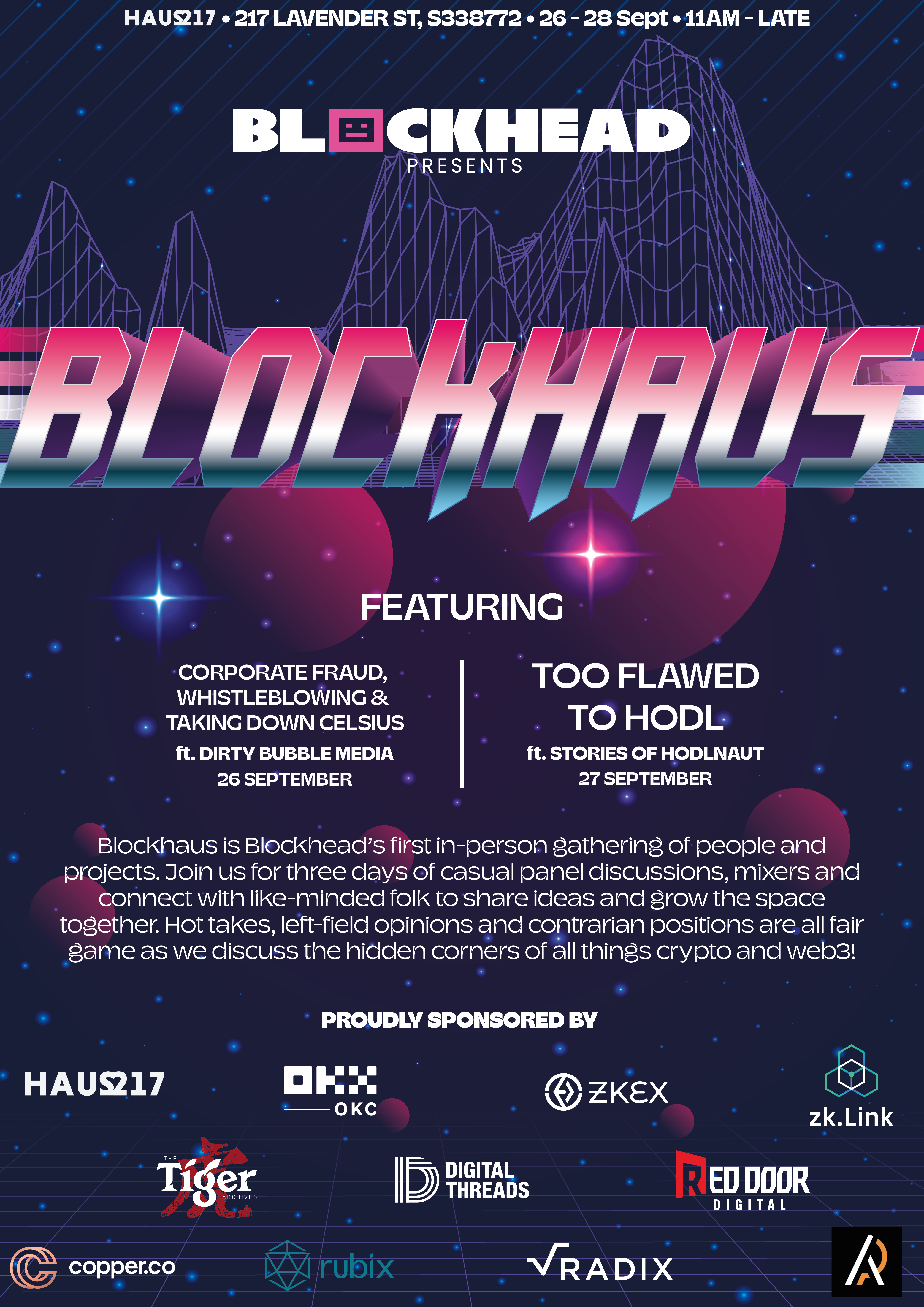 "We want to offer news-relevant programming that offers audiences a taste of our unique and insightful brand of journalism. Blockhead isn't afraid to discuss the elephant(s) in the room, and explore the hidden corners of crypto culture – and we want to have fun doing it too," Mark Tan, CEO of Rice Media and co-founder, Blockhead, said.
The free but closed-door event has already attracted over 300 registrants, largely from among VCs/investors as well as people and projects in the web3 industry, and crypto media from across the region.
Day 1 – 26 September: Crypto IRL
Headlining Day 1 of BLOCKHAUS is an exclusive fireside chat with Internet sleuth Mike Burgersburg (aka Dirty Bubble Media) who notoriously but virtuously uncovered the truth behind Celsius. Mike will discuss  the risks in pursuing such stories, and how he managed to uncover Celsius' wrongdoings, touching on  the new ethics of privacy and pseudonymity, and how journalists are pursuing government misdeeds, corporate fraud, and whistleblowing using the dark web and online sources.
Agenda
11 am – 12 pm
Dirty Bubble Media: Corporate Fraud, Whistleblowing and Taking Down Celsius.
Featuring Mike Burgersberg (Dirty Bubble Media)
12 pm – 1 pm
Wen DeFi?
Featuring Boris Alergant (Head of Defi Markets, Ripple), Kanny Lee (Managing Director, OSL), Edward Lashinski (CEO – Algorai Finance), Francesca Tay (CMO, Davion Labs)
1 pm – 2 pm
Venture Capital in the Rise of the Crypto Economy
Featuring Evans Huangfu (Investment Director, Huobi), CJ Fong (Managing Director/Head of Investment Sales, GSR), Sandra Tusin (Outlier Ventures), Tobias Bauer (Principal, Blockchain Founders Fund)
2 pm – 3 pm
Does Anyone Give a Damn About Interoperability?
Featuring Balal Khan (Co-Founder & Head of Growth, ZKEX), Vince Yang (Co-Founder, ZKLINK), Ryan Li (Co-Founder, CyberConnect), Irene Wu (Head of Integrations, ZeroLayer Labs)
3 pm – 4 pm
The Three Bear Cycle Club
Herbert Sim aka The BitcoinMan, Sherwin (Co-Founder, QSN), Peter Choi (Asia Lead, Floating Point Group)
4 pm – 5 pm
TradFi's Budding Romance With Crypto
Featuring Takatoshi Shibayama (Head of Sales APAC, Copper.co), Cici Lu (founding partner, Venn Link Partners), Jeffrey Tang (Head of Liquidity Partner, Time Research), Manuel Jaeger (Co-Founder and Head of Digital Assets, ADDX)
5 pm – late
Crypto degens "support group"/mixer.
Lost all your money in crypto? Need a listening ear, or maybe just a drink in the company of like-minded folk? We've got an open bar and psychotherapist Booker Woodford from Emote Health will be available for chats throughout the night.
Day 2 – 27 September: Crypto culture & entertainment
Headlining Day 2 of BLOCKHAUS is a look at what went down at staking platform Hodlnaut. After such a high-profile collapse, how can the crypto community build trust again among the retail crowd? Why was it given a free pass while other platforms were more closely scrutinized? And what are the legalities behind "halting withdrawals" without warning and should users be fearful that platforms can pull the plug so easily? We hear from an expert lawyer in the field and an ambassador who had first-hand dealings with JT as well as users that were burned.
Agenda
11 am – 12 pm
Manifesting on Web3: Mind, Body and Avatar
Featuring Booker Woodford (Founder, Emote), Anastasia Ling (Co-Founder, BRIJJWELL), Karmen Tang (Head of Marketing, Alchemy Pay), Daryl Lim (Metapals)
12 pm – 1 pm
Play-to-Earn is Not the Future of Gaming
Featuring Felix Sim (Co-Founder & Project Lead, Salad Ventures), Cholo Maputol (CEO & Co-Founder, Play It Forward), Corey Wilton (Co-Founder, Mirai Labs), Joseph Derflinger (CEO, Red Door Digital)
1 pm – 2 pm
Admit it, NFTs are Ugly and Expensive
Featuring Amelia Tan (The Tiger Archives), Chanel Lee (Tasty Toastys), Ferris Frederick Francis (Cryptobengz), Vanessa Ho (SoCol)
2 pm – 3 pm
Too Flawed to HODL?
Featuring Mike Chiam (PD Legal/ABA), Anson Tan (Ex-Hodlnaut ambassador), Tim Han (Trestle Works)
3 pm – 4 pm
Are Brands Wasting Their Money on the Metaverse?
Featuring George Wong (Head of Singapore/Malaysia, The Sandbox), Piers Ridyard (CEO, Radix), David Shin (Global Head of Adoption, Klaytn), Coco Ong (Marketing & Ops Lead, OKC)
4 pm – 4:30 pm
Web3 Branding and Marketing Workshop
Featuring Jean Francios Thery (Head of Growth, Publicis)
4:30 pm – 5:30 pm
A Bridge Too Far? Getting from Web2 to Web3
Featuring Ben Huang (co-founder, Serenity), Hugh Koh (co-founder, Digital Threads), Manoj Vembu (Director of Global BD, Rubix), Sean Gardner (founder/CEO, Emanate)
7 pm – late
Blockhaus NFT Night
Hosted by the Tiger Archives.
Day 3 – 28 September
The third day of Blockhaus starts in the evening, with an unofficial afterparty for Day 1 of Token 2049, co-hosted by the Tiger Archives, Radix and OKC.
More information
Details on BLOCKHAUS can be found here. Registrations are currently by waitlist only, though media passes are available.
For more information, please contact hello@blockhead.co.