Bitcoin and other cryptocurrencies continued to trade sideways this week, with the recent hawkish chatter firmly anchoring the world's largest cryptocurrency below US$20,000 for now.
At the time of writing, Bitcoin (BTC) is trading at US$19,757.42 (+2.46%) while Ethereum (ETH) is trading at US$1,663.58 (+1.79%). Major altcoins such as Solana (SOL), Avalanche (AVAX), and Polkadot (DOT) have also been trading in green within the same period.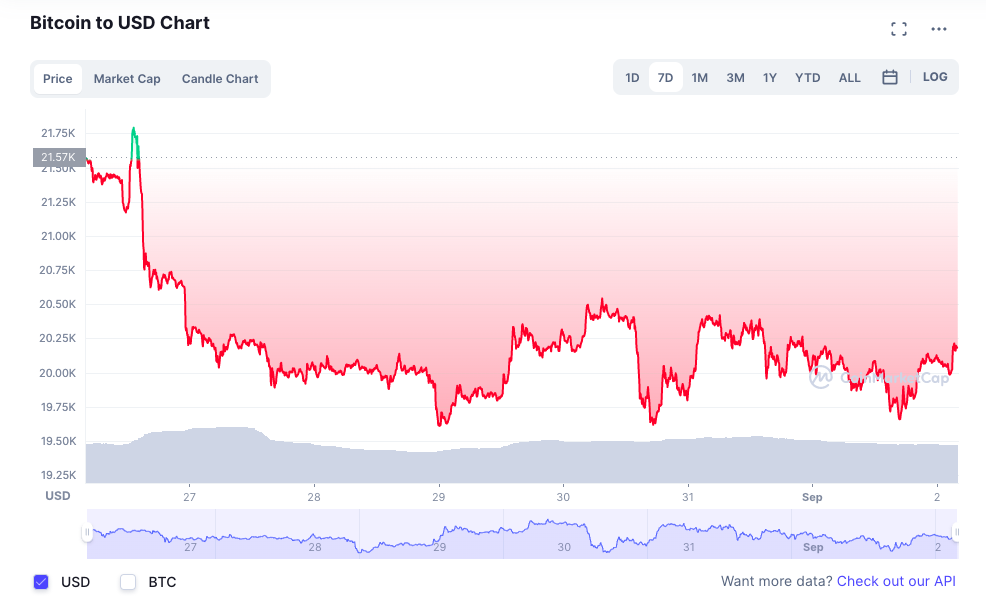 Ethereum's upcoming "The Merge" continues to dominate headlines within the industry. On Tuesday, Ethereum's "Bellatrix" upgrade, the last major upgrade before Ethereum moves from proof-of-work (PoW) to proof-of-stake (PoS), was successfully activated. It's also the last upgrade before the "Paris" upgrade, which will put a stop to Ethereum's current mining activities and signal the switch from proof-of-work to proof-of-stake.
In other news, KPMG's Pulse of Fintech report has revealed that global investment activity in blockchain and crypto companies have fallen from their 2021 highs – reaching US$14.2 billion in the first half of 2022, according to KPMG data. The company is also predicting a slowdown in crypto interest and investment, particularly retail firms offering coins, tokens and NFTs.
Voyager Digital to auction off assets next week
Voyager Digital will be auctioning off its remaining assets next week, a court filing confirmed on Tuesday.
In a series of tweets on Wednesday, the bankrupt crypto lending platform announced its plans to sell its assets to the highest bidder.
"We want to let you know that multiple bids were submitted as part of the company's restructuring process," Voyager wrote, adding that it will "share more information about the winning bidder" and what it means for users after the process concludes later this month.
Bidders hoping to snap up the company's holdings have already submitted offers, after the deadline was extended to from August 26 to September 6.
While the current bidders remain unknown, Sam Bankman-Fried's FTX previously made its offer known publicly. However, Voyager was believed to be unhappy with the terms of the proposal, with the firms lawyers labelling it as a "low-ball bid dressed up as a white knight rescue".
Meanwhile, a wallet initially thought to belong to insolvent hedge fund Three Arrows Capital has been revealed to be owned by Matrixport – a crypto exchange based in the British Virgin Islands. The wallet had removed US$33 million worth of staked ether (stETH) from the Curve pool, according to on-chain data.
"This wallet was labelled Three Arrows Capital (3AC) due to it receiving large amounts of crypto from another known 3AC wallet. After investigating further, we've confirmed it was a 3AC counterparty managing this wallet: Matrixport. We've updated the label to reflect this," blockchain analytics firm Nansen told Blockworks.
DBS, Piyush Gupta ape into Web3
Singapore's largest bank, DBS, is planning to expand its cryptocurrency and digital assets offerings to 300,000 new clients in Asia despite the current bear market.
According to CEO Piyush Gupta, the bank's targeted clientele in Asia consists of private banks, accredited investors and other exchanges, all of which can manage funds through the bank's mobile application.
"People look to us to be a pioneer in the space and to continue to push boundaries," Gupta told the Financial Times, adding that DBS can place "guardrails" and protections that will lead to "better outcomes" for investors.
DBS recently inked a partnership with decentralised gaming virtual world The Sandbox to create an interactive metaverse experience called DBS BetterWorld, which also forms part of its sustainability agenda. Gupta has also rose to the occasion, with the 62-year old banker ditching the suit and tie for a pixelated hoodie on his LinkedIn profile.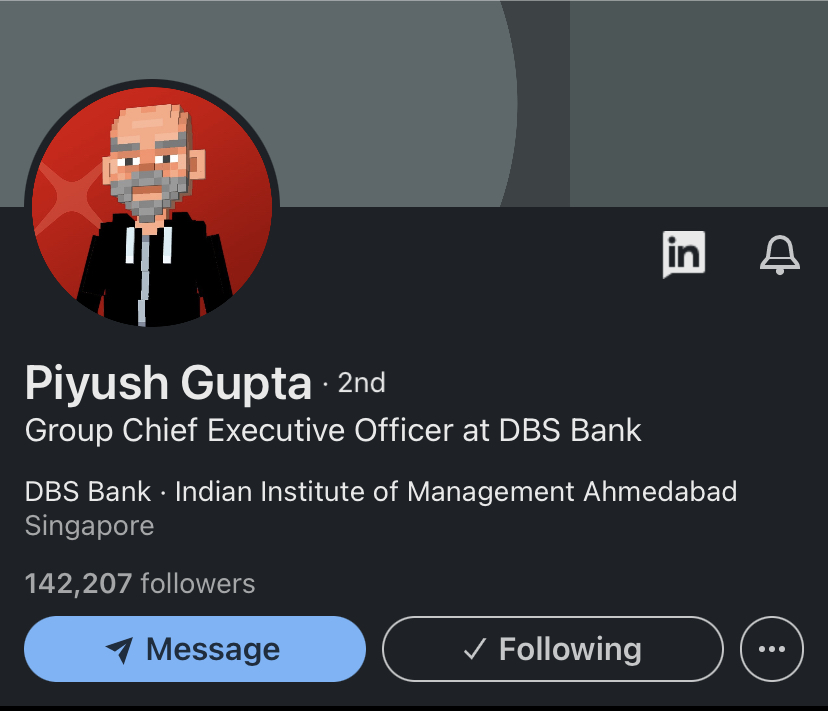 Read more: DBS Bank Makes Metaverse Push on The Sandbox
Trading Volume
According to data from CoinMarketCap, global crypto market cap stands at US$986.56 billion, a 1.02% increase over the last day. The total crypto market volume over the last 24 hours is US$72.51 billion, a 3.18% increase.
Fear & Greed Index
Risk appetites are sapped – the Crypto Fear and Greed Index currently stands at 23 indicating extreme fear. The index uses 5-6 measurements to assess the current sentiment of the market and then rates that level of emotion on a scale of 1-100 – 1 is extreme fear and 100 is extreme greed.