Table of Contents
Bitcoin and other cryptocurrencies traded sideways throughout the weekend, with the world's largest cryptocurrency nearly touching US$23,000 before dipping back down.
At the time of writing, Bitcoin (BTC) and Ethereum (ETH) are changing hands at US$21,892.32 (-2.08%) and US$1,514.10 (-2.46%) respectively. Major altcoins such as Solana (SOL), Avalanche (AVAX), and Polkadot (DOT) have also recorded slight losses overnight.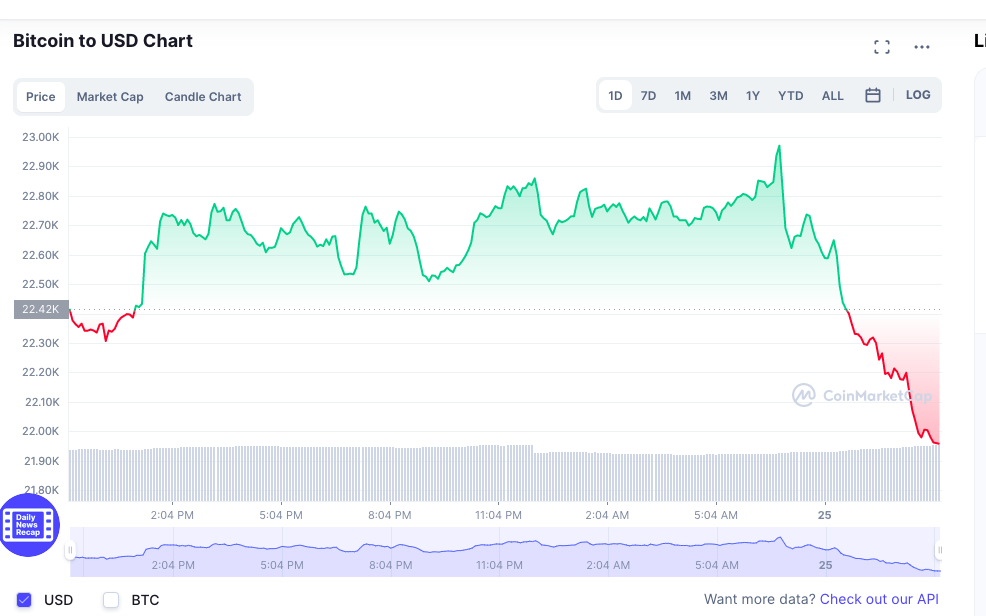 The slight dip could be a result of investors cautiously eyeing this month's Federal Open Markets Committee (FOMC) meeting, which is due to take place on Wednesday. It is widely expected that the FOMC will proceed with a 75 bps rate hike, instead of a more hawkish 100 bps hike.
Meanwhile, Vitalik Buterin himself has weighed in on Ethereum's hotly anticipated "The Merge," slated to happen on September 19 and believed to have spurred the recent ETH price rally.
Discussing The Merge's long-term and short-term outcomes at the annual Ethereum Community Conference (EthCC) in Paris on July 20, Buterin said that post-merge, users will be able to build an Ethereum client that "doesn't even know the proof-of-work phase happened."
Buterin also outlined the upcoming "Surge" update that will increase Ethereum's scalability.
"Ethereum today can process about 15-20 transactions a second. This Ethereum including the rollups, including the sharding […] it's going to be able to process 100,000 transactions a second," he explained.
FTX in talks to acquire South Korea exchange
According to a report by Bloomberg, FTX is in advanced talks to acquire Bithumb, which has over 8 million registered users.
Founded in South Korea in 2014, Bithumb has grown to become one of South Korea's "big four" cryptocurrency exchanges, alongside Upbit, Coinone and Korbit. Reports of Bithumb being up for sale have been circulating since 2020, with the firm reportedly valued at US$969 million last year.
FTX has become something like an emergency lender for the industry amid the current crypto winter. Last month, the firm reached a deal to acquire troubled lender BlockFi for up to US$240 million.
Alameda Research, another trading company founded by Bankman-Fried, also loaned US$500 million to bankrupt crypto lender Voyager. In a press release on Friday, FTX announced that it will allow Voyager customers to create new accounts on FTX the crypto exchange, while Alameda Research would buy all of Voyager's digital assets and digital assets loans, other than loans to Three Arrows Capital, in cash at market value.
However, Voyager is believed to be unhappy with the terms of the proposal, with the firms lawyers labelling it as a "low-ball bid dressed up as a white knight rescue".
Zipmex mulls possible offer
Singapore-based cryptocurrency exchange Zipmex announced on Sunday that it is considering a possible offer after talks with interested parties and due diligence should commence.
Last week, the exchange sent an email to customers on Wednesday, citing "volatile market conditions" and financial difficulties of key business partners. According to a report by Coindesk, which cited two industry executives briefed on the matter, Zipmex's difficulties link back to troubled crypto lender Babel Finance, which is staring down a nine-figure loss amid crashing crypto prices.
On Thursday, Zipmex announced it will re-enable withdrawals and deposits. "We are extending our maintenance period and will re-enable withdrawals and deposits for your Trade Wallet on 21 July 2022 at 18:00 (GMT+7). Trading will remain disabled until further notice," the firm tweeted.
Terraform Labs co-founder's home raided
South Korean prosecutors have raided the home of Terraform Labs co-founder Daniel Shin, amid a probe into allegations of illegal activity behind the collapsed stablecoin TerraUSD, according to a Bloomberg report citing local media.
According to a text sent by the Seoul Southern District Prosecutors Office, a series of raids on crypto-exchanges and offices on Wednesday also included Shin's home and the office of mobile payment app Chai, which was founded in 2019 by Shin.
This development is taking place about a month after authorities imposed a travel ban current and former employees of Terraform Labs.
Trading Volume
According to data from CoinMarketCap, the global crypto market cap is US$1.01 trillion, a 2.23% decrease since yesterday. The total crypto market volume over the last 24 hours is US$63.86 billion, a 6.34% increase.
Fear & Greed Index
Risk appetites are still sapped – the Crypto Fear and Greed Index currently stands at 30, indicating fear. The index uses 5-6 measurements to assess the current sentiment of the market and then rates that level of emotion on a scale of 1-100 – 1 is extreme fear and 100 is extreme greed.
The index has improved significantly from last month, during which it fell to as low as 6 (extreme fear) in the wake of the Terra implosion.