Bitcoin and other cryptocurrencies enjoyed decent gains throughout the week, with the world's largest cryptocurrency currently changing hands at US$22,955.55 after climbing 12% over the last 7 days.
But right now the so called "pain trade" among professional investors is the commonly held short on equity index futures.
By and large, fund managers do not trust a rally extension. The painful bit is that it keeps extending higher and their shorts are more and more underwater.. That's a bad place to be and they are forced to decide whether to "de-risk" and cover the short and take a hit or hold on and maybe win big if it collapses back in on itself or capitulate higher with even bigger losses on the book.. And we are coming into month end where monthly performance will be assessed for their newsletter to their investors. It's a tricky time for everyone.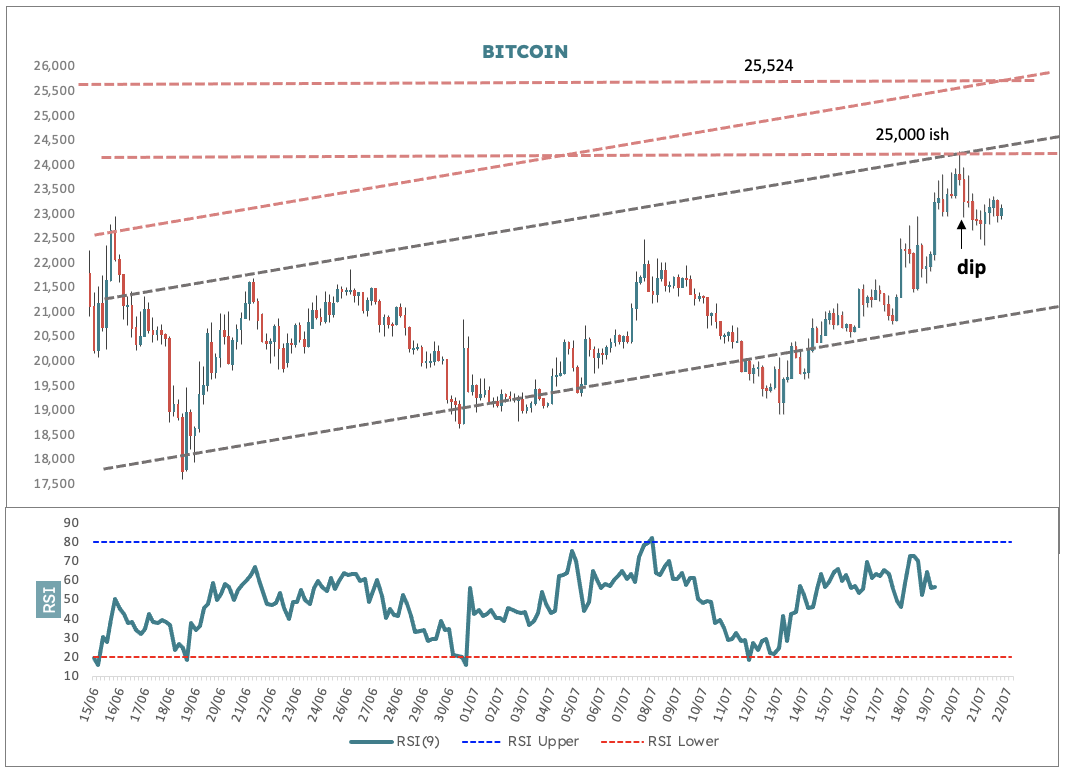 From the comfort of my desk pontificating on technical analysis and not owning millions of dollars of risk coming into month end, its easy to say, "oh this is just a correction up it should fail in due course".. The devil is in the details though, as shorts get shredded as prices climb.
The chart in Bitcoin here again at 240 minutes is clearly a corrective structure and as such I hesitate to call a massive upside extension here. There are some obvious markers ahead of us, which could serve as meaningful resistance. The first is around US$25,000 the top of the ostensible corrective channel. This is my preferred view; it doesn't quite reach there and collapses. The second is the US$25,524 level, which is the 12 May spike low for some 10%.