Table of Contents
Bitcoin and other cryptocurrencies continued to trade sideways over the weekend, with the world's largest cryptocurrency currently hovering slightly above US$19,000.
At the time of writing, Bitcoin (BTC) is trading at US$19,211.39 while Ethereum (ETH) is trading at US$1,073.09. Major altcoins such as Solana (SOL) and Avalanche (AVAX) have recorded slight gains over the weekend.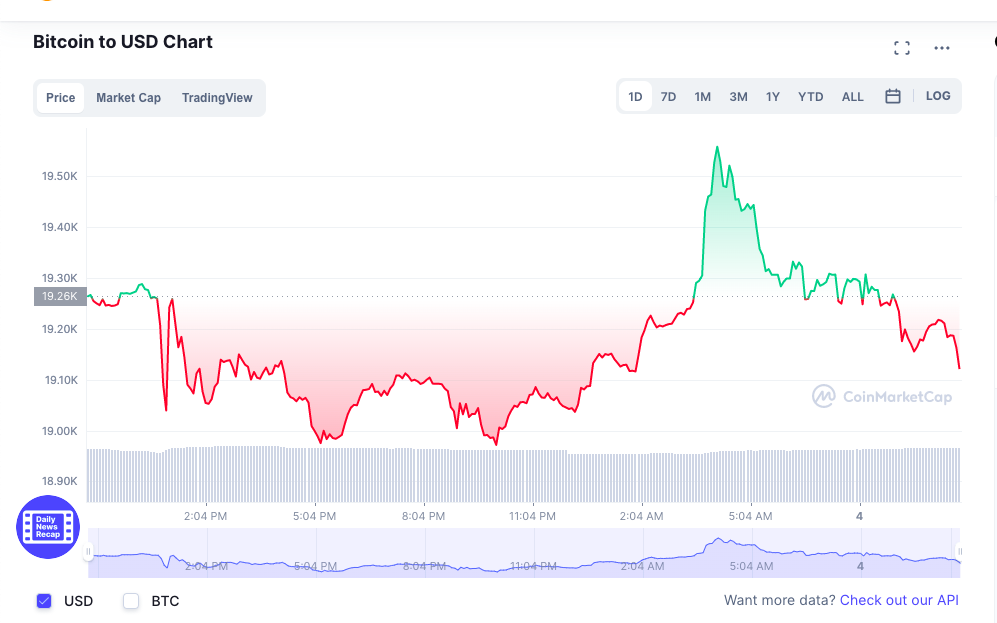 In a note published on Monday, trading firm QCP Capital said that any significant upside in the market remains capped in the near term, with the Federal Reserve likely to ignore recession risks and continue raising rates aggressively to reach its target of 3.5-4% by year end.
"Quantitative Tightening (QT) started on 15 June at a pace of US$47.5bn a month, and will be ramped up to a whopping US$95bn a month by September. An incredible US$2.3tn has been drained from the system, growing at approximately US$200bn a week," the firm said.
"Remember that the crypto bull cycle was fueled by balance sheet expansion. A contraction of this scale will surely have a dampening effect on prices", it added.
QCP Capital also said that the liquidation crisis in the market might not be over any time soon, with rumours of insolvency at exchanges such as KuCoin and Zipmex still unconfirmed.
Voyager Digital suspends trading activity
Cryptocurrency exchange Voyager Digital is temporarily suspending customer trading, deposits and withdrawals, according to a statement released Friday afternoon.
"This decision gives us additional time to continue exploring strategic alternatives with various interested parties while preserving the value of the Voyager platform we have built together. We will provide additional information at the appropriate time", said Voyager CEO Stephen Ehrlich.
In a series of tweets on Sunday, the firm also revealed that it has US$1.3 billion of crypto assets on its platform, along with claims against 3AC worth US$650 million and US$350 million cash at Metropolitan Commercial Bank.
Read more: [UPDATED] Crypto Contagion Spreads as Voyager Digital Reveals US$665M 3AC Exposure
Voyager recently disclosed it was significantly exposed to 3AC, and had issued a notice of default to the embattled hedge fund after it failed to make payment on its loan of 15,250 BTC (approximately US$294 million) and US$350 million worth of USDC.
3AC's never-ending troubles
Singapore-based crypto fund Three Arrow Capitals (3AC) has filed for bankruptcy in the US. Representatives for 3AC filed a petition in the U.S. Bankruptcy Court for the Southern District of New York on Friday, according to court documents.
Last week, the firm was reprimanded by the Monetary Authority of Singapore (MAS) for providing false information and for managing more assets than it was allowed to under Singapore's rules. A British Virgin Island court also ordered the firm into liquidation as the firm was incorporated there.
Read more: 3AC Enters Liquidation – What Happens Next?
The embattled hedge fund is among the highest-profile cryptocurrency firm to have faced liquidity issues amid the market sell-off in recent weeks, with its rapid collapse igniting fears of a contagion.
Furthermore, a recent report by Coindesk has revealed that 3AC also operated an over-the-counter trading desk called Tai Ping Shan (TPS) Capital that has continued to make trades despite its parent company facing liquidation and legal troubles
According to corporate filings, TPS Capital has a different ownership structure and hidden directors, which means that its legal separation from 3AC might complicate creditors' efforts to collect payouts.
FTX to acquire BlockFi
FTX has signed a deal with BlockFi that gives it the option to buy the lender at a maximum price of US$240 million.
The latest deal is an extension of the US$400 million revolving credit facility agreement with FTX that was brokered last month
Read more: FTX Bails Out Another Crypto Lending Platform
"We have not drawn on this credit facility to date and have continued to operate all our products and services normally. In fact, we raised interest rates, effective today, across the board for major assets", said BlockFi CEO Zac Prince in a blog post on Saturday.
FTX has become something like an emergency lender amid the credit crisis in the crypto markets. Last month, FTX chief Sam Bankman-Fried's quant trading shop Alameda Research extended loans to crypto broker Voyager Digital, totalling US$485 million in cash and BTC.
Trading Volume
According to data from CoinMarketCap, the global crypto market cap stands at US$871.66 billion, a 0.58% increase since yesterday. The total crypto market volume over the last 24 hours is US$40.08 billion, a 2.94% decrease.
Fear & Greed Index
Risk appetites are still sapped – the Crypto Fear and Greed Index currently stands at 14, indicating extreme fear. The index uses 5-6 measurements to assess the current sentiment of the market and then rates that level of emotion on a scale of 1-100 – 1 is extreme fear and 100 is extreme greed.
The index has stayed at this level (extreme fear) for numerous weeks now, and it seems like it will remain at this level for some time to come as investors continue to assess the rising chances of a recession.