Bitcoin and other cryptocurrencies are still stuck in a rut, with the world's largest cryptocurrency briefly slipping below US$19,000 for the second time in a fortnight before paring losses.
At the the time of writing, Bitcoin (BTC) is trading at US$20,296.99 (+1.17%) while Ethereum (ETH) is trading at US$1,093.78 (+0.20%). Major altcoins such as Solana (SOL) and Avalanche (AVAX) also bounced after recording losses.
Meanwhile, Terra's LUNC is up 98% this week, while it's failed algorithmic stablecoin USTC (UST Classic) is up nearly 400% in the same period. These coins are now entirely "community-controlled", so ride along if you want, but beware of the sudden stops and drops.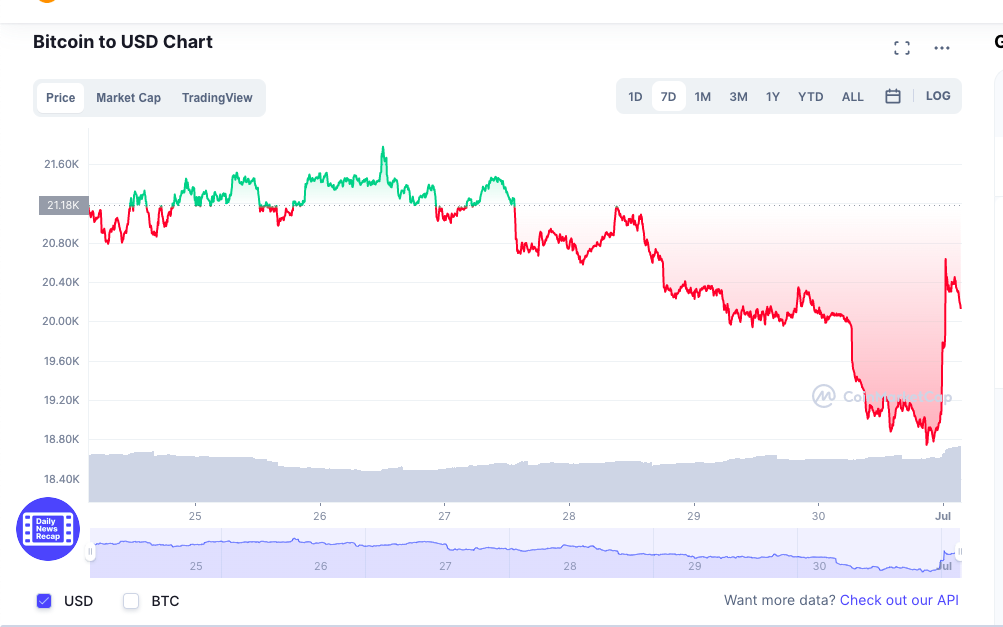 And finally, is this the worst it can get for crypto? JP Morgan seems to think so, with the firm's analysts expecting the debt-driven fiasco in the market to end soon.
"The current deleveraging cycle may not be very protracted," the strategists wrote in a note Wednesday, citing the fact that "crypto entities with the stronger balance sheets are currently stepping in to help contain contagion."
The note also mentioned that funding from venture capitalists have continued at a "healthy pace" in May and June despite the market turmoil.
Time to buy the dip again like El Salvador?
Rumored fire sale of Su Zhu's Singapore bungalow amid 3AC liquidation
According to online rumours, Three Arrows Capital (3AC) founder Su Zhu is attempting to sell his US$35 million good class bungalow (GCB) – what Singapore categorizes high-end premium landed property – in the city-state.
Twitter user @FatManTerra even claimed that the funds from the sale will be transferred to a bank account in Dubai and that Su has no intention of paying creditors with proceeds from the sale.
Users have since asked @FatManTerra to verify his sources, as the property in question has not been listed on any of Singapore's property listing websites. However, a GCB agent has reportedly told local broadsheet The Straits Times that he was recently approached to sell the property but had turned the deal down.
Read more: Crypto Contagion Spreads as Voyager Digital Reveals US$665M 3AC Exposure
On Thursday, 3AC was reprimanded by the Monetary Authority of Singapore (MAS) for providing false information and for managing more assets than it was allowed to under Singapore's rules.
Read more: 3AC Enters Liquidation – What Happens Next?
Earlier this week, a British Virgin Island court ordered the firm into liquidation amid the ongoing crypto winter. Whilst 3AC recently moved its headquarters from Singapore to Dubai, the firm was incorporated in the British Virgin Islands.
Celsius says HODL but its lawyers advise declaring bankruptcy
Celsius Network's own lawyers are recommending the crypto loan company to declare bankruptcy.
As reported by the Block, lawyers hired by Celsius have encouraged it to file for Chapter 11 bankruptcy but the company is instead seeking support from its users to battle against the recommendation.
However, executives at Celsius believe retail clients would rather the firm avoid bankruptcy and are urging users to show their support by engaging "HODL Mode" in their Celsius accounts.
Read more: FTX Says Bailing Out Celsius Too Risky
"HODL Mode is a security feature that gives you the ability to temporarily disable outgoing transactions from your Celsius account," the Celsius website reads. "You control when HODL Mode is activated and it is an ideal feature for those that do not plan on withdrawing or transferring funds from their account for an extended period of time."
However, even FTX, which has come to the rescue of many embattled crypto firms, has deemed Celsius too risky, given the reported US$2 billion hole in its accounts.
Singapore's Hodlnaut next to crumble?
In an article published by Dirty Bubble Media, it was revealed that Hodlnaut appears to have suffered severe losses during the LUNA fallout, with on-chain data revealing that the company sent US$171 million in UST to FTX on 11 May 2022 as Terra depegged from the US dollar. An additional US$138 million UST was also sent to FTX by another address linked to Hodlnaut's wallet.
Hodlnaut founder Juntao Zhu has since addressed the concerns, claiming that the firm did not take any losses, but it was the users who held UST on Hodlnaut that did.
Trading Volume
According to data from CoinMarketCap, the global crypto market cap is US$903.92 billion, a 1.39% increase since yesterday. The total crypto market volume over the last 24 hours is US$71.94 billion, a 14.96% increase.
Fear & Greed Index
Risk appetites are still sapped – the Crypto Fear and Greed Index currently stands at 11, indicating extreme fear. The index uses 5-6 measurements to assess the current sentiment of the market and then rates that level of emotion on a scale of 1-100 – 1 is extreme fear and 100 is extreme greed.
The index has stayed at this level (extreme fear) for numerous weeks now, and it seems like it will remain at this level for some time to come as investors continue to assess the rising chances of a recession.