Bitcoin and other cryptocurrencies traded sideways throughout the week, as investors remain skittish over tightening monetary policies and the economic fallout from the Russia-Ukraine war.
At the time of writing, Bitcoin (BTC) is trading at US$39,476.71 (+0.36%) while Ethereum (ETH) is trading at US$2,918.39 (+1.17%). Altcoins such as the SoLunAvax trio have been trading in red over the past 24 hours.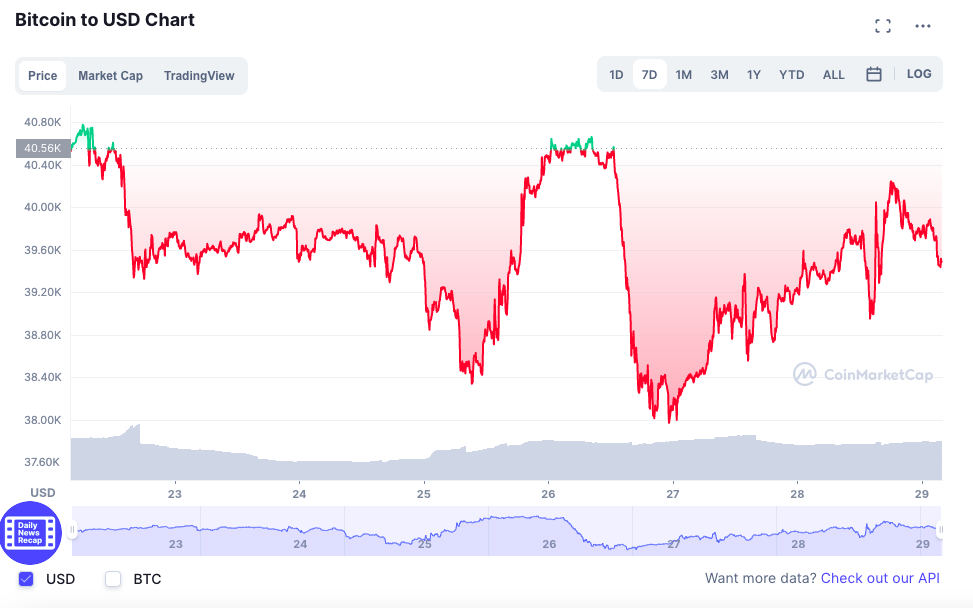 However, the price of Apecoin has surged ahead of the release of BAYC'S new metaverse NFT –  "Otherdeed" – which reportedly gives users access to virtual land within the Otherside metaverse. Otherdeeds will sold for a flat price of 305 ApeCoin (approximately US$6,400 at press time).
Apecoin reached an ATH of US$26.81 this morning before paring gains. It is now the largest metaverse token, surpassing MANA (Decentraland), SAND (Sandbox), and AXS (Axie Infinity).
A phallic-inspired NFT project has been predictably banned by the Malaysian Communications and Multimedia Commission (MCMC).
MCMC had received a complaint about Dickheads NFTs and has since ordered NFT Pangolin – the Malaysian platform used to host the project – to delist the NFTs.
At the time of writing, the project is still live on NFT Pangolin but a spokesperson from the platform told Tech in Asia the team was "working closely" with MCMC and Dickheads NFT to resolve the issue.
Dickhead NFT's Twitter account has also been suspended. "@Dickheads_Rulez's account is temporarily unavailable because it violates the Twitter Media Policy," their account currently reads. Another Twitter account that appears to be linked to the project @Dickhead_NFTs remains active.
Singapore's Three Arrows Capital to Move HQ to Dubai
Three Arrows Capital, a Singapore-based crypto hedge fund, is moving its headquarters from Singapore to Dubai.
"The energy in Dubai's digital asset industry is electric right now," Zhu told CoinDesk. "We have decided to move our Three Arrows headquarters to Dubai and I'm looking forward to meeting more technology startups."
Dubai has emerged as a safe haven for the crypto industry in recent months, with major exchanges such as Binance and FTX all setting up shop in the gulf nation.
Ethereum ENS Buying Frenzy
A newly released batch of 10,000 ENS (Ethereum Name Service) domain NFTs has resulted in a buying frenzy within the crypto community, causing its daily trade volume to surpass that of BAYC at one point.
The 10,000 ENS names sold out for US$200 each in under six hours and are now trading on secondary markets for more than US$1,500.
Owners of ENS domains containing four digits or fewer gain supposedly gain entry into a private Discord channel known as the 10kclub – a "web3 social club for ENS holders 0-9999".
Related: Here's What Elon Musk Buying Twitter Means for Crypto Enthusiasts
The Dogefather is purchasing Twitter for US$44 billion, taking the 16-year-old social network platform private.
With #CryptoTwitter trending on the social media platform, it's clear that the deal has piqued the crypto community's interest.
When confirmation of Musk's deal made the news, Dogecoin popped over 27%. Musk and the memecoin have been synonymous, and his tweets in May 2021 caused Dogecoin to reach its all-time-high of US$0.73.
But, Musk's purchase of the social media platform provides more than just memecoin gains for the crypto community.
Trading Volume
The global crypto market cap is US$1.80 trillion a 0.05% increase over the last day.
The total crypto market volume over the last 24 hours is US$96.39 billion, which makes a 14.33% increase. The total volume in DeFi is currently US$9.78 billion, 10.14% of the total crypto market 24-hour volume. The volume of all stable coins is now US$82.47 billion, which is 85.56% of the total crypto market 24-hour volume.
Fear & Greed Index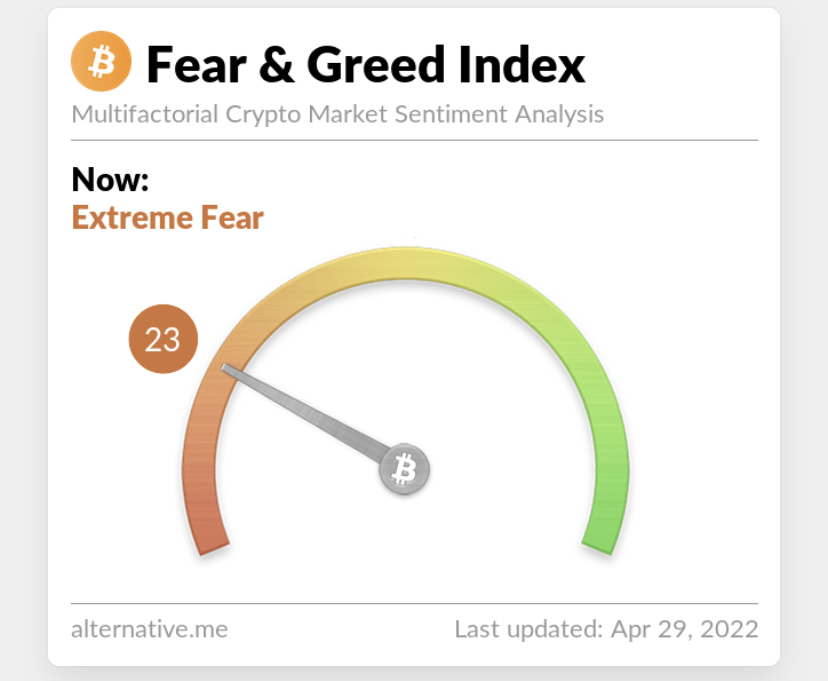 The current score of 23 (Extreme Fear) remains unchanged from Monday's score. More volatility should be expected as risk appetites remain sapped.