Bitcoin and other cryptocurrencies continued to trade sideways over the weekend as investors remained skittish over soaring inflation and recession risks. Bitcoin now sits at the US$39,000 level – a key breakout level that now has turned into support.
"With the 4-hourly RSI resetting while price moves sideways, it is expected to see prices continue to move sideways for the next day. On the hourly time frame, things look more bearish as the past 4 hours saw a sell off from US$40k to US$39k so do expect more choppy waters during the rest of Asian market hours", Treehouse Capital said in a note published on Monday.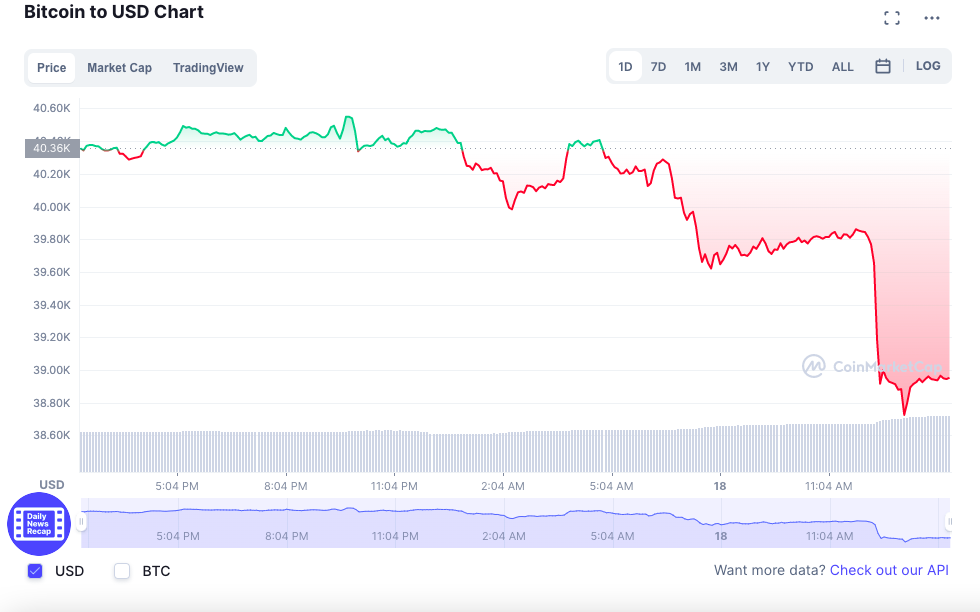 At the time of writing, Bitcoin (BTC) is trading at US$39,767.10 (-0.10%) while Ethereum (ETH) is trading at US$2,994.49 (-0.18%). Major altcoins such as the SoLunAvax have also been trading in red over the past 24 hours.
Jacking the Beanstalk
Beanstalk Farms, an Ethereum-based stablecoin protocol, was exploited for US$182 million on Sunday.
The attacker(s) reportedly took out  a US$1 billion flash loan on DeFi lending protocol Aave, which enabled them to purchase more than 67% of all outstanding STALK – the governance token of Beanstalk. By amassing the majority of the platform's governance token, the attacker(s) used their voting power to commit a malicious governance proposal, whereby assets in the Beanstalk contract were transferred to their wallet.
At the time of writing, data from Coingecko shows that the BEAN stablecoin is down 80% from its US$1 peg.
Tornado Cash taps Chainalysis for sanction tools
In what has been deemed by many as a surprising move, Tornado Cash said on Friday that it will be using a tool by crypto analytics firm Chainalysis to block OFAC (Office of Foreign Assets Control) sanctioned addresses from accessing the application.
The coin mixing tool on the Ethereum blockchain is ironically one of the most popular services to obfuscate cryptocurrency transactions.
According to Elliptic, the attackers behind the recent Ronin Network hack have sent more than US$80 million of ETH through Tornado Cash.
North Korea's Lazarus allegedly behind Axie Infinity's Ronin hack
The OFAC on Thursday announced new sanctions against an Ethereum wallet belonging to North Korea's state-backed hacking group Lazarus.
According to both Chainalysis and Elliptic, the flagged wallet address is identical to the one used in the Ronin hack, which saw the attackers exploit the network for 173,600 ETH (US$597 million at press time) and US$25.5 million worth of USDC.
Trading Volume
The global crypto market cap is US$1.85 trillion, a 1.25% decrease over the last day.
The total crypto market volume over the last 24 hours is US$60.46 billion, which makes a 21.77% increase. The total volume in DeFi is currently US$7.16 billion, 11.84% of the total crypto market 24-hour volume. The volume of all stable coins is now US$49.29 billion, which is 81.54% of the total crypto market 24-hour volume.
According to UTXO Management senior analyst Dylan LeClair and data from Glassnode, the total amount of BTC on exchanges has declined by 88,814 over the last month, with 29,000 being withdrawn from Coinbase alone on Thursday.
"Expecting more chop for BTC for the time being, Great time to be a bitcoin stacker", LeClair tweeted.
Fear & Greed Index
The Crypto Fear and Greed Index uses 5-6 measurements to assess the current sentiment of the market and then rates that level of emotion on a scale of 1-100 – 1 is extreme fear and 100 is extreme greed.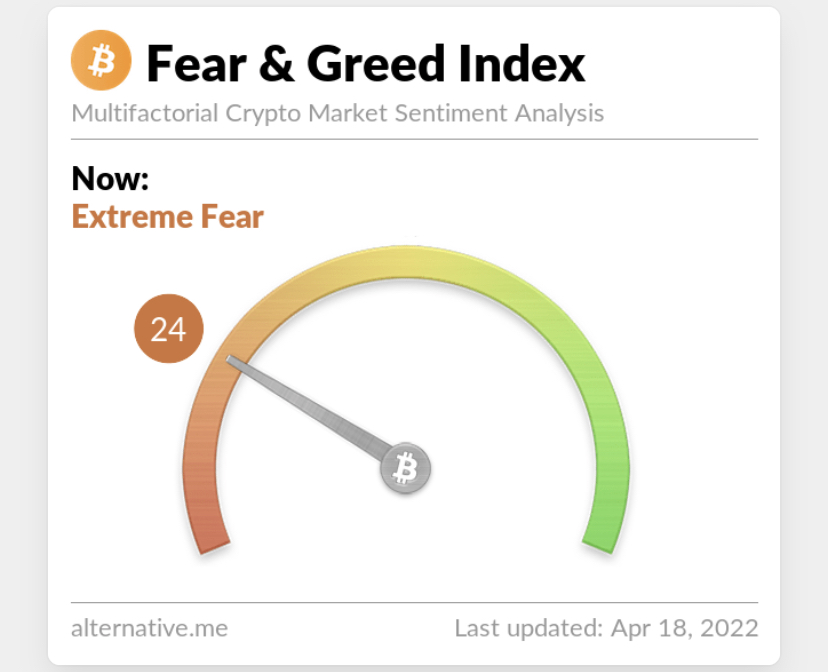 The current score of 24 (Extreme Fear) is a significant change from last Friday's score of 28 (Fear). More volatility should be expected as risk appetites remain sapped.