The past week has been relatively flat for most large-cap cryptocurrencies, with no significant price fluctuations, pushing the volatility down to its lowest levels since the end of January.
Bitcoin and other cryptocurrencies, which dipped mid-week, recovered slightly on Friday. The downward trend was sparked by the release of the US Federal Reserve meeting minutes revealed plans to shrink their balance sheet by US$95 billion a month and raise interest rates by half a percentage point in the future to combat inflation.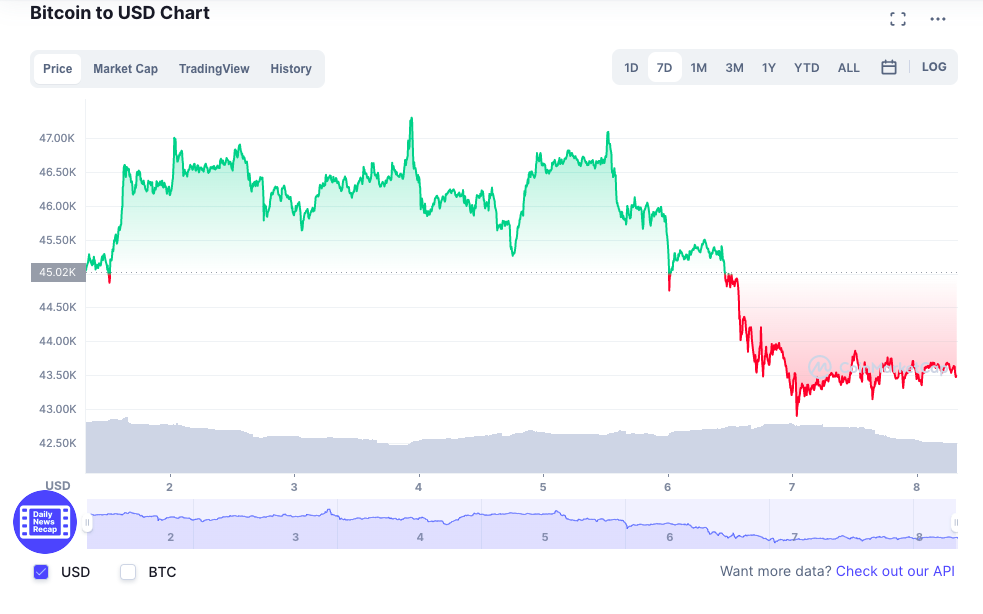 At the time of writing, Bitcoin (BTC) is trading at US$43,629.20, down about 3% over the past week, while Ethereum (ETH) is trading at US$3,262.21 (+0.02%). Solana (SOL, US$120) and Avalanche (AVAX, US$88.56) are down 2.42% and 5.32% respectively while Terra (LUNA, US$103.9) is up 2.44% for the week.
The best performer of the top 50 coins by market cap  this week is NEAR, with an 46% gain as it raised $350 million in a funding round led by digital investor Tiger Global, and speculation that the protocol will introduce its own stablecoin.
APAC leads global crypto adoption
Indonesia and Brazil lead cryptocurrency adoption globally, with 41% of participants in both countries reporting ownership of digital assets, according to a survey conducted by US-based cryptocurrency exchange Gemini.
They are closely followed by the United Arab Emirates and Singapore at 35% and 30% respectively. Hong Kong ranks eighth at 24%.
Almost half of all crypto holders in the APAC first bought crypto in 2021, while more than half of crypto owners in Hong Kong (51%) and India (54%) got started in 2021, making it a "breakout year" for digital asset adoption in the APAC.
Singapore tightens law on crypto service providers
Singapore has moved to approve a legislation that will give the MAS (Monetary Authority of Singapore) expanded powers and introduce tighter regulation for the local crypto industry.
According to the MAS, the Financial Services and Markets Bill will also require VASP (virtual asset providers) based in Singapore but are also operating overseas to be licensed and subject to AML (anti-money laundering) and CFT (financing of terrorism) requirements.
Less than two million bitcoin left to mine
Bitcoin crossed a milestone last weekend, when the 19 millionth bitcoin was mined by SBI Crypto, according to data from Bitbo. This means that less than two million BTC are left to be mined and brought into circulating supply for the next 118 years. The last BTC is expected to be mined in the year 2140.
Its scarcity – there will only ever be 21 million BTC in circulation – is a unique feature central to bitcoin's value proposition.
Trading Volume
The global crypto market cap is US$2.03 trillion, a 2.13% increase over the last day. The total crypto market volume over the last 24 hours is US$82.71 billion, which makes a 31.56% decrease. The total volume in DeFi is currently US$11.35 billion, 13.72% of the total crypto market 24-hour volume. The volume of all stable coins is now US$67.86 billion, which is 82.04% of the total crypto market 24-hour volume.
Fear & Greed Index
The Crypto Fear and Greed Index uses 5-6 measurements to assess the current sentiment of the market and then rates that level of emotion on a scale of 1 to 100 – 1 is extreme fear and 100 is extreme greed.The current score of 37( Fear) is a significant decrease from last week's score of of 52 (Neutral).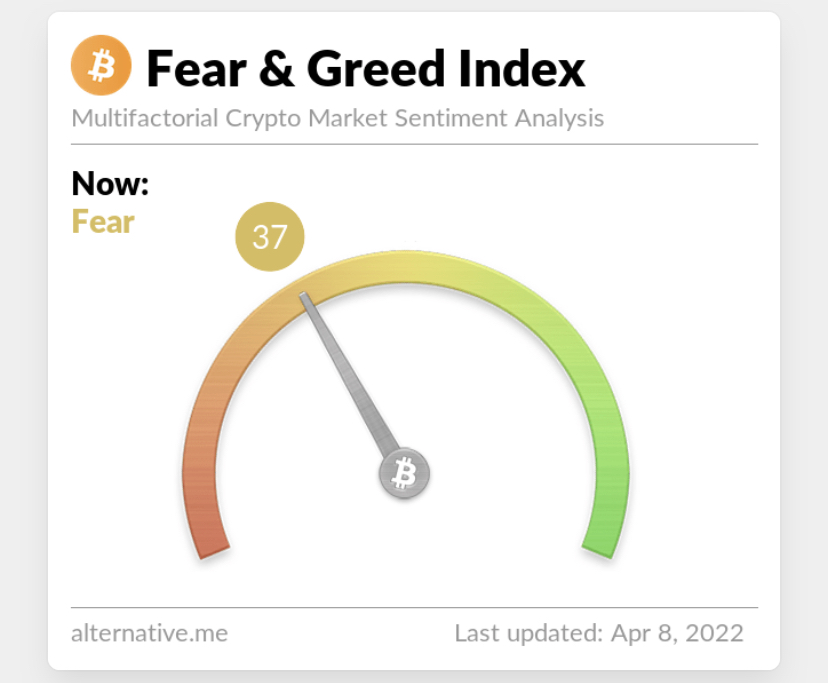 Here's our Blocksmith's take:"My view remains that the intermediate term outlook for crypto is up and that equity markets will recover and continue higher again, chiefly because the mid-March low was that of a significant cycle and the upswing has not played out yet by a long stretch. Once the market absorbs the impact of rate hikes, it should recover and with it the crypto complex. For now, the preferred view is sit tight and don't panic bail out of hard-won long positions".