Table of Contents
Nike's RTFKT has launched its new Cryptokicks IRL sneaker, marking the first ever web3-IRL sneaker product. However, the reveal is not earning any ticks of approval from crypto Twitter.
Holders of the RTFKT NFTs are given access to purchase pairs of the limited edition sneaker for 0.38 ETH – a discount compared to non-NFT holders who can purchase unsold pairs for 0.5 ETH. The sneakers are limited to 19,000 pairs from 12 to 16 December. Non-NFT holders need to register for a draw from 7 to 9 December to be eligible to buy the leftover shoes.
"The Cryptokicks iRL is the first smart sneaker released from RTFKT featuring the next evolution of smart sneaker technology," the Cryptokicks website reads.
The futuristic sneaker comes in three colourways: "Space Matter," "Stone," and "Blackout". Its technology features bluetooth pairing with RTFKT Cryptokicks IRL App, customizable lights, auto-lacing, wireless charging and an NFC chip.
But here's the kicker: the sneakers will only be shipped to the USA. "Due to advanced tech and product regulation, product can ONLY be shipped to US," RTFKT tweeted through its official account.
What's more, the discount isn't exactly much of a bargain. As one disgruntled NFT holder writes on Twitter, "I spent 4 ETH ($5200) on MONOLITH2 to get a $130 discount on sneakers that I can't even order because I live outside of the US. Bravo @RTFKT, you have exceeded my expectations. Sh*t"
"I love you @rtfkt but I'm pretty disappointed. The Lacing Engine just being a mint pass and the shoes only being shipped to the USA is not fair. So many of us just got screwed :/" tweeted another.
"I'm a big fan of @RTFKT. But, holy shit they needs better comms. The MNLTH 2 and IRL Cryptokicks announcement makes no sense," said another.
RTFKT-MNLTH and RTFKT x NIKE MONOLITH floor prices have tanked over 58% and 75% respectively since the reveal too.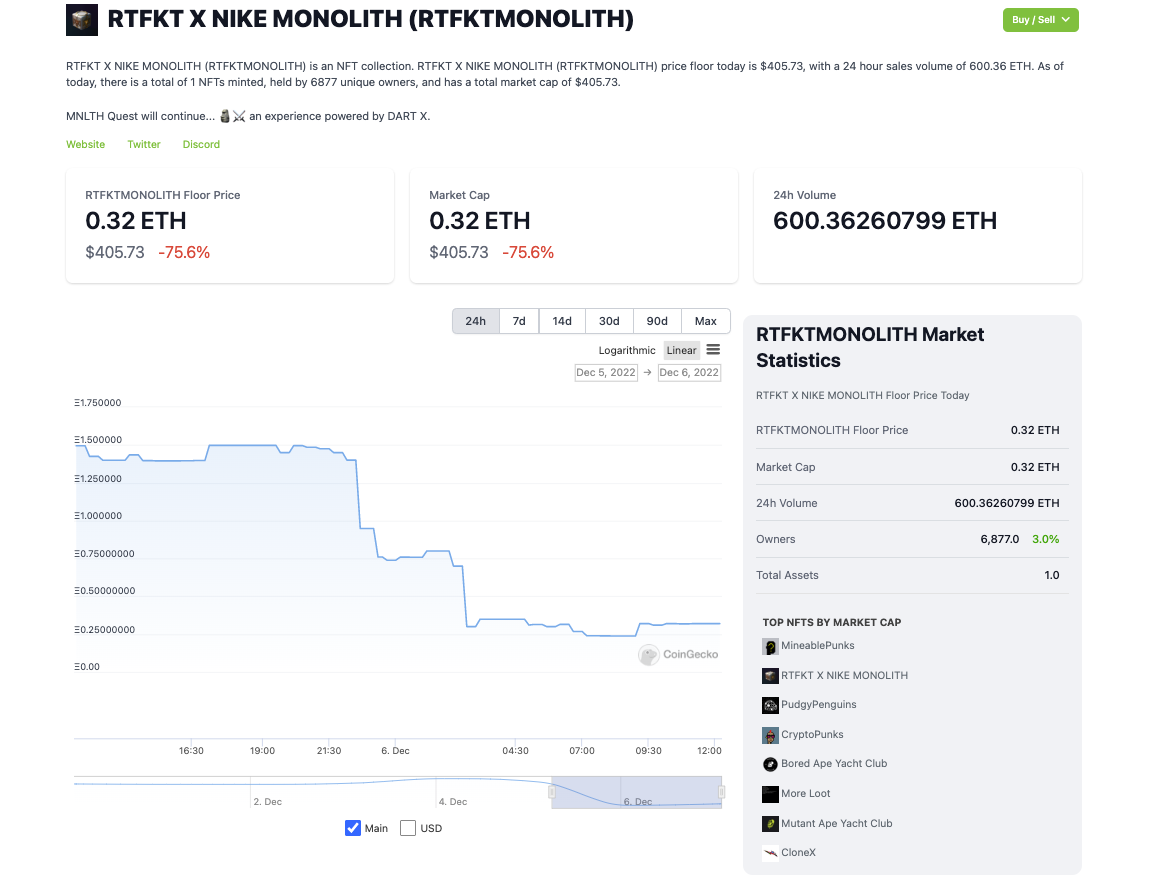 The floor price drop has also fueled the fire on Twitter. "Yesterday I owned an NFT worth 2 ETH. Now I own an NFT worth less than 0.3 ETH which grants a 0.1 ETH discount for a 0.44 ETH shoe which I can't even buy because I live outside US. Shit show. Failed execution from @RTFKT again. Fuck!" An angry RTFKT victim stated.
The RTFKT fail serves as yet another reminder that NFT projects that promise exciting upcoming drops are incredibly risky products, irrespective of their size. Utility is the buzz word in the NFT community but 2023 projects will need far more substance and loyalty to their entire customer base.