Table of Contents
Crypto conferences have embraced post-covid freedom by running rife across Southeast Asia. From the banality of Singapore Blockchain Week, to the bonkers-ness of Coinfest Asia, to the global degen beckoning of Token 2049, the crypto community has laughed, lusted, learned, led, languished, leveraged and lost against the backdrop of crypto winter.
But whether it's an umbrella-shaded beach booth in Bali or an F1-inspired stand featuring a real-life F1 race car simulation, the curious minds at Blockhead have always pondered what the ROIs and KPIs are of purchasing a booth at crypto conventions. After all, they don't exactly look cheap (with perhaps the exception of Singapore Blockchain Week ones). With Singapore Fintech Festival (SFF), the Little Red Dot's biggest finance conference returning in person after three years, we figured we would use the opportunity to scratch our conference-booth-based itch.
For the record, Crypto.com and Chainalysis, who had rather impressive booths at SFF, declined to provide comments for this story. In fact, Crypto.com declined to comment about anything and everything (including what their visiting representatives' favourite food in Singapore was) for the fear of "being seen as advertising." Crypto.com once proudly professed "fortune favours the brave," but I guess it requires a much higher tier of bravery to participate in a Blockhead IG reel.
Why SFF?
OK, let's start out with the easiest question. Why are crypto companies placing so much importance on having a presence at SFF, considering it's a "fintech festival" rather than a "crypto festival"? With the majority of booths rented out by traditional finance powerhouses, why are crypto firms fighting to be featured?
Blockchain platform Polygon's DeFi chief of staff Aishwary Gupta said that the "biggest thinking was telling the world that on Polygon, you can build your whole fintech, which can be more efficient. A lot of fintechs and financial institutions don't even know this can be done."
Furthermore, with Project Orchid being a showstopper at SFF, which was built on Polygon, the firm took the opportunity to "tell more people about Polygon."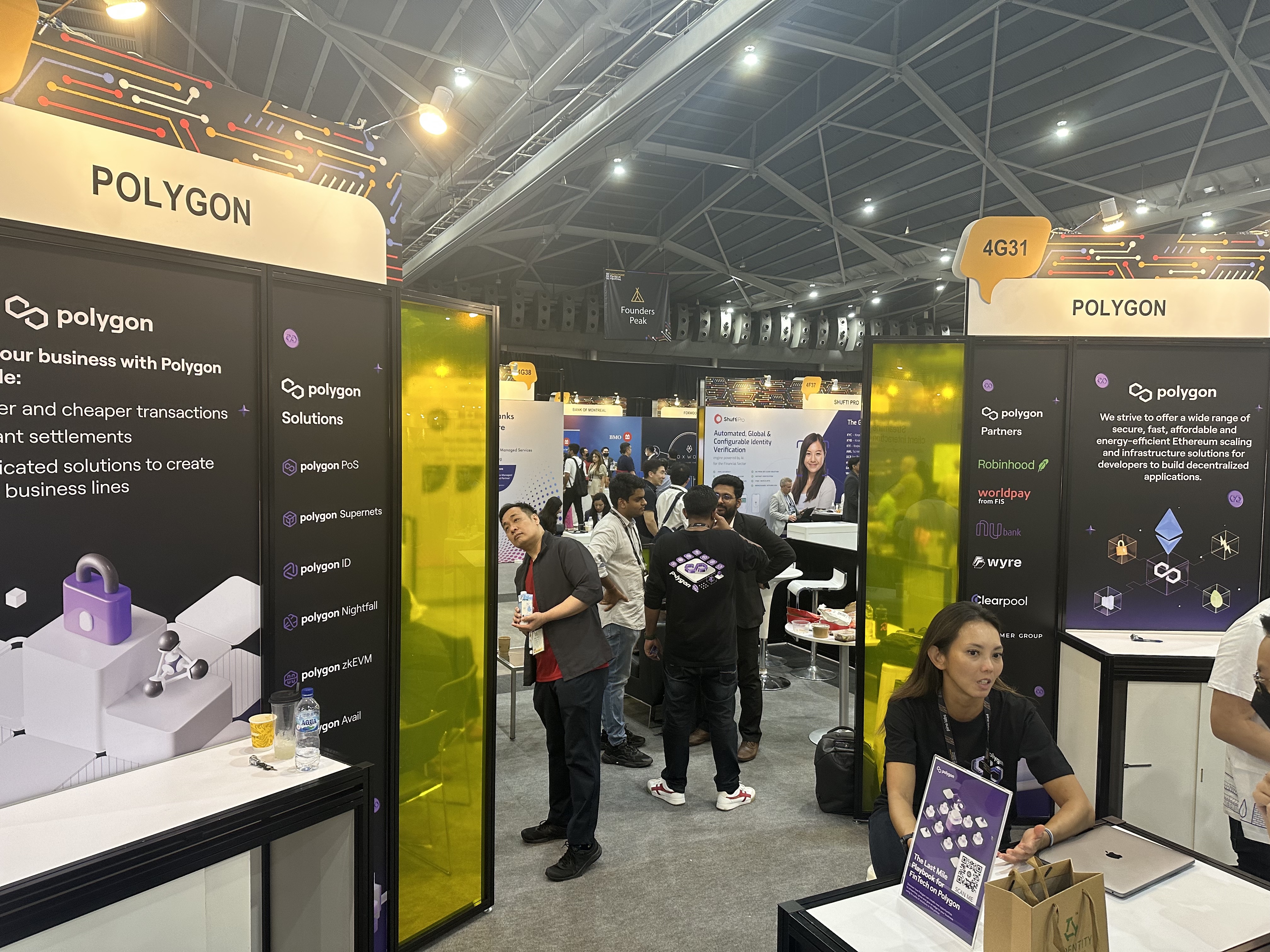 Leticia Chua, Cake DeFi's VP of brand and communications, told us that "the right people" are at SFF, citing family offices and asset managers. Furthermore, Chua highlighted that the likes of Token 2049 did not appeal to Cake DeFi because of "advertising regulations" and the "inability to sell a B2C platform there." SFF, on the other hand, allows them to "push out [their] B2B business."
Darren Wong, head of partnerships and listings at IX Swap, said "if you're here looking for vendors or partnerships, you can get business here." However, SFF isn't for everyone according to Wong: "If you're here as project looking for investors you'll probably get no money!"
For Okcoin, SFF was vital because it attracted "both domestic and international travellers that are keen to understand more" according to communications lead Larissa Bundziak "We've had some really, really productive conversations of meetings around the periphery of this," she added.
How much does a booth cost?
Some respondents were a bit more reluctant to answer this question, but it's fairly understandable, unlike Crypto.com's radio silence.
Poylgon revealed they paid S$120,000 for their mid-size booth. A smaller web3 company, which chose to remain anonymous said they bought the smallest booth package costing $2,500, whilst IX Swap spent S$7,000. Meanwhile, the likes of Union Bank, Cake DeFi and Okcoin, who all had the seemingly largest tier booths all said they paid within the six-figure mark. Union Bank even boasted a duplex booth.
Through asking around from other anonymous sources, Blockhead learned that some of the biggest booths shelled out over S$250,000 during the event.
Measuring ROI
When splashing out on marketing, ROIs are crucial. Ultimately is it worth the time, energy and cost of having a booth at these conferences? Considering booths can cost upwards of six figures, can the cost be justified?
For Polygon, it's the "connections" formed at the conference which is a key metric for evaluating the ROI of their S$120,000 booth. By "tracking how many people are connecting with [them]" Polygon is confident about their "pretty decent output".
IX Swap on the other hand measures ROI through conversions but admitted "conversions take a while though. It's pretty hard to measure." Aside from that, IX Swap believes their booth adds marketing value, which is unquantifiable.
Union Bank, which isn't crypto related but was the only firm to have a duplex booth, said it was their fifth year participating in SFF. "We've seen how well [SFF] has returned to the business in terms of image," said their senior vice president and CMO Albert Cuadrante.
"We quantify it in terms of PR values and marketing values," he expanded. "The second is lead generation – we get a lot of people interested in the products we've come up with. And third is partners, we're continually looking for new tech partners to advance our digital transformation and make it sustainable and this is the best place to do that."
Cake DeFi also openly said that the ROI is "very hard to quantify at this point" as they're "launching a product, not closing business" at SFF. "For our business, the life cycle is quite long," Chua said. "But it's a great investment for us to be here to get validation on our prototype."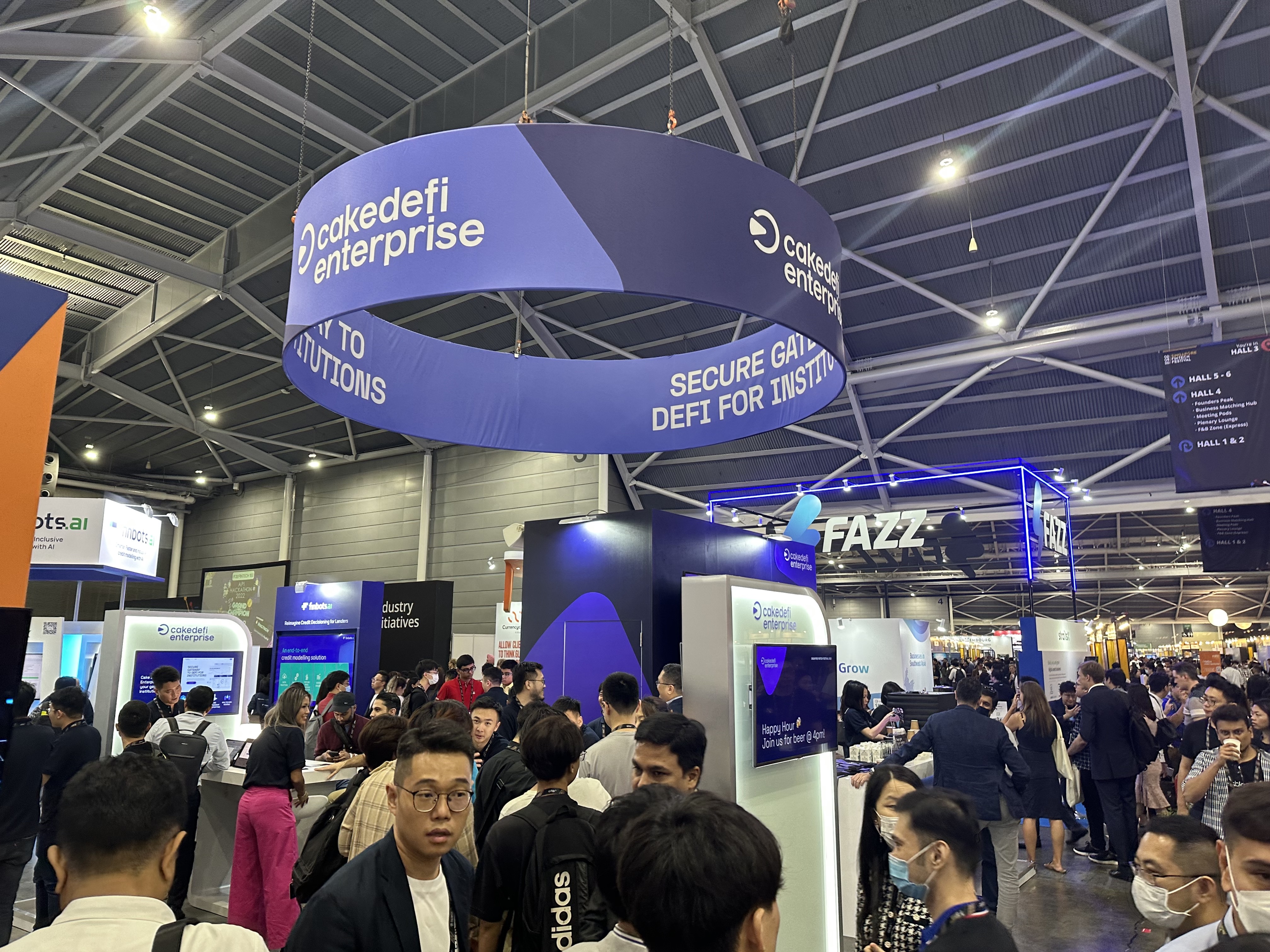 Meawhile, Okcoin sees ROI as "hard and soft measures. Hard measures are simple things like the queue and scans in order to win swag and experiences. We had over 1,000 scans in the space of four hours yesterday, which is pretty extraordinary given the average is usually around 100-200 per day."
"Soft measures include business enquiries. Our booths are manned by a lot of different Okcoin people from different facets of our business. It's who they're getting to spend time with here [that counts], and prospect business opportunities," Bundziak explained.
"It's also simple things," she continued. "Our bag was one of the most shared merchandise pieces yesterday [on social media]. It feels a little narcissistic but it's a way for us to show the ROI."
Does size matter?
The million-dollar question. Ranging from one-man booths to pavilions that eclipsed some Hong Kong flats, SFF showcased a variety of sizes. But how important is size… or how you use it?
Okcoin, which had one of the most impressive crypto booths, said the importance of size "depends on the conference and location." Bundziak said that as given that over 50,000 people were expected to descend on Singapore Expo over the three days of SFF, "You need to have a booth that becomes a destination." Hence why Okcoin was keen to feature a claw machine, prizes and free coffee. "There are some incredible booths here," she continued. "But in order to stand out we feel that having a bigger footprint has made a difference for us here."
Union Bank echoed a similar message regarding their double floor booth. "The basic principle in desigining this booth is visibility," Cuadrante said. "In that past, what has worked is height. It makes our booth easier to find. Before we used to have hanging banners like the other booths but we figured everybody will have that, which is what happened! So I compensated for that and maximised the height limit with this [duplex] structure. At the same time, I want to look legit beside booths by banks and because it's part of the image of the brand."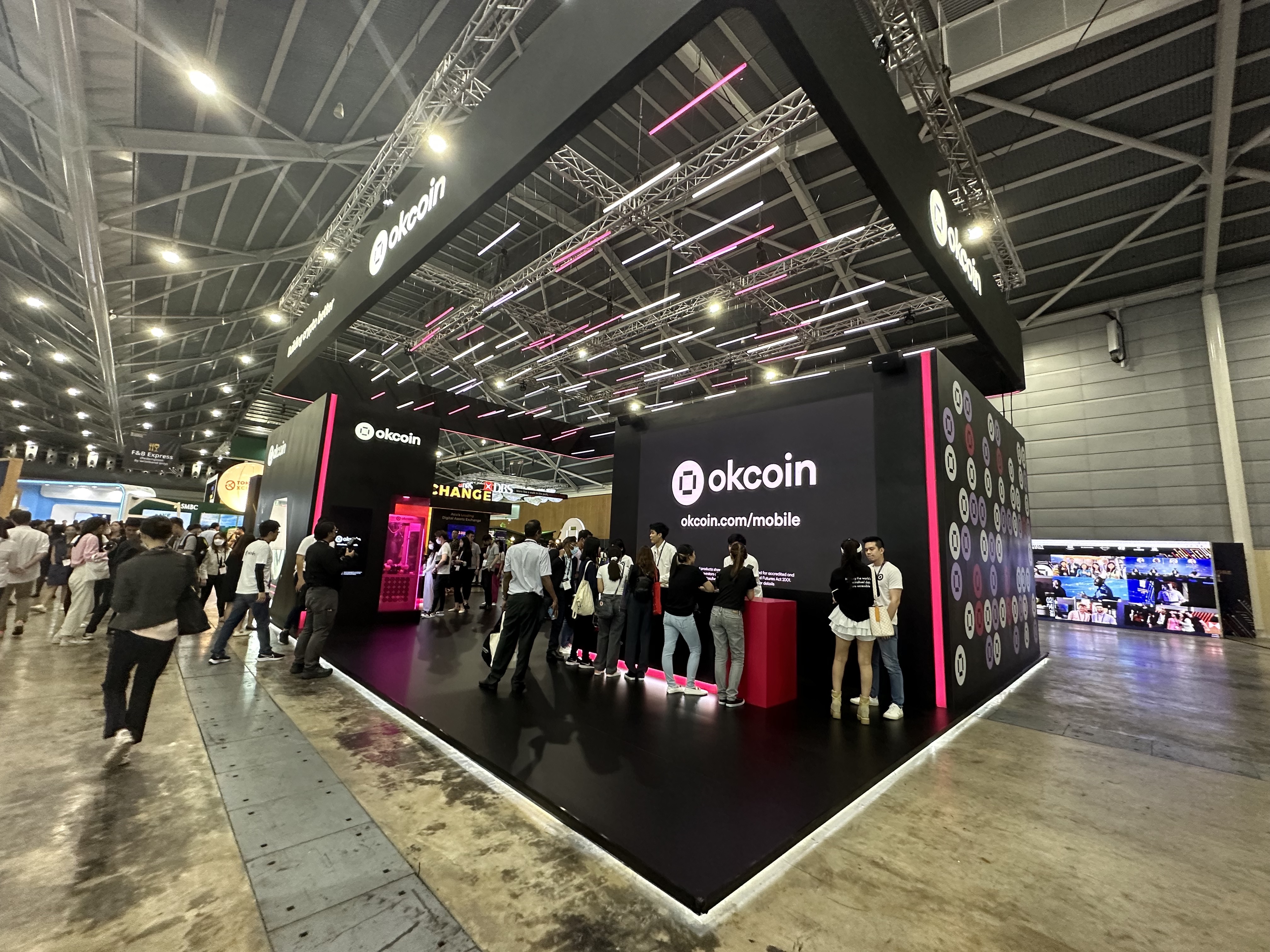 For CakeDefi, 2022 marked their first SFF outing: "We didn't want a small booth because you're not going to make an impression," Chua explained. "We need to make a decent impression, so I think this is the right size booth for us. It's our first time here so we needed to get a sense of what it's like. We've started off with something a little bit more conservative, as opposed to going super splashy."
"Visibilty is super important and so is location [of the booth]," Chua continued. "But you also need to be able to bring people in. You can't expect people to just walk up to you, so that's why we're trying things like offering coffee and beers. We find that the presentations that we have really draw people in and gathering interest."
However, not everyone values size as certain layer 1 blockchain firm took a rather different stance. "I don't want [a big booth]," a representative said. "I don't want to showcase that we have big money. We want to showcase that we have a big use case."