Table of Contents
Philippines has long been touted as the next potential crypto hub, with the country currently ranking second in Chainalysis' Global Crypto Adoption Index 2022 — just behind Vietnam and ahead of Ukraine, India and the United States.
According to Wei Zhou, current CEO of Coins.ph and former CFO of Binance, the Philippines is one of the top countries in the world for crypto adoption in terms of NFT trading and general token ownership, a phenomenon that has been amplified by the pandemic. Zhou also believes that the country's rising middle class and its young and digitally savvy population has only increased interest in digital assets.
"There are more crypto owners and traders in the Philippines than stock traders…I think post-Covid, the digitalisation of finance has actually increased tremendously, especially with the increasing popularity of e-wallets, as we've seen in other markets as well," Zhou told Blockhead.
"People [in the Philippines] are looking for that easier access into not just technology, but potentially investable assets like tokens and NFTs," he added.
On the surface, the Philippines has rather forward-thinking approach to digital assets. For example, the country is well-known for its affinity towards popular P2E game Axie Infinity – data from ActivePlayer.io showing that 40% of all Axie players are from the Philippines, with the country generating US$1.3 billion in revenue for the game.
Government agencies are also embracing the technology. The Philippines central bank, Banko Sentral ng Pilipinas (BSP), initially announced in April that it will be launching a wholesale central bank digital currency (CBDC) project in the last quarter of 2022, in line with its plans to boost the number of banked populations to 70 percent and 50 percent of payments done online by 2023.
However, it might still be the early days for crypto in the Philippines, with the country well-positioned to explore the other applications of cryptocurrencies beyond P2E games and government initiatives.
An old but untapped market
For Chris Sirise, founding partner of Saison Capital, the Philippines is one of the oldest markets in the world when it comes to the mass adoption of digital cash. Citing the example of Gcash, a mobile wallet introduced in the Philippines in 2004, Sirise said that the country is a market "primed for crypto adoption," as the psychological barrier to adopting new versions of digital money is low.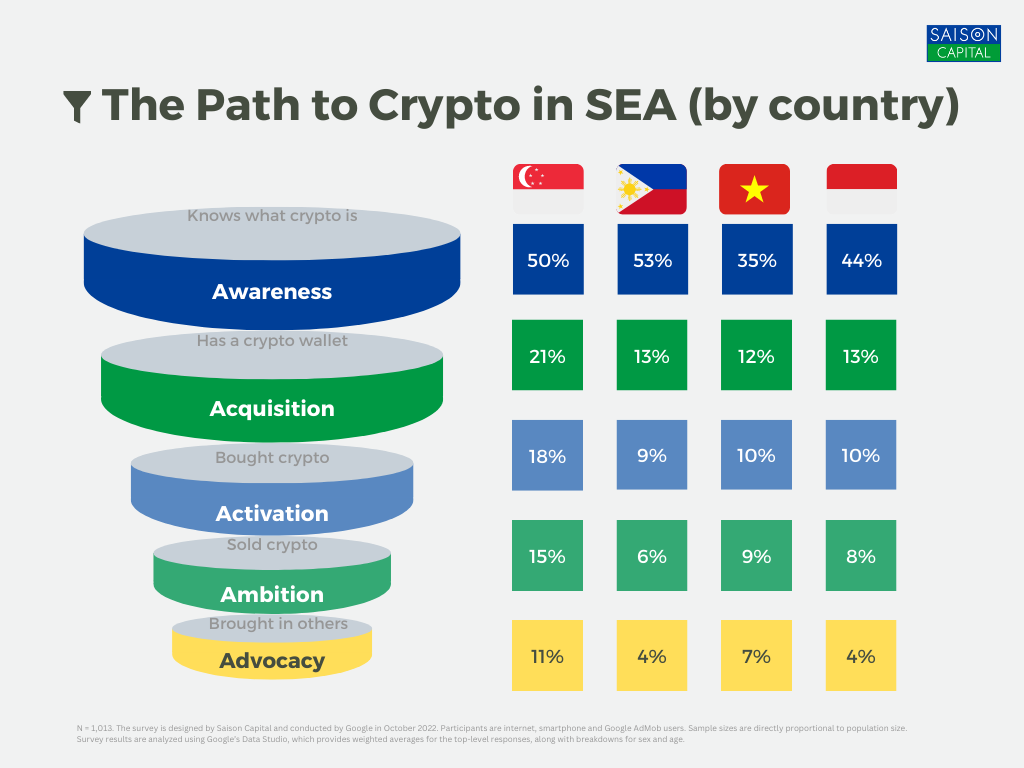 However, Sirise also believes that crypto adoption remains "complex," as according to a recent survey conducted by the Saison Capital team, 53% of the population in the Philippines are aware of what crypto is, but only 9% have purchased crypto to-date.
"This lags in comparison to other countries with lower awareness, such as Vietnam and Indonesia that have lower awareness but slightly higher 'crypto converts'. The relatively low advocacy rate of crypto in the Philippines also suggests that crypto is in its early days in the nation, and we anticipate higher advocacy in the near future," Sirise, who was previously at Grab Financial Group launching and heading financial services in the Philippines, told Blockhead.
Beyond GameFi
According to Sirise, there are a few areas in crypto beyond GameFi which will enable the industry to gain further adoption in the Philippines. For instance, lending tied to Real World Assets (RWA), as a sizable gap in Filipino micro, small, and medium enterprise (MSME) financing still exists today, especially working capital (source).
"Crypto opens up a new swathe of investors, both retail and institutional, who can offer capital to meet those needs," he explained.
Sirise also highlighted the fact that more than 12 million Filipinos engage in cross border transactions regularly, which means that efficient instant cross-border payments facilitated by stablecoins could also increase crypto adoption in the country. He also noted that the Filipino creator economy should be empowered by enabling more digital ownership lowering barriers to fans.
"Filipino creators can turbocharge the Bayanihan (a Filipino term referring to a spirit of unity and cooperation) spirit of communal utility and cooperation through web3 technologies such as non-fungible tokens (NFTs)," he said
Zhou, who recently told attendees at AxieCon 2022 that the Philippines will eventually become a "global leader" in web3, also echoed Sirise's sentiments, and highlighted that one of the emerging areas that could drive adoption in country is content creation.
"The application layer is what's going to be interesting, as content extends from the traditional web2 world into the metaverse. The Philippines could become what I call a 'crypto producing' country, but also a 'crypto consuming' country," he said.
Obstacles remain
For Sirise, there is still limited use cases of crypto in the Philippines beyond profit-making purposes despite the country having the potential to become a crypto hub, as the dominant narrative of crypto in the country is still centred around play-to-earn and speculative trading – activities whose primary purpose is to generate a profit.
"Due to the volatility of cryptocurrency, interest and participation in crypto correspondingly wanes as profit opportunities decline or disappear," he said.
Joel Ecclesiastes Sim, partner at PetRock Capital, believes that the Philippines has a "huge advantage" in the adoption of blockchain as compared to the other ASEAN countries as English is the native language of many Filipinos, which eases the barrier to entry for them as the common language in web3 is English.
However, Sim also believes that the lack of regulatory clarity, whereby regulators are still on the fence waiting to assess the impact of cryptocurrencies, is a major barrier to adoption. Furthermore, the regulatory landscape in the Philippines, according to Sim, is similar to Singapore because Filipino regulators are also trying to protect retail participants by ensuring crypto companies are licensed and regulated at arms length.
"This results in less innovation and opportunities for start-ups, existing growing companies, and investors," he told Blockhead.