Table of Contents
"I'm not a financial advisor, remember to DYOR"
"I'm just letting you know this project is out there, and full disclosure, I do have a stake in it"
"Insane yields"
"Now is the right time to buy"
Sound familiar?
The problem with DYOR, or "do your own research," is that the responsibility falls on the consumer, the audience – these people are looking for a source of information, but in accepting DYOR as the status quo, the wider community absolves these perpetrators from blame.
If being in a nascent space like crypto allows bad actors to capitalize on the greed of investors, crypto will forever be seen as a scam. At the same time, do we have alternative solutions?
Last month, Kim Kardashian agreed to pay a US$1.26 million fine for advertising EthereumMax (EMAX) on her Instagram page. The US Securities and Exchange Commission said that Kardashian had received US$250,000 for advertising the cryptocurrency without disclosing that it was a paid promotion. She has since agreed not to promote crypto asset securities for three years. While this might be great news for the most part, this crackdown is not indicative of the wider issue of advertising in the crypto space.
Over on Twitter, critics accused Maren Altman, who offers investing predictions based partly on her astrological interpretations to about 1.8 million social media followers, of not being forthcoming about her deal with now-bankrupt crypto lender Celsius.
The influencer claims that her "marketing sponsorship role is no different than doing fashion ads."
Now that Celsius has crashed, Altman claims that her error "was trusting Celsius," and because there was no knowledge of Celsius' finances, should she be held accountable?
Well, it depends. Altman stated that this incident is equivalent to Peloton paying her to talk about their bike and investors blaming her for the stock price going down.
As influencers, they are paid to talk about the company, but if a company fails and assets are frozen, as hard as it is to believe, it does not really fall under the influencer's jurisdiction.
The witch hunt Altman experienced can be explained by parasocial relationships, where viewers extend emotional energy, interest and time, while the influencer is completely unaware of the other's existence. Viewers not being cognizant of this might blame the influencer when shit hits the fan. Sure, more should be done to disclose important information, but we cannot blame influencers for our own choices. To a large extent, "DYOR" is the only way.
Wen regulation?
The Monetary Authority of Singapore (MAS) has issued a set of guidelines discouraging cryptocurrency firms from advertising their services in public areas or by engaging third parties, including social media influencers.
In a media statement in January 2022 emphasizing the "highly risky" nature of trading in cryptocurrencies, the central bank said that public spaces include public transport, public transport venues, public websites, social media platforms as well as broadcast and print media.
Advertising as a whole has been subjected to regulation, but lines are often blurred with digital media spaces. Branded content has to be disclosed on Instagram, Reddit and Twitter have placed bans on cryptocurrency ads in 2016 and Google has incredibly strict rules when it comes to advertising financial products.
Social media and search engines make up the bulk of the digital advertising marketplace and without these advertisement platforms, fintech and cryptocurrency brands look for alternatives to conventional digital marketing strategies.
Enter your crypto influencers, telegram groups and "thought leaders."
Influence in the crypto world
Scammers wandered off with around US$14 billion in cryptocurrency in 2021, according to data by Chainalysis. This is very likely to continue considering how profitable this market is.
But wait, where are these people if they're not on popular social media?
They are, they just aren't allowed to use paid ads. You can say whatever you want, you just cannot boost your post with money.
Ah, loophole.
Here are some examples of what "shills" look like on various platforms:
Twitter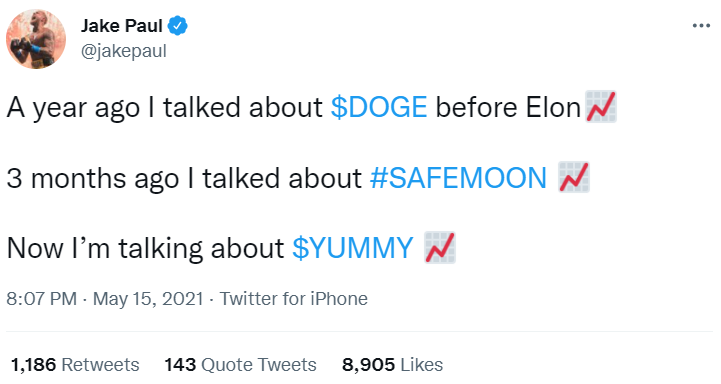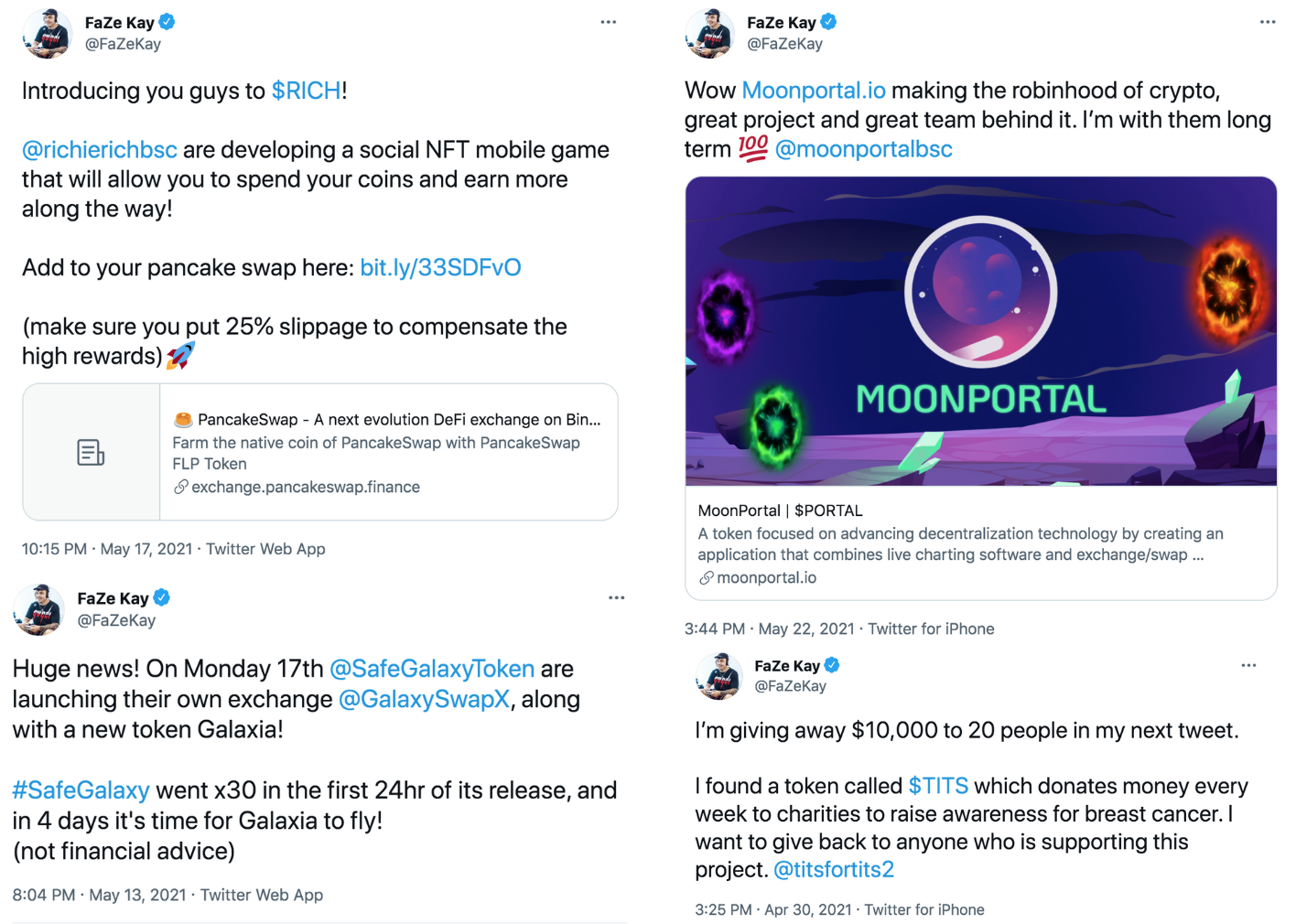 Telegram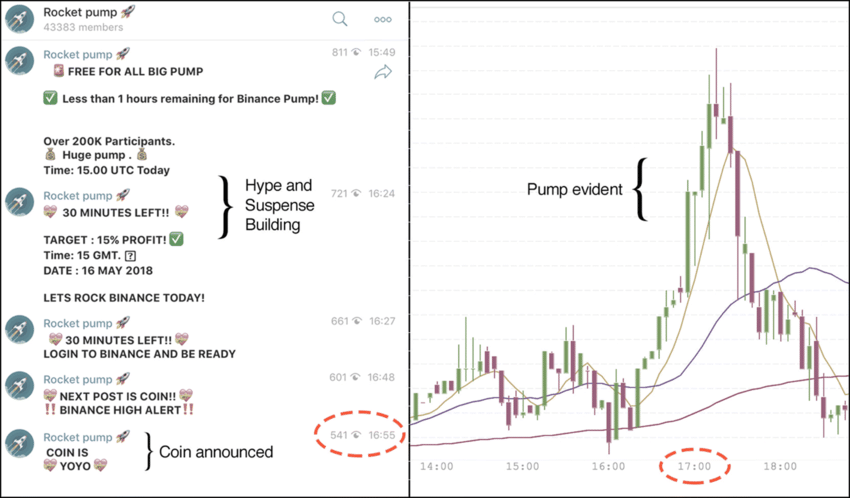 YouTube
With over 1.7 million subscribers, Ben Armstrong's BitBoy Crypto is one of the largest crypto channels on YouTube. Through his videos and livestreams, published several times daily, the American alt-finance expert and investor offers deep crypto experience and analysis as digestible content. This makes him somewhat of a thought leader with a lot of influence.
Armstrong said he previously made more than US$30,000 for a single endorsement, including the promotional video for DistX. Earning US$100,000 per month in promotions alone was also very possible. When DistX crashed, he wanted to repay some of his followers, but the damage had already been done. He has also shilled many other failed projects; those videos have since been deleted from his YouTube channel.
In April 2022, Twitter user @zachxbt posted a list of 44 YouTube crypto personalities and their prices for paid promotions. Some of these influencers were paid as much as US$65,000 for a single promotional video.
More subtle forms of promotions can be in the form of tutorial videos, where influencers take you on a walkthrough of how to use a new platform, which as expected, will require you to stake the project's native token for yield. While subtle, this form of promotion can be masked as "educational content". Just like that, they get absolute clearance.
In May 2022, @zachxbt published a thread on influencer Logan Paul's alleged pump-and-dump activities.
With such high margins, morals can be easily compromised. After all, not everyone makes it big in crypto. Besides, putting in effort into creating content should be rewarded, right?
It's easy to blur the lines and cover things up with disclaimers. However, not every single promotion is a scam.
Affiliate or sponsorship?
Going in on crypto has and always will be a risk, as with any other asset, but where do we draw the line between informing users of a project and shilling them a project? We asked some people who have been approached by projects to hear their take on the situation and give us some insight on how deals are struck.
HS, or better known as MessEnergy on YouTube, is a crypto content creator. She started out with making educational videos on trading bots and DeFi projects. In 2021, HS was approached by now-defunct Hodlnaut, a Singapore-based cryptocurrency lending and borrowing platform that lost 69% of the cryptocurrencies that users deposited onto the platform.
It is almost easy to go after influencers because we perceive them purely through an online lens, but speaking to HS, we learnt how much the backlash can affect mental health.
"I took a pause from Youtube since the crash and till today I am afraid to look at my comments," HS told Blockhead.
That being said, HS agreed to give us an inside look on how a deal between a company and a creator is constructed.
There are generally two kinds of paid posts. For affiliates, they get a small cut for every one that signs up and deposits money using their code. Sometimes, creators are not paid directly from the creation of the video. This means they have to sell more. On the other hand, a sponsorship is when the creator is paid for the creation of the video, regardless of whether they convert users or not. Usually creators with smaller followings start out with being affiliates.
In HS' case, she negotiated with Hodlnaut to be paid for the video regardless of how many people used her code. Before HS got this deal, she found out what the landscape was and Hodlnaut told her that another financial YouTube was only paid in affiliates, which explained why they had multiple videos.
"I did not want to do a video for nothing so I probed more and found out they paid someone else, with 2,000 subscribers, US$700."
They agreed. She was paid USD $150.
"I don't think it is fair for people to hold me accountable because Hodlnaut crashed. I was fulfilling a transaction, I was essentially paid to do a job. How would I know if it was going to crash or not?" HS said.
There are also influencers that reject sponsorships, like The Woke Salaryman (TWS).
"Even though we cover crypto and blockchain, we were uncomfortable with taking on sponsors for this space. After all, writing about something organically is different from getting paid to endorse it. We recognised that the blockchain space is still extremely new, with immense risks, including volatility, rug pulls and outright scams," He Ruiming, co-founder of TWS said.
The risk of taking on a sponsor, only to have it go bust in a year or two was too great a risk for TWS.
Ruiming also said that he has crypto holdings in his portfolio, but was concerned that readers might put more than their recommended 5% allocation into crypto if they were seen as too crypto friendly.
"Apart from track record and business durability and relevance to our target audience, having aligned values is huge for us. We advocate for a steady approach to wealth accumulation via broad investment diversification, and the improvement of one's earning ability. Therefore, last year's speculative, 'get rich quick' nature of the crypto market did not sit well with us," He said.
The financial blogger said that influencers who take on such sponsorships put their own credibility at risk.
"However, we also recognise that just as influencers have the choice to be indiscriminate when accepting deals, audiences also have the choice to follow influencers who are more discerning with their collabs," He added.
It really depends on the brand and what the influencer has built their following upon. For MessEnergy, her brand was built around trading and crypto education while TWS was about building wealth. While crypto could arguably grow wealth, it did not follow the conservative, nuanced approach that TWS is known for. Sure, a sponsorship sounds good, but is it worth your reputation?
Should influencers be held accountable?
In our opinion, an influencer actively promoting a scam is very different from promoting a company that pays them. It is also different if they have a stake in the company. Perhaps influencers should disclose the details of their working relationship with the company and state openly how much they are paid per promotion.
In defense of influencers like Altman, they really could be unfamiliar with the financial health of the company. Suppose she was shilling CEL, pumping the token to her benefit, the story would be different. But, because her promotion could indirectly increase the user base of Celsius, it is understandable why people would blame her, after all, she is associated with Celsius.
Eric Wall X commented that Altman had "staked a significant portion of her social capital doing marketing for this business [Celsius] which she'd suffer from if they turned out to be scumbags, which she's doing now, nothing crazy."
In many cases, a generally credible influencer disclosing that they have a stake might influence people to put some cash into the promoted protocol. What users forget is that the percentage of their monetary involvement could largely skew this argument. If someone has a $20 stake versus a $20,000 stake, the level of credibility would differ.
Not all promotions are the same. With the case of Kim Kardashian, it was a clear pump-and-dump. But for Altman, it was a promotion for a company, regardless of Celsius' business actions, Altman should not be attacked to this extent.
Audience discretion is still necessary because the job of the influencer is to inform, whether or not the audience gets influenced, is not within their realm of control. The company that pays them is also watching what they say, so full disclosure may not be possible.
So yes, DYOR can be a get out of jail free card for certain influencers, but "accountability" should extend far beyond the faces of the projects. As with everything, it takes two hands to clap. The only way around this is to have more stringent regulations and guidelines of what needs to be disclosed to help the audience make better decisions. That said, the audience should still do their own research and exercise discretion.